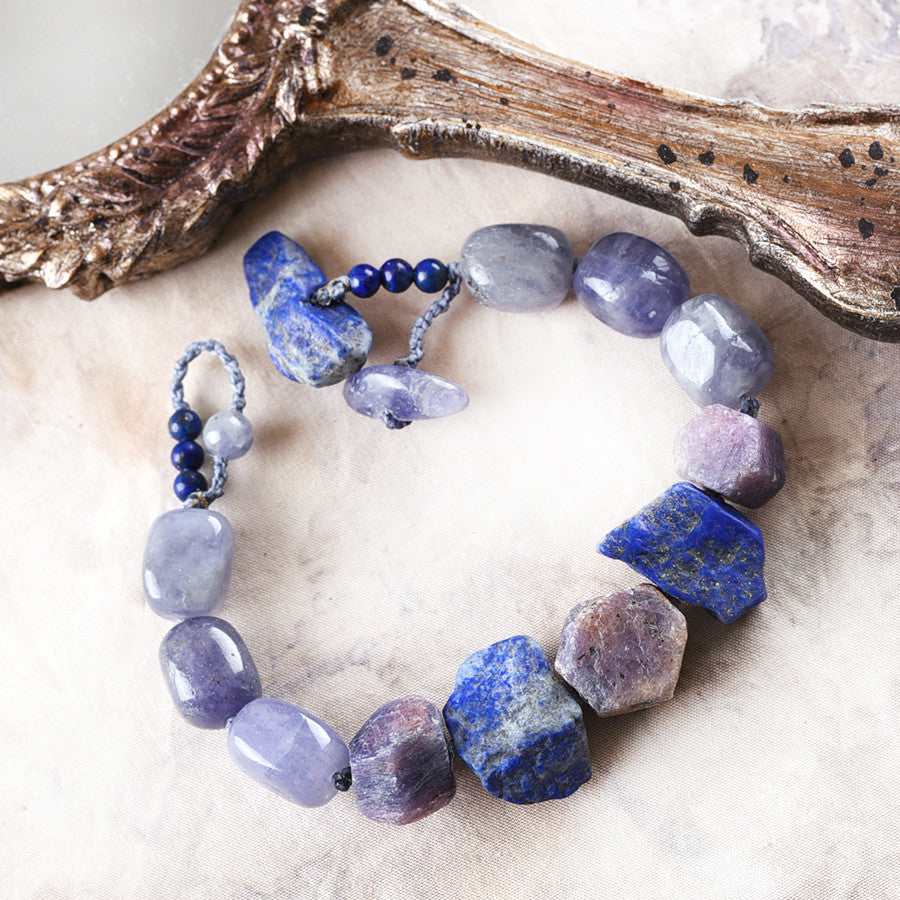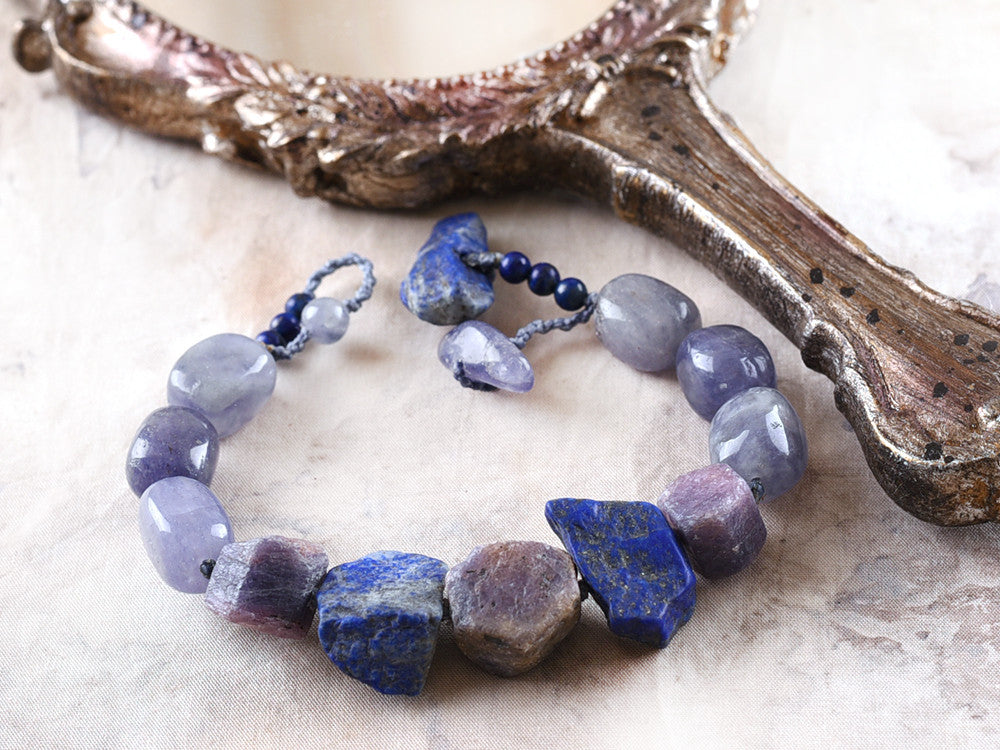 Crystal healing bracelet with Sapphire, Lapis Lazuli & Iolite ~ for up to 6.25" wrist
DESCRIPTION
Crystal healing bracelet with Sapphire, Lapis Lazuli and Iolite. The bracelet is knotted with muted light blue micro-macrame cord. The closure toggle stone is Lapis Lazuli, with a secondary toggle of Iolite (you can slip both through the knotted loop to fasten the bracelet).
Although the bracelet length is 19.5 cm (7.7") the chunky nature of the stones make this a good fit for a up to 6.25" wrist circumference. The largest stones (Lapis Lazuli) are approx. 2 cm cm (0.8") tall.
There are no metals in this bracelet so would be particularly suitable for those with metal sensitivities, energy workers and those who simply prefer not to wear metal.
You'll receive this crystal healing bracelet in one of my fabric draw-string pouches, great for the safe-keeping of the bracelet. Gift-wrapped at no extra charge.
Read here about how to take care of your natural crystal jewellery.
CRYSTAL PROPERTIES
SAPPHIRE
A stone of psychic activation, enhances insight and focus. Helps the throat and third eye chakras to work in unison to strengthen and express one's inner vision. Grounds higher knowledge and helps one to stay centred. Evokes the wisdom needed to see past any situation into the underlying truth. Helpful in channeling healing energy from the highest source, allowing access to deeper levels of consciousness. (Sapphire is one of the four 'precious' gemstones, the other three being Ruby, Emerald & Diamond. Other gemstones are considered 'semi-precious'.)

LAPIS LAZULI
Creativity super charger stone. Ignites new ideas and encourages different creative ways of thinking. Stone of truthfulness, openness, inner power, intuition and manifestation. Thought to increase self-confidence as well as to promote spiritual healing, mental calmness and strength of will. Powerful tool for dream work. Historically a stone of royalty.
IOLITE
Aids in making inner visions more vivid, dissolving fear of the unknown. Helps in blending everyday conscious thinking with intuitive inner knowing. Awakens psychic gifts, activating and clearing the third eye. Helps accessing communication from higher vibratory realms. Helps one to act and respond to situations from one's higher guidance.
Recently Viewed