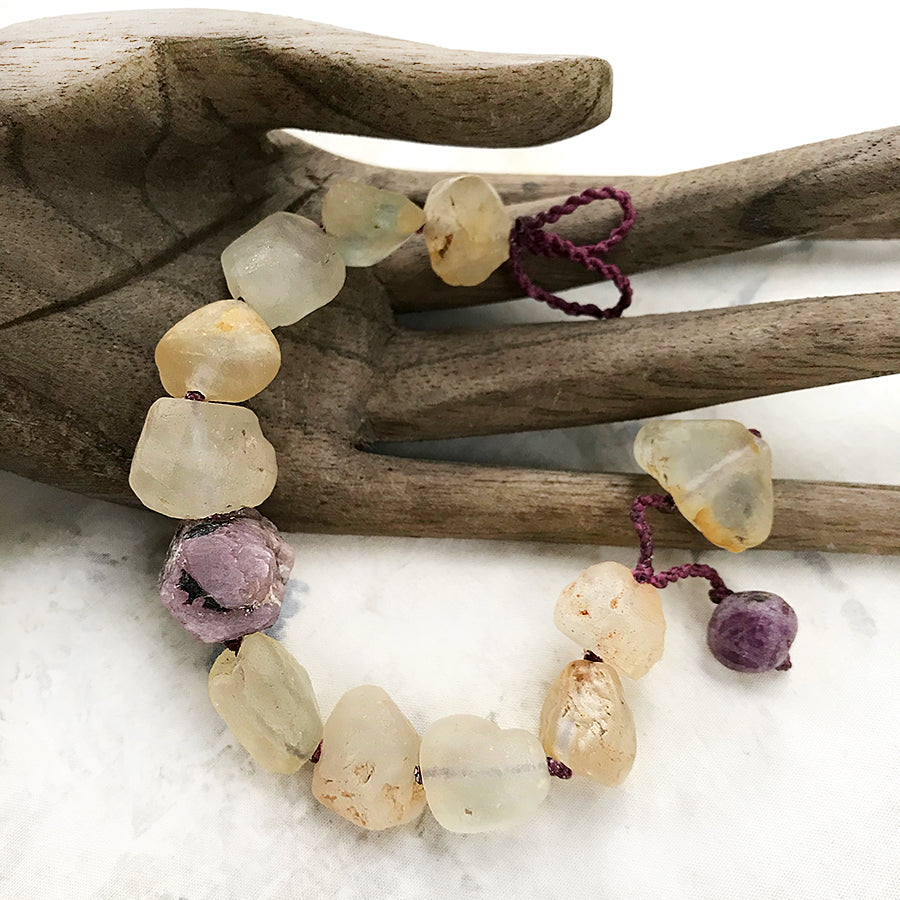 Crystal healing bracelet with Topaz & Ruby ~ for up to 6" wrist
DESCRIPTION
Crystal healing bracelet with Topaz and Ruby. The bracelet is knotted with burgundy red micro-macrame cord. The main closure toggle stone is Topaz, with a secondary toggle of Ruby. There is also a closure loop for each: larger for the Topaz, smaller for the Ruby.
Although the bracelet length is 19 cm (7.5") the chunky nature of the stones make this a snug fit for a up to 6" wrist circumference. If you close the bracelet with just one of the two toggle stones, you can choose to wear the bracelet slightly tighter or slightly more loose according to your preference. The middle stone, Ruby is 1.5 cm (0.6") in its longest dimension.
There are no metals in this bracelet so would be particularly suitable for those with metal sensitivities, energy workers and those who simply prefer not to wear metal.
You'll receive this crystal healing bracelet in one of my fabric draw-string pouches, great for the safe-keeping of the bracelet. Gift-wrapped at no extra charge.

Read here how to take care of your crystal jewellery.
CRYSTAL PROPERTIES
YELLOW TOPAZ
Stone of good fortune for those with good intentions. Exceptional aid in manifesting your intentions and desires into physical form. Aids in bringing all types of good things into your life, in alignment with your highest good. Increases faith in yourself and your ability to realise your goals. Helps in finding the right path and attracting helpful people to support you. Recharges your energy and relieves irritability.
RUBY
Increases vitality and one's life-force energy, Very energising, excellent for women. Promotes clear mind, motivation and concentration. Associated with love, passionate commitment and heart-based closeness, offering help in shedding past hurts. Encourages you to 'follow your bliss' and have courageous attitude. Supports closeness and commitment. Shielding crystal to keep your energy field in your own command. (Ruby is one of the four 'precious' gemstones, the other three being Emerald, Sapphire & Diamond. Other gemstones are considered 'semi-precious'.)
Recently Viewed