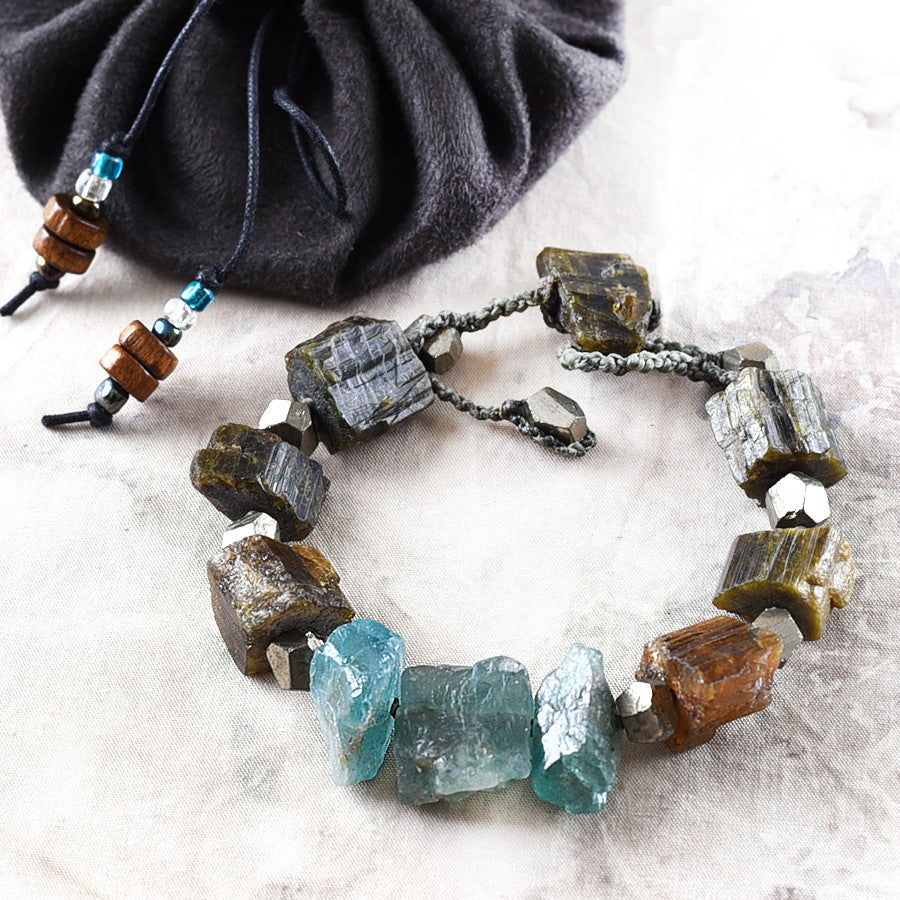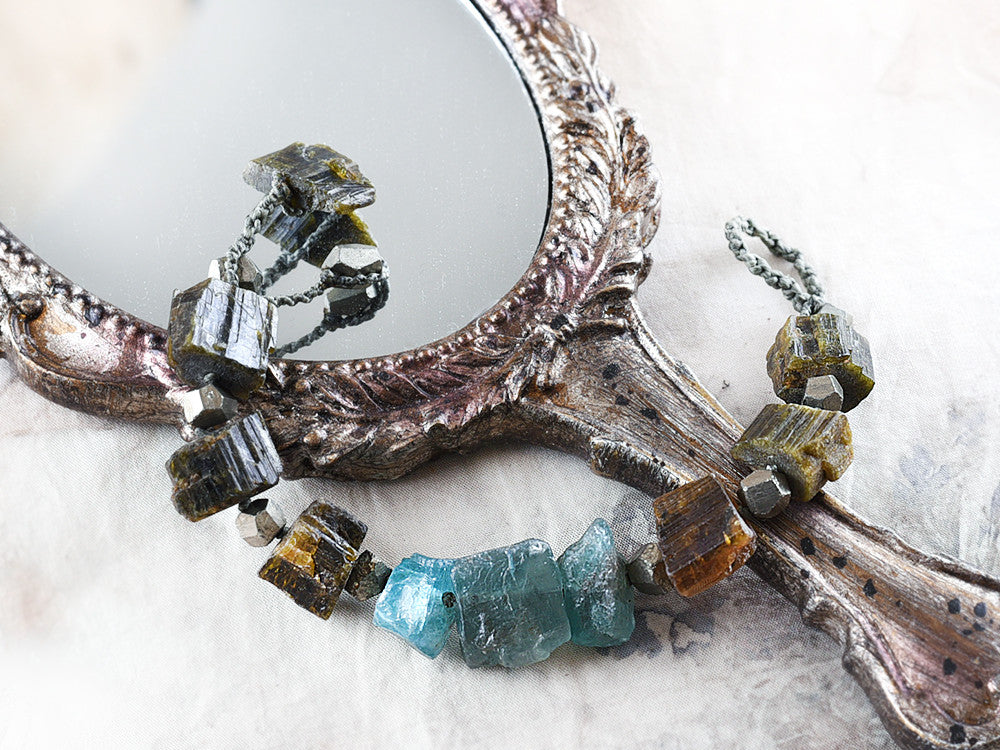 Crystal healing bracelet with Verdelite, Apatite & Pyrite ~ for 6"-6.5" wrist
DESCRIPTION
Unusual one-of-a-kind bracelet, with rough cut natural, unpolished Verdelite and Apatite gemstones, spaced with smaller Pyrites. The colour combination is deep dark green with translucent ocean blue. The Pyrite brings a silvery glow into the mix. The bracelet is knotted with moss green micro-macrame cord with the primary toggle clasp of Verdelite and the secondary toggle stone of Pyrite - you can slip both through the knotted closing loop to secure the bracelet. Certainly an eye-catching, stylish talisman accessory for an individual look.
Although the measured length of the bracelet is 7.9" (20 cm) including the toggle loop, the chunky stones make this a good snug fit for up to 6.5" wrist - slightly more loose for a slim 6" wrist circumference and slightly more snug for a 6.5".
The size of the stones varies slightly, but on average they make for a bracelet width of approx. 0.6" (1.5 cm).
You'll receive this crystal healing bracelet in one of my fabric draw-string pouches (pictured), great for its safe-keeping.
Gift-wrapped at no extra charge.
Read here about how to take care of your natural crystal jewellery.
CRYSTAL PROPERTIES
VERDELITE (aka green Tourmaline)
Connects to the energy of compassion, opening up pathways to self-healing and letting go of old heart wounds. Helpful in implementing new projects with the aim of bringing your true desires to fruition. Balancing and rejuvenating, attracting luck and prosperity.
APATITE
Enhances one's insight and imagination, and gives increased self-confidence. Blue Apatite connects to high level of spiritual guidance and is helpful in letting go of anything that no longer serves your highest good. Apatite crystal is also said to be a good aid in curbing one's appetite!
PYRITE
Taps into your innate abilities, bringing confidence and perseverance to aim for your goals. A shielding stone that helps you see the truth in the motives of others. Increases vitality and enhances your assertive qualities. Helpful in turning melancholy into feeling empowered and more light-hearted. Helps in letting go thoughts of misfortune and worry, thus making it an excellent stone for manifesting abundance. Symbolises the warmth and presence of sun, attracting also abundance of love, friendship and success.
Recently Viewed