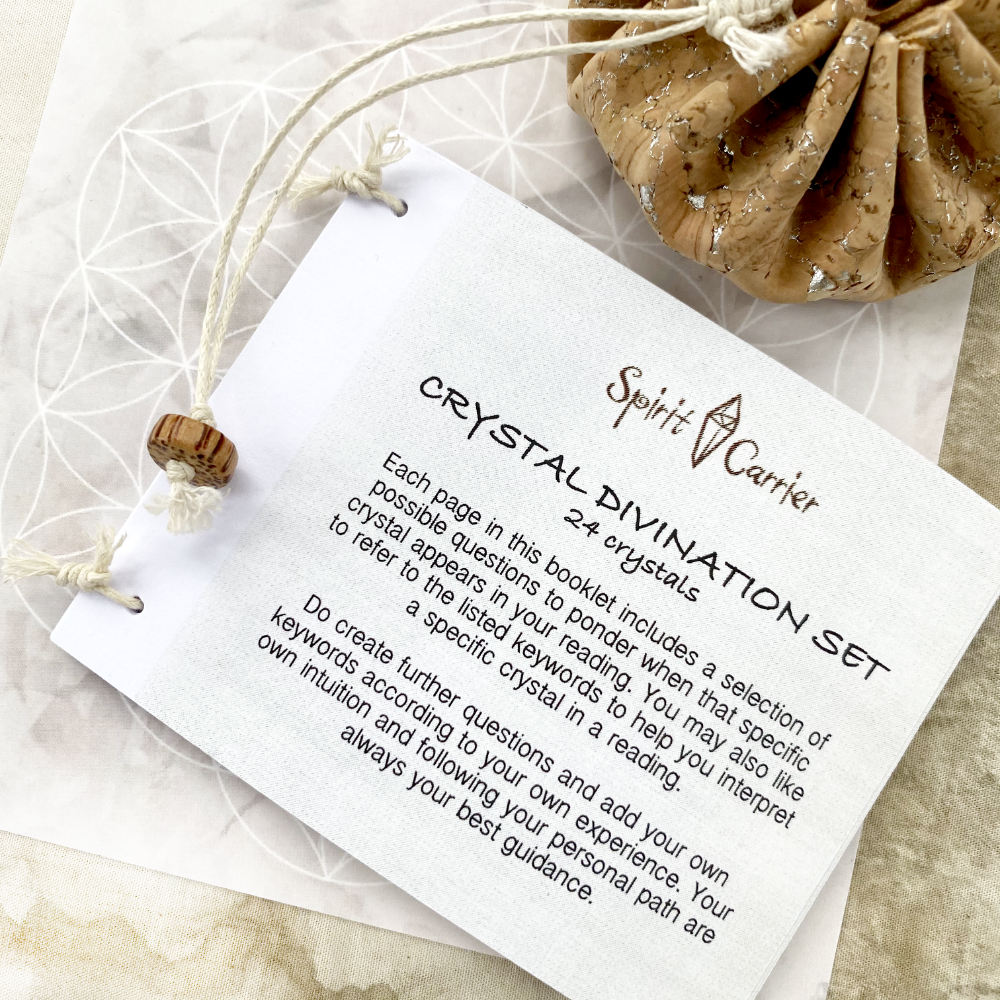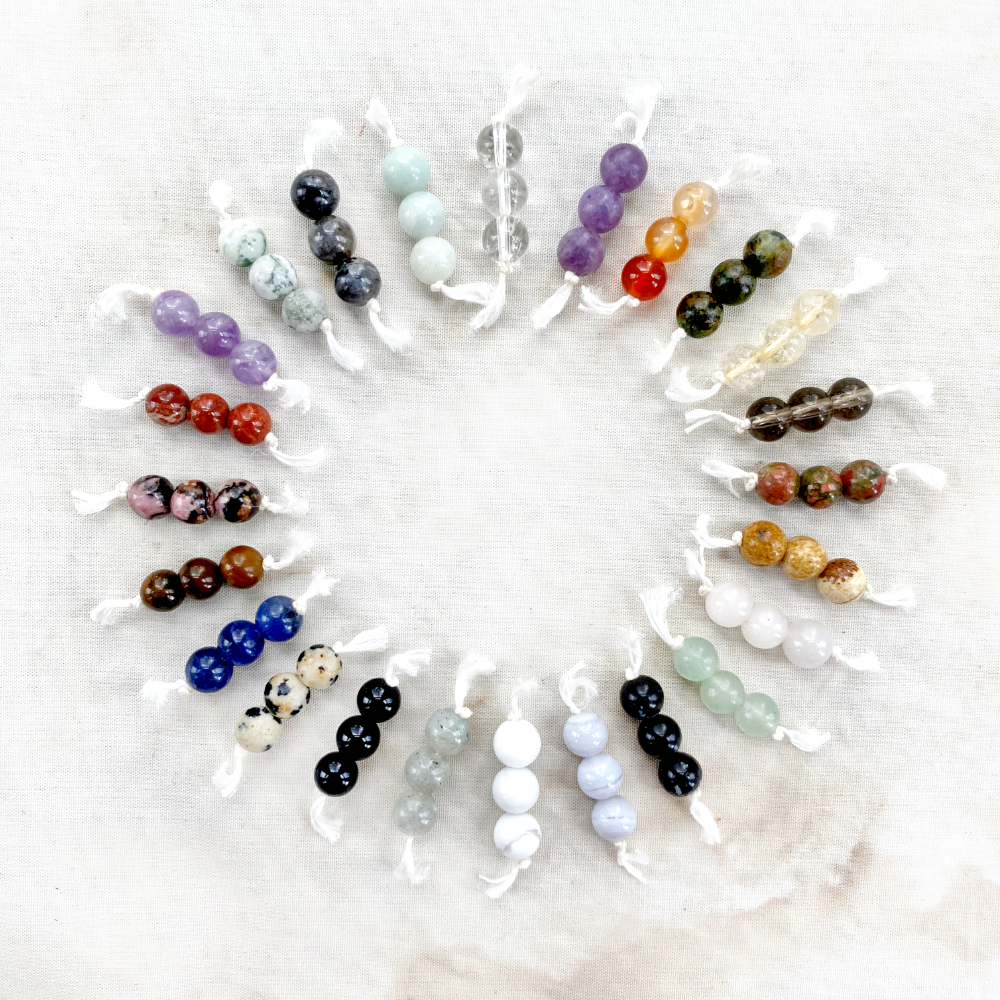 Crystal healing divination set of 24 crystals ~ travel size
DESCRIPTION
This is a compact travel-size set of 24 crystal types suitable for crystal divination, crystal readings, crystal grids, crystal healing and meditative practices. Each of the 24 pieces has three crystal beads, strung on natural white cotton cord with a small tassel in each end. The diameter of the beads varies slightly between crystal types averaging around 0.5 cm - 0.6 cm, making each piece 1.5 cm - 1.8 cm (0.6" - 0.7") long. 

The 24 crystal types included are, starting clockwise from the top position in the first photograph: Clear Quartz, Lepidolite, Carnelian, African Turquoise Jasper, Citrine, Smokey Quartz, Unakite, Picture Jasper, Rose Quartz, Green Aventurine, Snowflake Obsidian, Blue Lace Agate, Howlite, Labradorite, Black Agate, Dalmatian Jasper, Sodalite, Tiger Eye, Rhodonite, Red Jasper, Amethyst, Tree Agate, Larvikite, Amazonite. This combination covers most energetic aspects that you might like to consider in a crystal reading or a crystal healing situation. 

Also note that this set of 24 incorporates a 'Chakra' selection, in case you want to use the seven crystals of Red Jasper, Carnelian, Citrine, Green Aventurine, Blue Lace Agate, Sodalite & Amethyst specifically for chakra work.

This set comes with a small information booklet listing keywords for each crystal type together with guidance questions that can be considered when doing a reading for either your own personal development purposes or for other people. Of course, your own intuition and energetic connection with each crystal type will be your main guide in working with this set. The ideal way of cleansing these pieces before and after use is with sound vibration, such as crystal tuning fork (496Hz).

Due to this fitting into such a compact pouch, this is one of the most ideal, light-weight ways to carry so many different crystals with you wherever you travel. Whether you want to pick a daily crystal for contemplation, or choose to meditate with a specific one, you can use the cork pouch as a 'picking bowl'. You may also like to develop your own ways of working with the set, such as training your extrasensory awareness to discern between different types of crystals, to feel the combined energies of the crystals etc.
In addition you'll receive Spirit Carrier's Flower of Life crystal grid base (as pictured) in case you want to utilise it for readings or crystal grids.
Gift-wrapped at no extra charge.


Recently Viewed