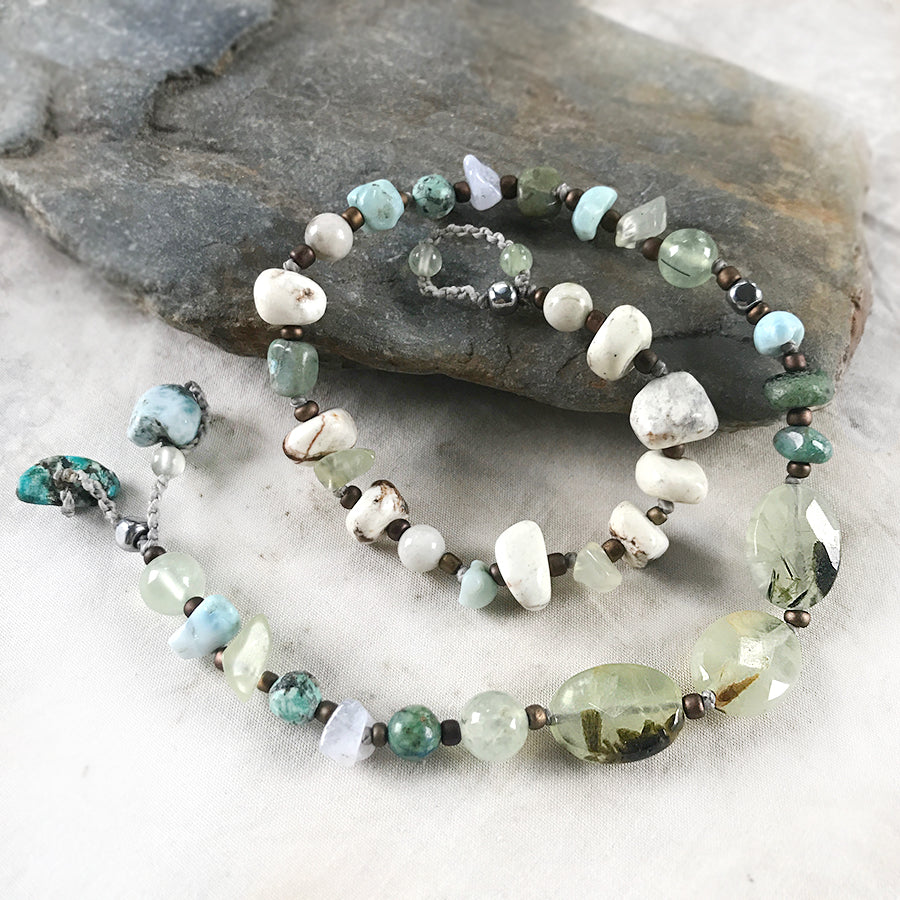 Crystal healing double wrap bracelet ~ for 6" wrist
DESCRIPTION
Easy to wear daily favourite that matches many outfits too ~ a 14" (36 cm) long line of energy activated crystals, mainly in tones of green and white, that wraps snuggly around a 6" wrist twice. The closing toggle clasp consists of two strands, one with African Turquoise Jasper and the other Larimar - both can be slipped through the knotted loop to close the bracelet securely. 
The bracelet strand includes a mixture of healing crystals, among them you'll find: Epidote in Prehnite, Chrysoprase, Larimar, African Turquoise Jasper, Peace Jade, Kunzite, Rose Quartz, Dragon Jasper, Azurite included Malachite, Calcite and Hematite. The bracelet is strung on light grey micro-macrame cord, alternating the crystals with matte brown seed beads, knotted at regular intervals for strength.
This one-of-a-kind bracelet comes in a fabric drawstring pouch, and gift-wrapped at no extra charge.
CRYSTAL PROPERTIES
The four crystal types bringing the most prominent energy in the bracelet:
EPIDOTE IN PREHNITE
Prehnite is a strongly protective stone, said to be "the healer's healer". It fosters a sense of trust in the Universe and helps you protect your boundaries so it's easier to say "no" when needed. Prehnite is also revitalising and said to bring inner peace. Epidote within the Prehnite is an energy enhancer, so it gives an extra boost to the crystal's energy. It encourages you to approach life with a positive outlook, clearing emotional residue and confusion from the heart chakra. Epidote is also considered a magnet for prosperity and great for physical recovery.
CHRYSOPRASE
Opens and activates the Heart chakra, and helps one to live 'from the heart'. It encourages acceptance of oneself and others, as well as bringing a sense of hope into situations that may look dire. A loving and supportive stone at times of transitional phases. Initiates inner growth and the healing of heart-felt sorrows. A stone of grace and compassion.
LARIMAR
A relatively rare stone, only found in the Dominican Republic. In crystal lore it is associated with the ancient civilization on Lemuria, and also sometimes called a "Dolphin Stone". Larimar is soothing and uplifting, bringing tranquility into heart and mind. It is said to support self-expression, creativity and patience.
AFRICAN TURQUOISE JASPER
Calming and soothing stone that creates a feeling of tranquility and comfort. Encourages personal growth, opening the mind to new ideas and possibilities. Also known as an abundance stone.
Recently Viewed