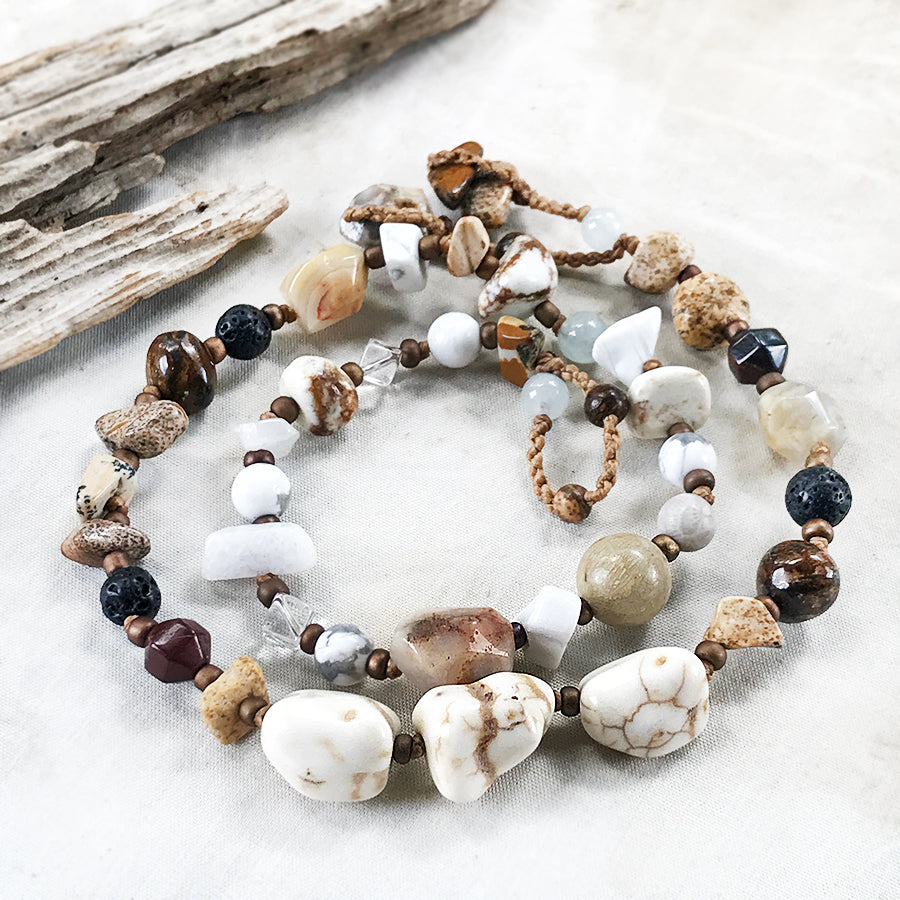 Crystal healing double wrap bracelet in tones of cream & brown ~ for up to 6.75" wrist
DESCRIPTION
Easy to wear daily favourite that matches many outfits too ~ a 15" (39 cm) long line of energy activated crystals that wraps snuggly around a 6.75" wrist twice, although the double wrap structure makes this bracelet perfectly suitable for smaller wrists too. The closing toggle clasp consists of two strands, Crazy Lace Agate and Tiger Eye - both can be slipped through the knotted loop to close the bracelet securely.
The combination of gems is selected to create a smooth, considered energy flow, including Magnesite, Chrysoprase, Quartz, Picture Jasper, Tiger Iron, Lava Stone, Bronzite, Petoskey Stone, Aquamarine, Howlite and Crazy Lace Agate. The bracelet is strung on golden brown micro-macrame cord, alternating the crystals with matte brown glass seed beads, knotted at regular intervals for strength.
This one-of-a-kind bracelet comes in a fabric drawstring pouch, and gift-wrapped at no extra charge.

Read here how to take care of your crystal jewellery.
CRYSTAL PROPERTIES
Three of the most prominent crystals providing their healing vibes in this bracelet:
MAGNESITE
Opens up higher realms and states of consciousness, bringing visions and emotional balance. Assists in hearing your heart's desires. High ascension stone that awakens one to spiritual growth. Offers the gift of direct knowing by opening the third eye and crown chakras. Has the potential to create blissful changes in one's life.
CRAZY LACE AGATE
A stone of laughter and happiness, offering support and encouragement, elevating one's mood and promoting optimism. Uplifting stone that alleviates emotional pain and promotes self-acceptance. Useful for overcoming any kind of trauma, encouraging one to start over. Promotes inner stability.
CHRYSOPRASE
Opens and activates the Heart chakra, and helps one to live 'from the heart'. It encourages acceptance of oneself and others, as well as bringing a sense of hope into situations that may look dire. A loving and supportive stone at times of transitional phases. Initiates inner growth and the healing of heart-felt sorrows. A stone of grace and compassion.
Recently Viewed