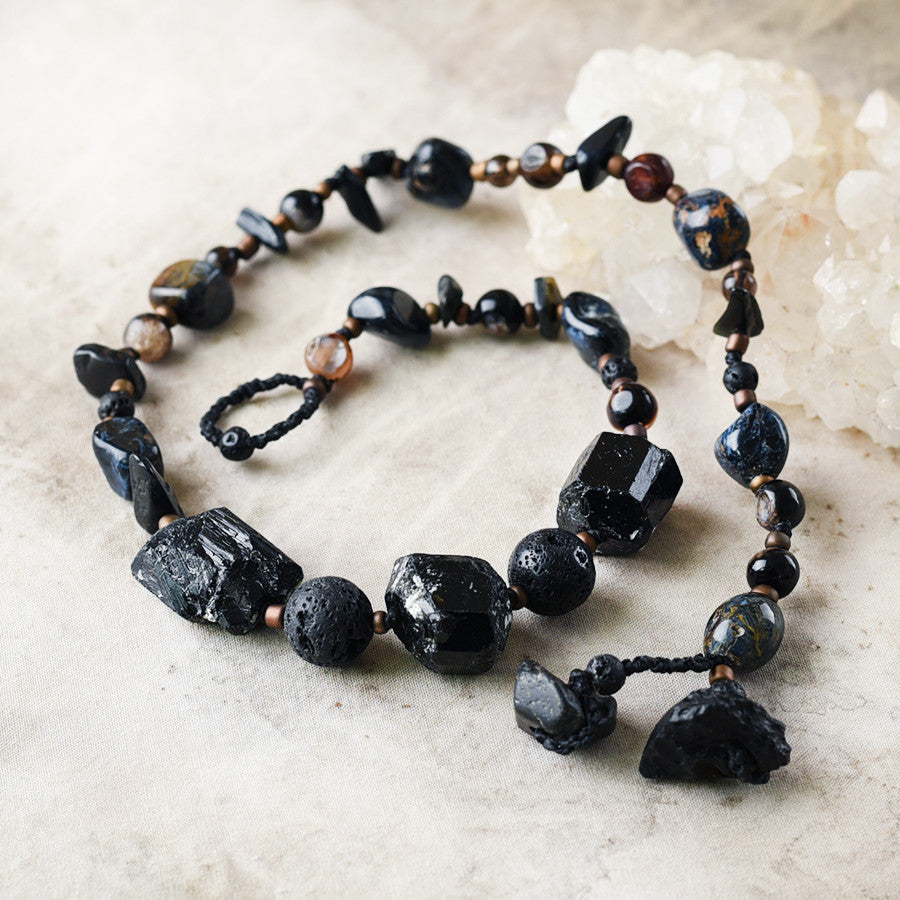 Crystal healing double wrap bracelet in dark tones ~ for 6.5" wrist
DESCRIPTION
Easy to wear daily favourite that matches many outfits too ~ a 15" (38 cm) long line of energy activated crystals that wraps snuggly around a 6.5" wrist twice. The closing toggle clasp consists of two strands, Tektite and Garnet - both can be slipped through the knotted loop to close the bracelet securely.
The combination of gems in this bracelet create a smooth energy flow - the bracelet strand includes Lava Stone, Black Tourmaline, Pietersite, Agate and Hawk Eye. The bracelet is strung on black micro-macrame cord, alternating the crystals with matt brown glass seed beads, and knotted at regular intervals for strength.
This one-of-a-kind bracelet comes in a fabric drawstring pouch, and gift-wrapped at no extra charge.
CRYSTAL PROPERTIES
The four main crystals in the bracelet:
BLACK TOURMALINE
One of the most well-known protective stones, shielding its user from negativity. A shamanic stone used for grounding during vision quests. Empowering for those who work in challenging environments. Purifies and transforms denser energies into lighter vibrations and is also detoxifying for the body. If you're sensitive to electromagnetic smog, you may get relief by wearing black Tourmaline.
LAVA STONE
Stone of vitality, assertiveness and passion. Provides stability in times of change. Grounding and protective. Supports courage and decisiveness. Helps in finding one's 'life path'. Encourages personal development and growth.
PIETERSITE (aka Tempest Stone)
Fosters calm and joyous peacefulness. Enhances intuition and insight. Aids in the acceptance and tolerance of others and life. Dispels illusions and aids one seeing the beauty within. High vibration stone used by many energy healers.
TEKTITE
Excellent tool for releasing and clearing away energy blockages in order to connect you with your own power. Creates a powerful energy link between the higher and lower chakras, keeping you grounded in your own presence and linking you via the heart of the earth into the entire cosmos. Opens channels of communication with other dimensions. Raises one's vibration by strengthening the aura and expanding consciousness through current limitations. May increase the frequency of synchronicities one experiences in life.
Recently Viewed