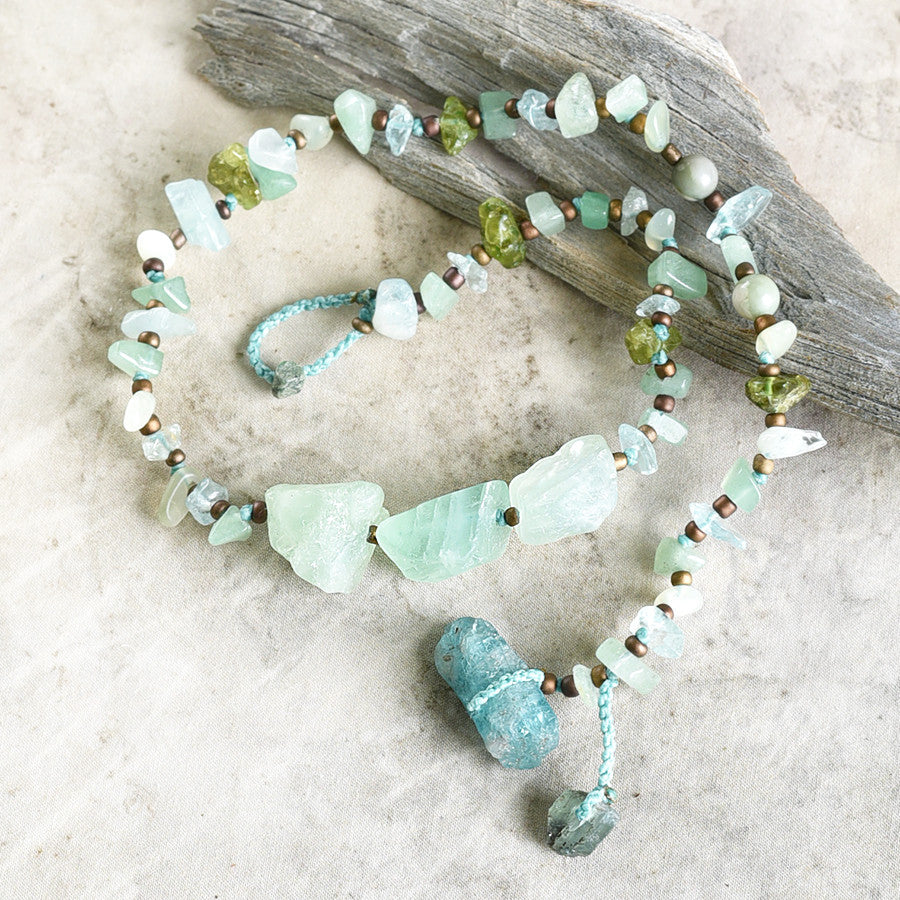 Crystal healing double wrap bracelet in green tones ~ for 6.5" wrist
DESCRIPTION
Easy to wear daily favourite that matches many outfits too ~ a 15" (38 cm) long line of energy activated crystals that wraps snuggly around a 6.5" wrist twice (would also be fine for a smaller wrist if you prefer a slightly more loose fit, or 6.75" wrist if you prefer tight fitting bracelets). The closing toggle clasp consists of two strands, a larger and smaller Apatite crystal - both can be slipped through the knotted loop to close the bracelet securely.
The combination of gems in this bracelet create a smooth energy flow - the bracelet strand includes Fluorite, clear Quartz, Aventurine, Calcite, Peridot, Peace Jade, Aquamarine and Amazonite. The bracelet is strung on pink micro-macrame cord, alternating the crystals with matt brown glass seed beads, an occasional golden sheen glass bead and knotted at regular intervals for strength.
This one-of-a-kind bracelet comes in a fabric drawstring pouch, and gift-wrapped at no extra charge.
(Whilst these bracelets cannot be resized once completed, if you would like a crystal double-wrap bracelet in a certain colour scheme, crystals or in a specific length, feel free to get in touch with me.)
CRYSTAL PROPERTIES
The four main crystals with the most prominent energy in the bracelet:
FLUORITE
Excellent for cleansing one's aura, also detaching unwanted energy cords. Grounds excessive energy, beneficial for all levels of healing. Helpful in achieving spiritual wholeness. Protective, stabilising and harmonising stone. Facilitates personal growth. Awareness expanding. Anchors intuitive insights into the physical plane. Offers strong psychic protection, helping to discern energies one comes in contact with. Helps in being objective and focusing on what is essential. Also known as absorbing environmental EMF.
APATITE
Enhances one's insight and imagination, and gives increased self-confidence. Blue Apatite connects to high level of spiritual guidance and is helpful in letting go of anything that no longer serves your highest good. Apatite crystal is also said to be a good aid in curbing one's appetite!
PERIDOT
Upbeat and comforting, Peridot reduces stress and amplifies intuitive awareness. Soothes hurt feelings, supporting renewal and personal growth. Brings in-depth heart based awareness, extending from healing to understanding and offering protection against negative emotions. Known also as the stone of prosperity and happiness.
AMAZONITE
A stone of self-respect, confidence and grace. Soothes the spirit and calms the soul. Assists in connecting with one's intuition. Enhances creativity and self-expression. Empowers to move beyond fear, to live in alignment with your truth. A talisman for healing and prosperity, also said to bring in new business.
Recently Viewed