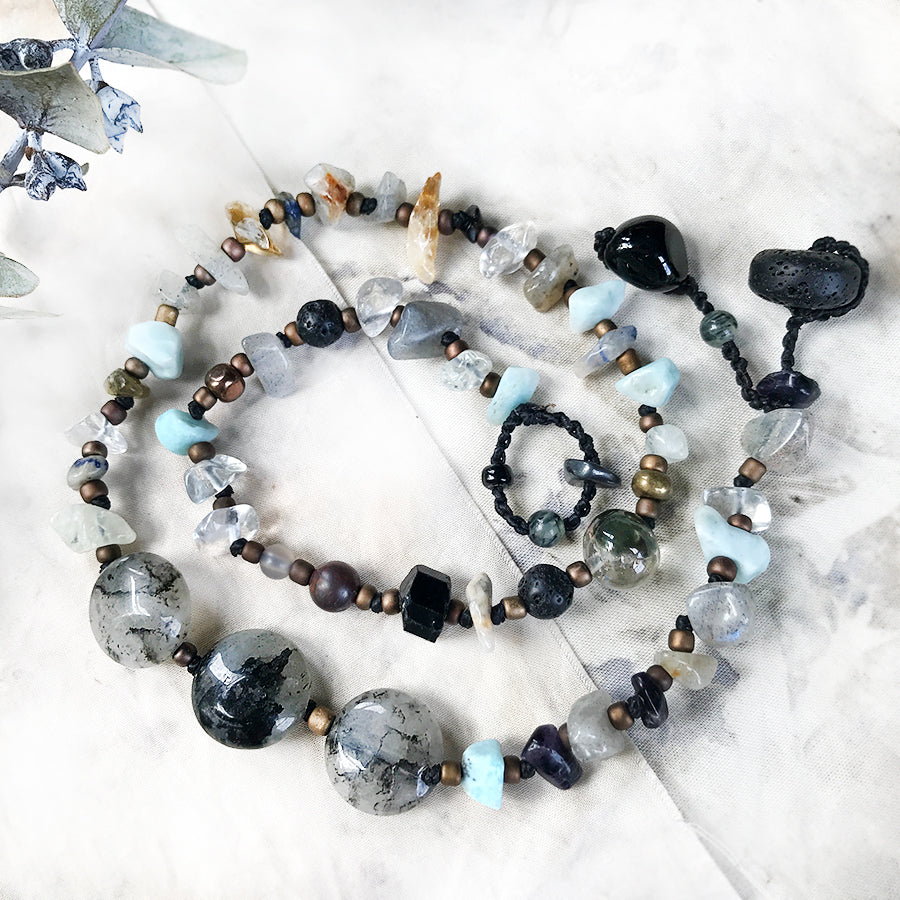 Crystal healing double wrap bracelet in light & dark tones ~ for up to 6.5" wrist
DESCRIPTION
Easy to wear daily favourite that matches many outfits too ~ a 15" (39 cm) long line of energy activated crystals that wraps snuggly around a 6.5" wrist twice, although the double wrap structure makes this bracelet perfectly suitable for smaller wrists too. The closing toggle clasp consists of two strands, Lava Stone and Black Tourmaline - both can be slipped through the knotted loop to close the bracelet securely.
The combination of gems is selected to create a smooth, considered energy flow, including Epidote in Prehnite, Black Tourmaline, Lava Stone, Larimar, Lodolite, Citrine, Amethyst, Labradorite, Sodalite, Agate, Hematite and Clear Quartz. The bracelet is strung on black micro-macrame cord, alternating the crystals with matte brown glass seed beads, knotted at regular intervals for strength.
This one-of-a-kind bracelet comes in a fabric drawstring pouch, and gift-wrapped at no extra charge.

Read here how to take care of your crystal jewellery.
CRYSTAL PROPERTIES
Four of the most prominent crystals providing their healing vibes in this bracelet:
EPIDOTE IN PREHNITE
Prehnite is a strongly protective stone, said to be "the healer's healer". It fosters a sense of trust in the Universe and helps you protect your boundaries so it's easier to say "no" when needed. Prehnite is also revitalising and said to bring inner peace. Epidote within the Prehnite is an energy enhancer, so it gives an extra boost to the crystal's energy. It encourages you to approach life with a positive outlook, clearing emotional residue and confusion from the heart chakra. Epidote is also considered a magnet for prosperity and great for physical recovery.
BLACK TOURMALINE (aka Schorl)
One of the most well-known protective stones, shielding its user from negativity. A shamanic stone used for grounding during vision quests. Empowering for those who work in challenging environments. Purifies and transforms denser energies into lighter vibrations and is also detoxifying for the body. If you're sensitive to electromagnetic smog, you may get relief by wearing black Tourmaline.
LARIMAR
A relatively rare stone, only found in the Dominican Republic. In crystal lore it is associated with the ancient civilization on Lemuria, and also sometimes called a "Dolphin Stone". Larimar is soothing and uplifting, bringing tranquility into heart and mind. It is said to support self-expression, creativity and patience.
LAVA STONE
Stone of vitality, assertiveness and passion. Provides stability in times of change. Grounding and protective. Supports courage and decisiveness. Helps in finding one's 'life path'. Encourages personal development and growth.
Recently Viewed