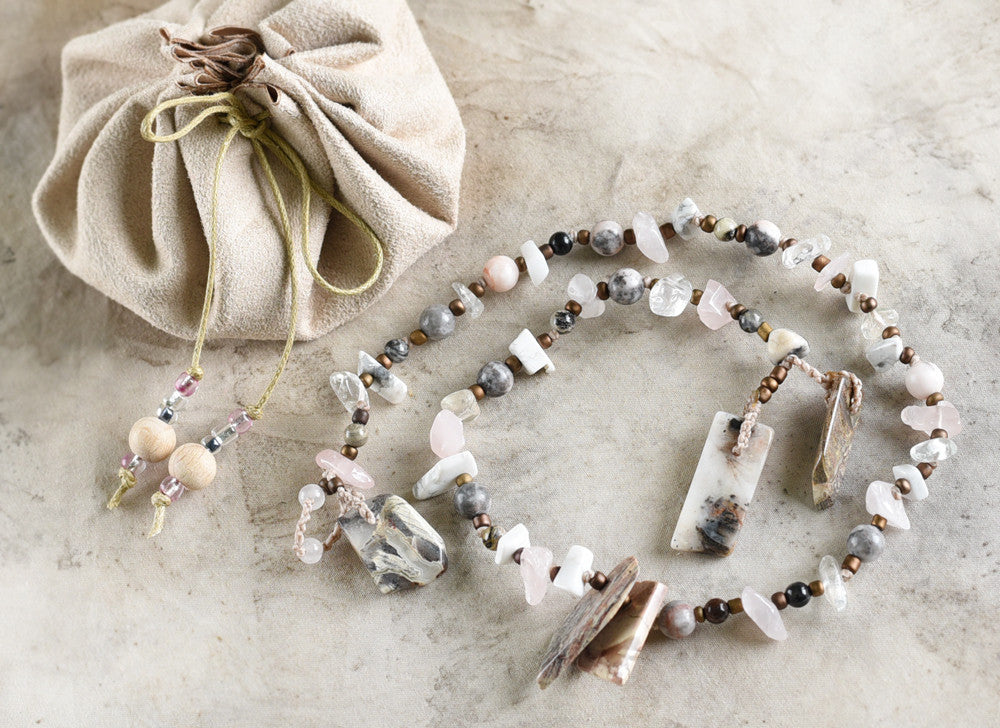 Crystal healing double wrap bracelet in light tones ~ for up to 6.5" wrist
DESCRIPTION
Easy to wear daily favourite that matches many outfits too ~ a 14.5" (37 cm) long line of energy activated crystals that wraps snuggly around a 6.5" wrist twice (would also be fine for a smaller wrist if you prefer a slightly more loose fit). The closing toggle clasp consists of two strands of Silver Leaf Jasper - both can be slipped through the knotted loop to close the bracelet securely.
The collection of gems in this bracelet create a smooth energy flow - along the strand you'll find Zebra Jasper, Silver Leaf Jasper, Rose Quartz, clear Quartz, white Jade and Howlite. The bracelet is strung on light cream tone micro-macrame cord, alternating the crystals with matt brown glass seed beads and knotted at regular intervals for strength.
This one-of-a-kind bracelet comes in a fabric drawstring pouch, and gift-wrapped at no extra charge.
CRYSTAL PROPERTIES
The three main crystals with the most prominent energy in the bracelet:
SILVER LEAF JASPER
Harmonious, protective stone. Considered a good amulet for times of travel (whether physical or astral). Instils a feeling of wholeness and serenity, a sense that all is well. Great support for one's will power and personal courage. Healing effect on emotional tension. Has been called a "stone of natural wisdom", awakening one's sense of joy in life.
ZEBRA JASPER
Also known as 'white tiger stone', encouraging you to enjoy the experiences life offers. Like all Jaspers, this too is soothing and balancing. Zebra Jasper lifts your mood and motivates you to take action, to overcome apathy. Helps you to see your true nature and find out what you truly desire.
ROSE QUARTZ
Powerful love stone, love that is all-encompassing and unconditional. Vibrates its loving energy to all chakras, offering gentle healing. Soothing and calming. Dissolves anger and resentment. Good for raising one's self-esteem and feelings of self-worth. Balances emotions and is said to support all types of healing.
Recently Viewed