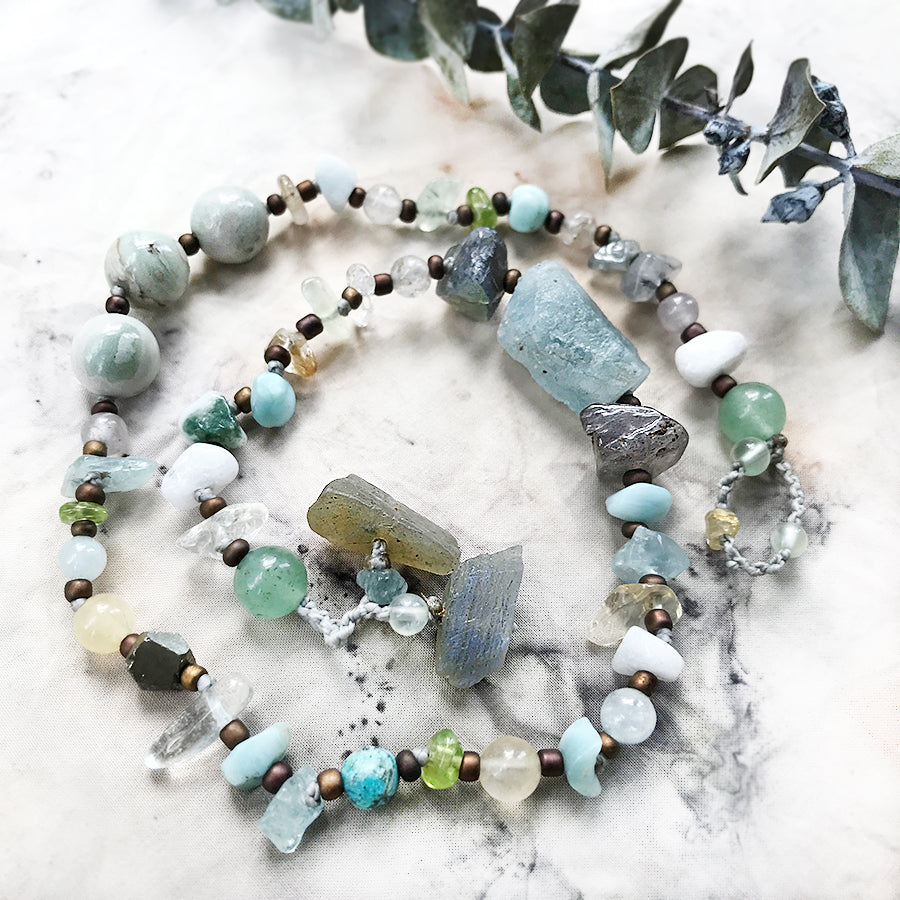 Crystal healing double wrap bracelet in tones of green ~ for up to 6.5" wrist
DESCRIPTION
Easy to wear daily favourite that matches many outfits too ~ a 15.5" (40 cm) long line of energy activated crystals that wraps snuggly around a 6.5" wrist twice, although the double wrap structure makes this bracelet perfectly suitable for smaller wrists too. The closing toggle clasp consists of two Labradorite strands - both can be slipped through the knotted loop to close the bracelet securely.
The combination of gems is selected to create a smooth, considered energy flow, including Aquamarine, Peace Jade, Clear Quartz, Tourmalinated Quartz, Gold Rutile Quartz, Larimar, Prehnite, White Jade, Honey Jade, Aquamarine, African Turquoise Jasper, Labradorite, Peridot, Citrine, Pyrite, Aventurine, Tree Agate and Tourmaline. The bracelet is strung on light grey micro-macrame cord, alternating the crystals with matte brown glass seed beads, knotted at regular intervals for strength.
This one-of-a-kind bracelet comes in a fabric drawstring pouch, and gift-wrapped at no extra charge.

Read here how to take care of your crystal jewellery.
CRYSTAL PROPERTIES
Three of the most prominent crystals providing their healing vibes in this bracelet:
AQUAMARINE
Connected with the throat chakra, easing verbal self-expression. Helps you communicate your own truth and find your voice. Helps in looking at emotional situations from other perspectives, assists in opening up intuition and to calmly be in the flow of life. Aquamarine also aids in reaching deep meditative states. Resonates with the energy of the ocean. Stone of courage and protection.
PEACE JADE
Pure, intensely peaceful vibe which can be easily felt when just holding this stone. Releases internalised stress, allowing you feel serene and in alignment with your core self. Calming when feeling emotionally overwhelmed. Guides you to take that "deep breath" of release to let go of tension and worry. Compassionate heart chakra stone that fills you with divine tranquility.
LABRADORITE
One of the most powerful, versatile crystal tools for healing. Creates an auric shield and strengthens your innate energy and life force, preventing energy leakages. Enhances intuitive abilities and assists in spiritual transformation. Helps the wearer align with their highest destiny and discover their inner worth. Strengthens willpower and brings in new ideas. Often referred to as the 'Stone of Destiny', believed to help you to find your true path in life, and as 'Temple of the Stars', anchoring higher dimensional light into your being.
Recently Viewed