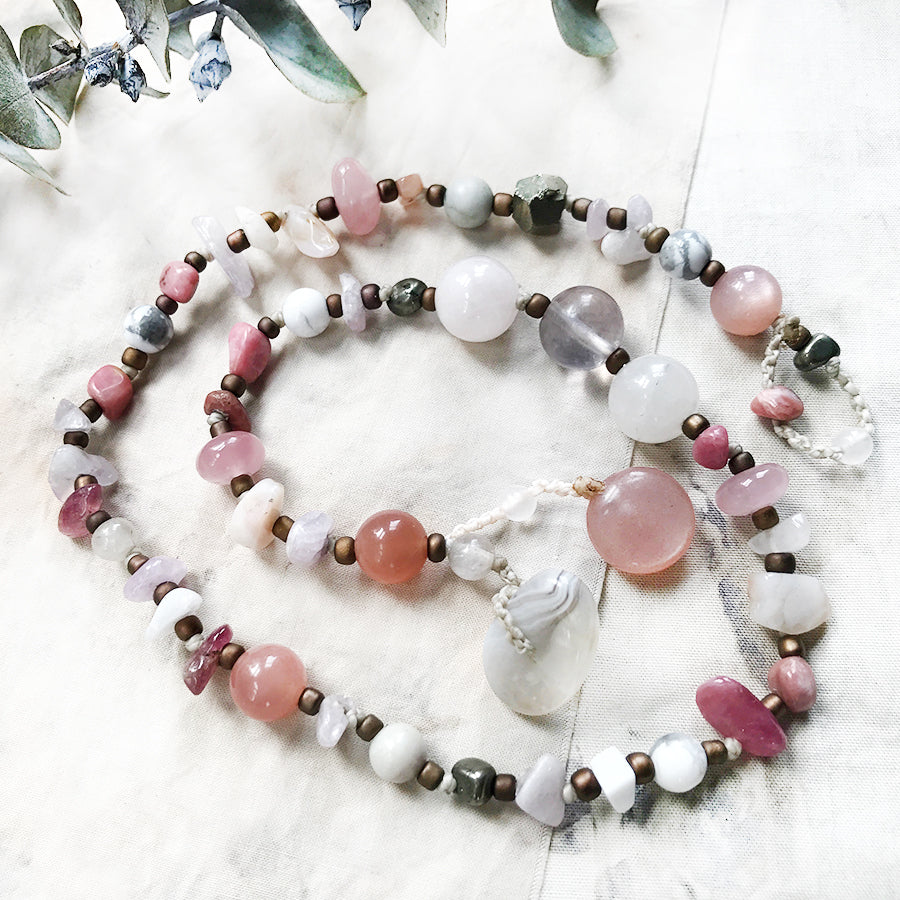 Crystal healing double wrap bracelet in tones of pink ~ for up to 6.25" wrist
DESCRIPTION
Easy to wear daily favourite that matches many outfits too ~ a 15" (39 cm) long line of energy activated crystals that wraps snuggly around a 6.25" wrist twice. The closing toggle clasp consists of two strands, Agate and Sunstone - both can be slipped through the knotted loop to close the bracelet securely.
The combination of gems is selected to create a smooth, considered energy flow, including Rose Quartz (incl. the rare, naturally dark pink Madagascan variety), Sunstone, Fluorite, Howlite, Kunzite, Rubellite, Rhodonite, Pink Peruvian Opal, Agate, Peace Jade, Quartz and Pyrite. The bracelet is strung on cream tone micro-macrame cord, alternating the crystals with matte brown glass seed beads, knotted at regular intervals for strength.
This one-of-a-kind bracelet comes in a fabric drawstring pouch, and gift-wrapped at no extra charge.

Read here how to take care of your crystal jewellery.
CRYSTAL PROPERTIES
Three of the most prominent crystals providing their healing vibes in this bracelet:
ROSE QUARTZ
Powerful love stone, love that is all-encompassing and unconditional. Awakens one's heart to its own innate love, compassion and acceptance. Vibrates its loving energy to all chakras, offering gentle healing. Soothing and calming. Dissolves anger and resentment. Good for raising one's self-esteem and feelings of self-worth. Balances emotions and is said to support all types of healing. Guides one's life path towards a sense of personal fulfilment and contentment.
SUNSTONE
Joyful and nurturing, restores one's enjoyment of life, providing a sense of abundance. Encourages independence and originality. Makes you feel alive and enthusiastic. A good stone for workplace, bringing opportunities. Sunstone can be a source of strength after experiencing losses.
AGATE
The oldest good luck amulet. In ancient times Persian magicians were, according to legend, diverting storms with the powers of Agate. Considered a protective stone (especially for travel), said to shield its keeper against dangers. Increases inner stability, enhances personal courage and fosters self-confidence. Grounding and soothing. Balancing stone for one's energy system to experience oneness instead of duality.
Recently Viewed