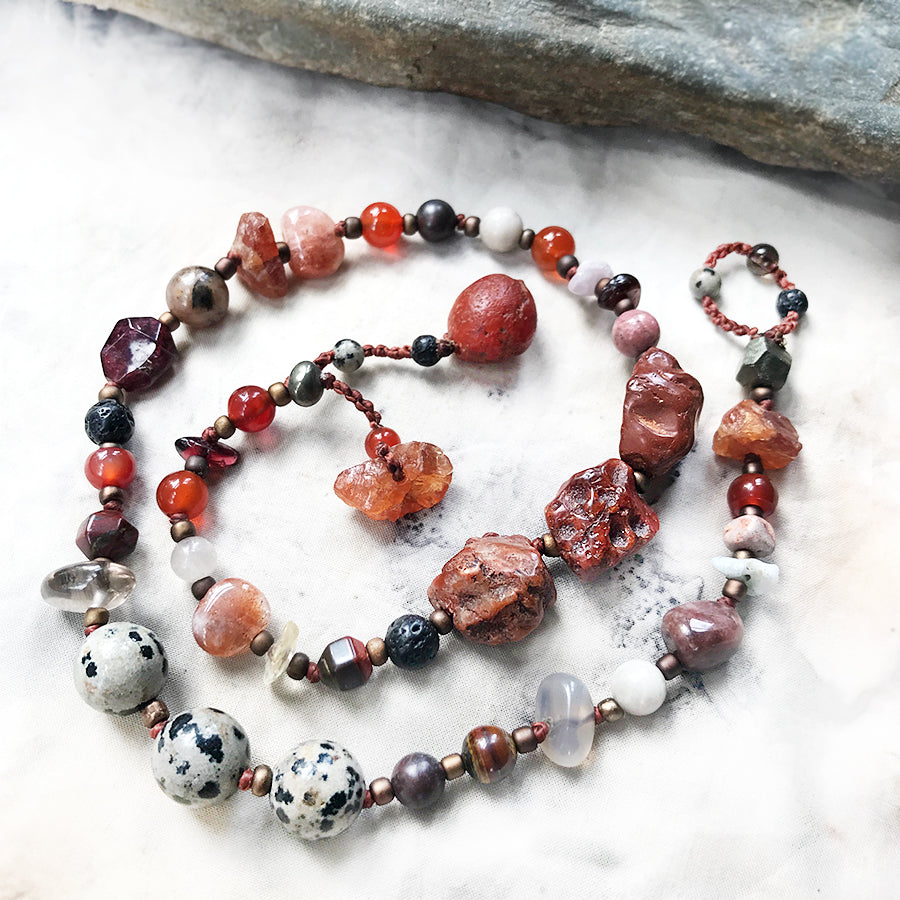 Crystal healing double wrap bracelet in tones of red ~ for up to 6.75" wrist
DESCRIPTION
Easy to wear daily favourite that matches many outfits too ~ a 16" (41 cm) long line of energy activated crystals that wraps snuggly around a 6.75" wrist twice, although the double wrap structure makes this bracelet perfectly suitable for smaller wrists too. The closing toggle clasp consists of two strands, Carnelian and Spessartine Garnet - both can be slipped through the knotted loop to close the bracelet securely.
The combination of gems is selected to create a smooth, considered energy flow, including Carnelian, Dalmatian Jasper, Spessartine Garnet, Lepidochrosite in Quartz, Pyrite, Tiger Iron, Almandine Garnet, Chiastolite, Zebra Jasper, Tourmaline, Kunzite, Lava Stone, Peace Jade, Citrine, Clear Quartz and Smokey Quartz. The bracelet is strung on reddish brown micro-macrame cord, alternating the crystals with matte brown glass seed beads, knotted at regular intervals for strength.
This one-of-a-kind bracelet comes in a fabric drawstring pouch, and gift-wrapped at no extra charge.

Read here how to take care of your crystal jewellery.
CRYSTAL PROPERTIES
Three of the most prominent crystals providing their healing vibes in this bracelet:
CARNELIAN
Known as a stone of motivation and courage. Stimulates creativity and increases one's sense of self-worth. Balancing for body's energy levels, restoring vitality and motivation. Said to attract prosperity, new resources and good luck. A success stone that helps you follow through with plans. Stone of action that aids in overcoming procrastination. Helps in gaining more understanding of one's inner self. Stimulating to the Sacral Chakra, which, when in balance, allows one to enjoy life, feel its joys and pleasures, be flexible and 'go with the flow'.
DALMATIAN JASPER
Helps in removing barriers that prevent you from moving forward in life, and to discover your true purpose of being in the world. Brings joy and playfulness into one's life. The black spots in this stone are Black Tourmaline, which adds to this stone's protective qualities.
SPESSARTINE GARNET
Elevates mood and allows experiences of 'emotional sunshine' into one's life, thus making life more fulfilling. Helps in overcoming the fear of new experiences, encouraging you to live more spontaneously. Balances and vitalises the sacral chakra, supporting creative pursuits and intuition.
Recently Viewed