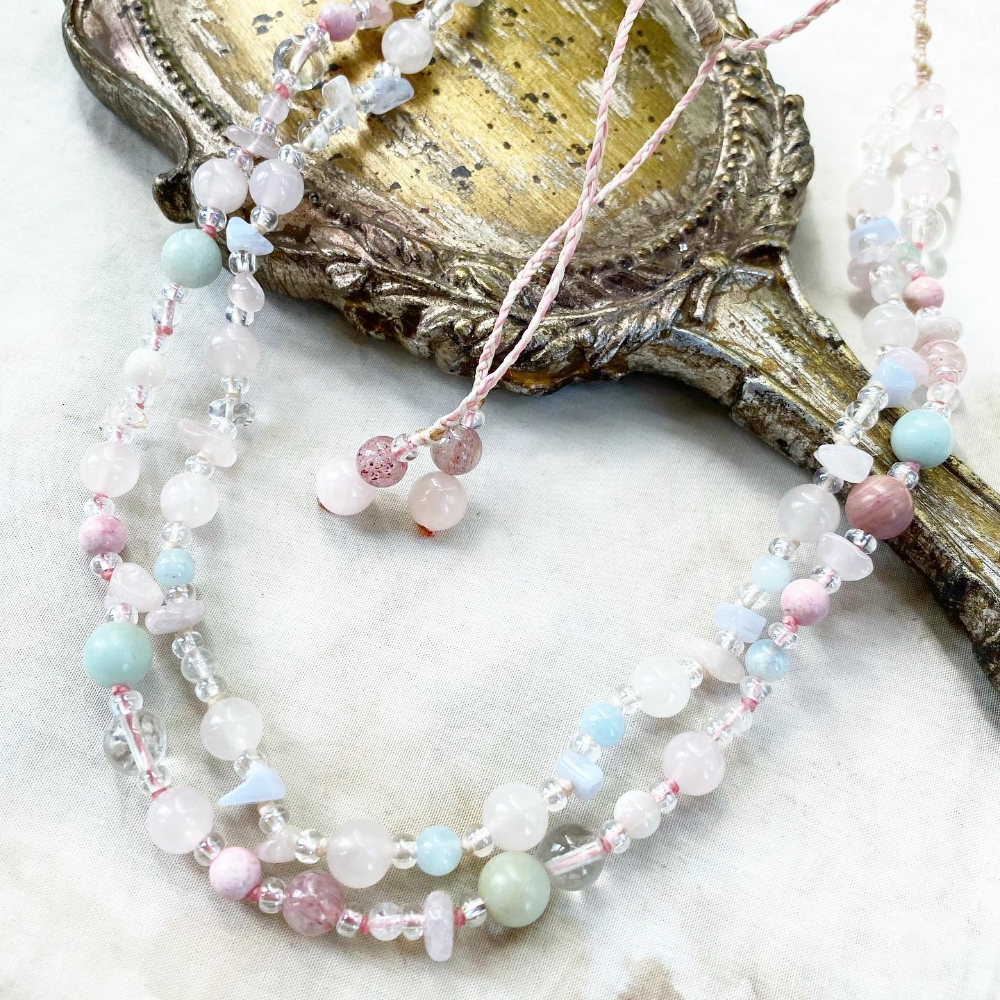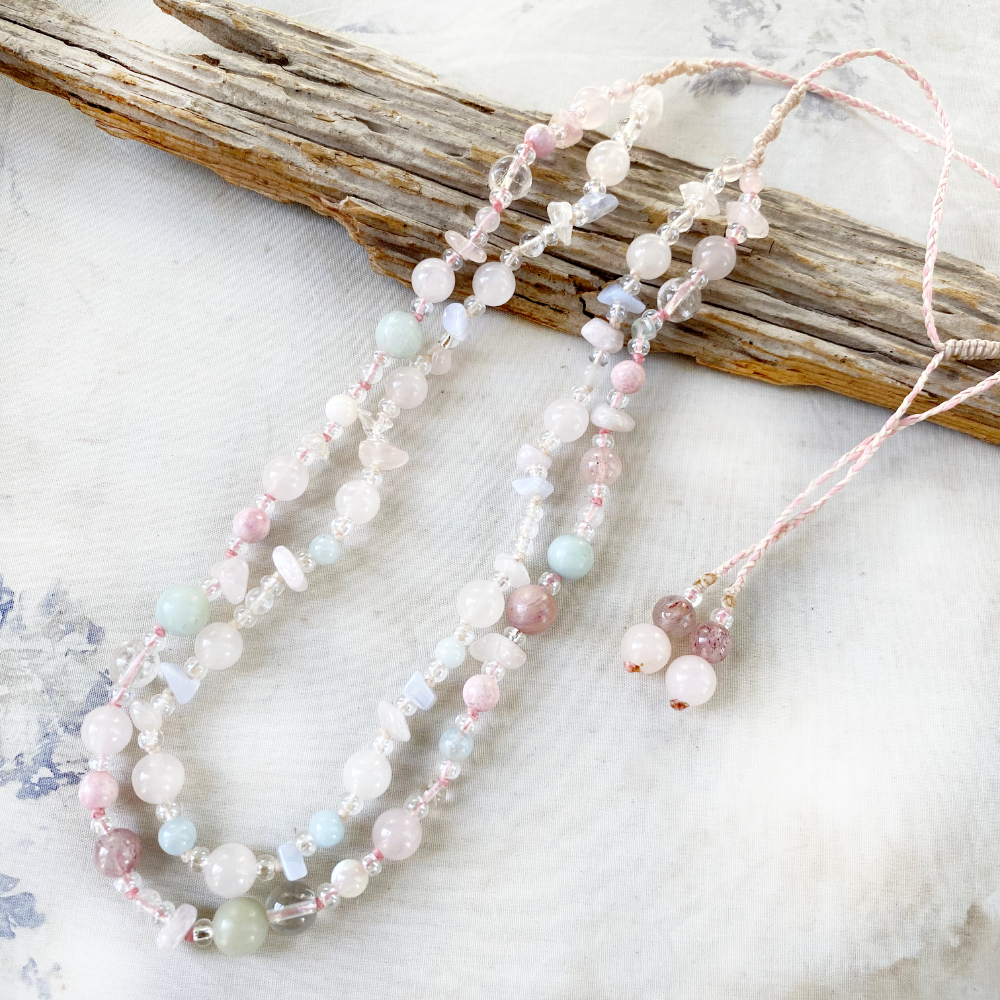 Crystal healing necklace in pastel tones
DESCRIPTION
Crystal healing necklace with two rows of crystal beads in pastel tones, energy-activated and ready to benefit from in a more classical style that's subtle and combines well with many outfits - crystal energy in disguise! There are several crystal types included, alternating with small clear glass seed spacer beads: Rose Quartz, Amazonite, Clear Quartz,  Lepidochrosite in Quartz, Blue Lace Agate, Rhodochrosite, Aquamarine, Kunzite, Morganite, Mother of Pearl and Rhodonite. The adjustable necklace braids are a combination of pink and cream tone micro-macrame cords, and the ends are accented with Lepidochrosite in Quartz and Rose Quartz crystals. This is easy daily wear with gentle, timeless feel.
The two rows of crystals are approx. 35 cm (14") wide, and the largest beads are are 0.8 cm (0.3") in diameter. As this necklace will look best worn at a shorter length, it is adjustable from as short as you wish to just above the heart level, so a slightly shorter adjustment range than Spirit Carrier's pendant style amulets.
You'll receive this crystal healing necklace in one of Spirit Carrier's fabric draw-string pouches, great for the safe-keeping of the necklace. Gift-wrapped at no extra charge.

Read here how to take care of your crystal jewellery.
CRYSTAL PROPERTIES
The four main crystal energies present ~
CLEAR QUARTZ
The universal master crystal that has a harmonising effect on all levels of being. Programmable by intention, so can be used for versatile purposes. Quartz can clear, enhance, amplify, transmute, balance, focus and transmit energy. Raises one's energetic vibration. Brings clarity and filters out distractions. A deep soul cleanser, attuning its keeper to their higher self. Each Quartz crystal is unique with its own character and teachings it offers, all are known as "Stones of Power" and "Master Healers".
ROSE QUARTZ
Powerful love stone, love that is all-encompassing and unconditional. Awakens one's heart to its own innate love, compassion and acceptance. Vibrates its loving energy to all chakras, offering gentle healing. Soothing and calming. Dissolves anger and resentment. Good for raising one's self-esteem and feelings of self-worth. Balances emotions and is said to support all types of healing. Guides one's life path towards a sense of personal fulfilment and contentment.
AMAZONITE
A stone of self-respect, confidence and grace. Soothes the spirit and calms the soul. Alleviates feelings of loneliness. Assists in connecting with one's intuition, enhancing creativity and self-expression. Empowers to move beyond fear, easing particularly fears relating to other people - fear of judgement, fear of confrontation. Helps with living in alignment with your truth, supporting matters of communication. Good luck stone for competitions, business and financial affairs.
BLUE LACE AGATE
A gentle, calming stone that's associated with the Throat Chakra, with speaking, communicating and discussions. Especially good for communicating the flow of wisdom you receive from your higher self. Also resonates with the Heart Chakra, assisting in "speaking from the heart". Helps in amplifying the energy of positive affirmations and is an aid for the healing of the inner child.
Recently Viewed