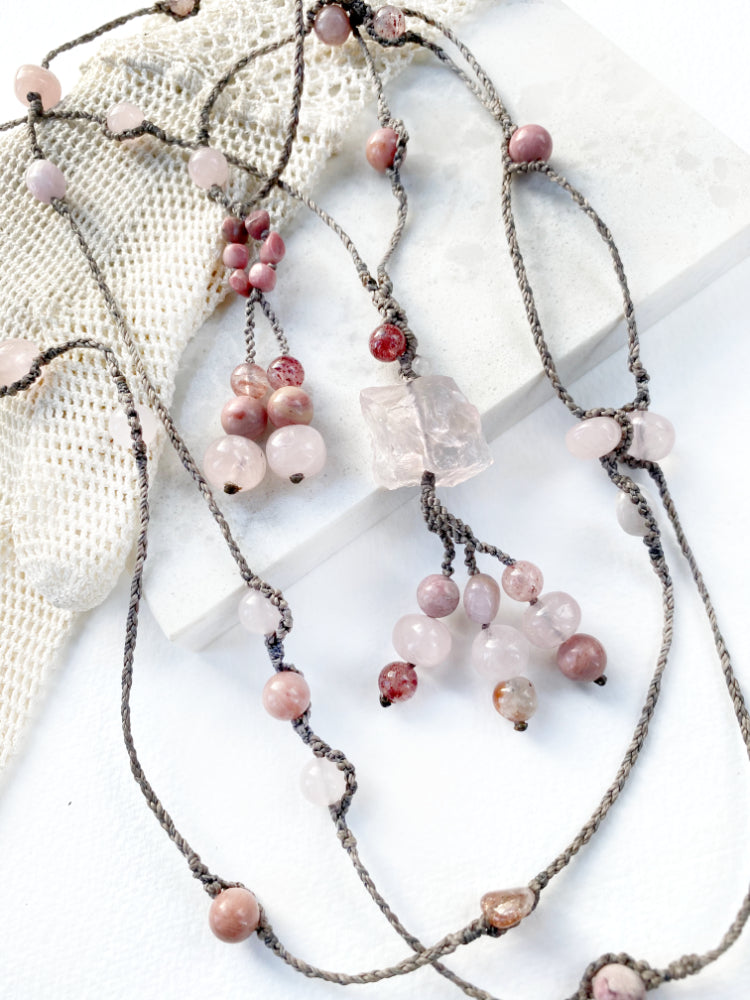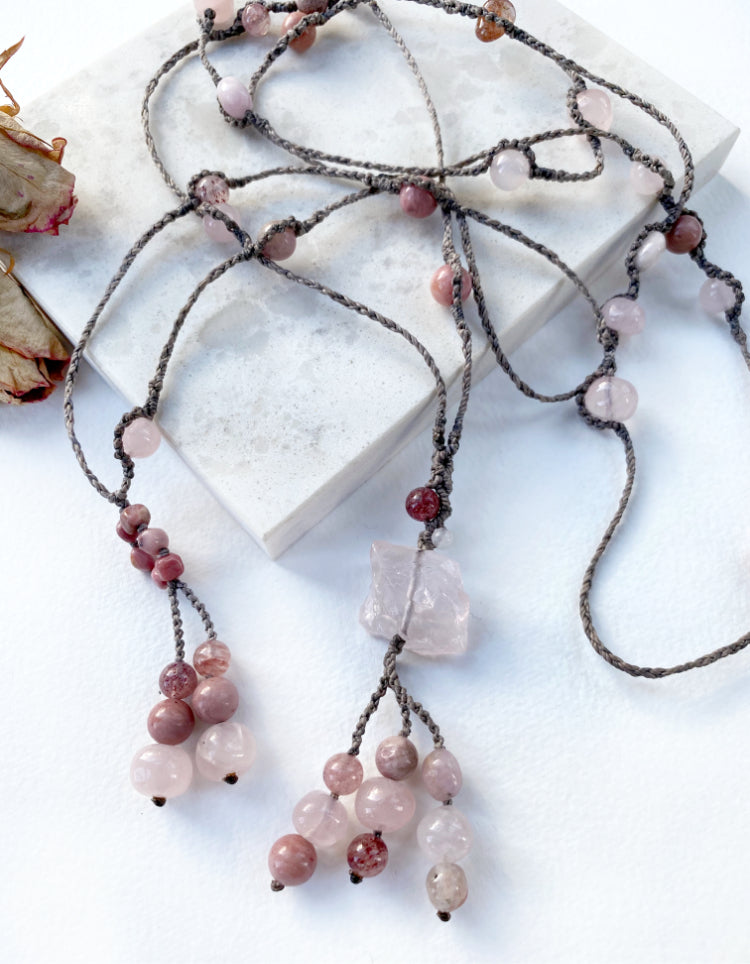 Crystal healing necklace with pink tone heart-healer energies
DESCRIPTION
Thinly braided very long necklace featuring a combination of healing crystals in pink tones: Rose Quartz, Rhodonite, Kunzite, Hemimorphite and Lepidochrosite in Quartz. The necklace is braided with grey micro-macrame cord with crystal clusters spaced unevenly along the braid for an organic feel. The two main crystal accents: the main pendant with a rough cut Ice Rose Quartz crystal with a 'tassel' of three knotted strands with further crystal highlights, and the other slightly smaller decorative cluster at the other end of the looped necklace braid. If you decide to wrap the braid around your neck twice, these two pendant clusters settle in front to form a decorative pairing. The total all-around length of this necklace is 144 cm (56.5"). The largest crystal, the Ice Rose Quartz is approx. 2 x 2 cm (0.8" x 0.8") in size. 
There are no metals in this necklace so would be particularly suitable for those with metal sensitivities, energy workers and those who simply prefer not to wear metal.
You'll receive this crystal healing necklace in a fabric draw-string pouch for safekeeping, and beautifully gift-wrapped at no extra cost.

Read here how to take care of your crystal jewellery.
CRYSTAL PROPERTIES
ROSE QUARTZ
Powerful love stone, love that is all-encompassing and unconditional. Awakens one's heart to its own innate love, compassion and acceptance. Vibrates its loving energy to all chakras, offering gentle healing. Soothing and calming. Dissolves anger and resentment. Good for raising one's self-esteem and feelings of self-worth. Balances emotions and is said to support all types of healing. Guides one's life path towards a sense of personal fulfilment and contentment.
RHODONITE
Known for its capacity to bring emotional healing, releasing blockages in the heart chakra. Balances emotions during chaotic times. Restores calm after emotional upheavals. Beneficial for the harmony of close relationships. A beautiful stone specifically for discovering one's inner gifts and can act as a catalyst for fulfilling one's life purpose. Stone of self-confidence that supports you in trusting your own heart.
KUNZITE
Stone of emotion, connecting heart and mind for optimum healing. Beneficial for those who find it hard to adjust to life on the earth plane. Helps in overcoming heartache and loss. Soothing in discordant situations and protective against harm. Good for those who wish to open up to life more to receive its gifts and opportunities. Assists in connecting with others and to embrace unconditional love.
HEMIMORPHITE
Stone for developing and amplifying one's psychic abilities, sometimes also called 'Buddha Stone'. Propels one towards personal transformation, considered a good healing stone for personal relationships. Enhances communication skills through increased compassion and self-confidence, by aligning heart, throat and third eye chakras. Dissolves negative emotional patterns such as anger, and also on the other hand protecting from malice. Attracts happiness, joy and good fortune.
LEPIDOCHROSITE IN QUARTZ
Stimulates intuitive spiritual awareness, at the same time gently grounding to Earth energy. Raises consciousness, and can be used for focusing intent during energy healing sessions. Calming and soothing, aids in releasing fears and aligning one with Divine will. A stone of 'allowing' and trusting the flow of life.
Recently Viewed