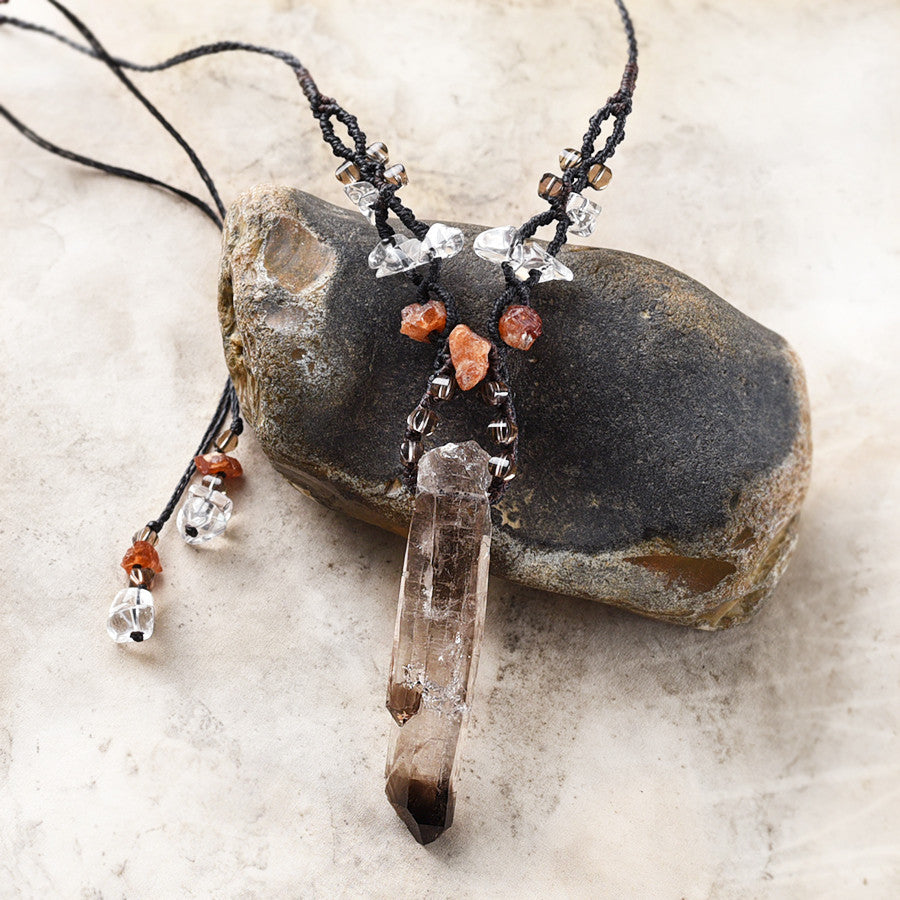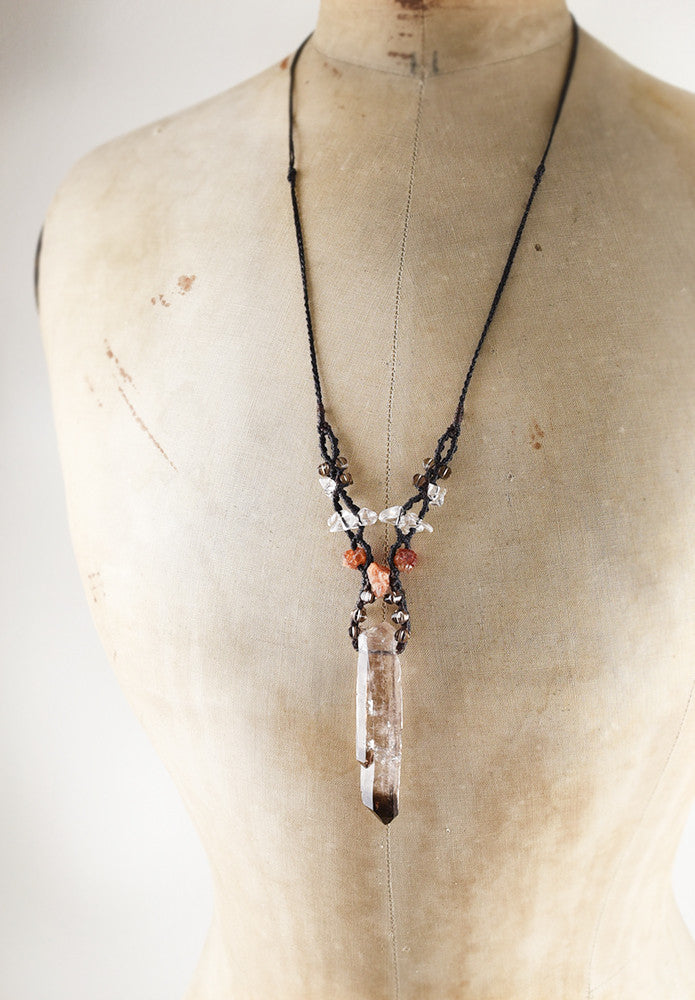 Crystal healing necklace with raw, natural Smokey Quartz dolphin point
DESCRIPTION
Crystal healing talisman with a natural Smokey Quartz point with a Dolphin formation (meaning there's a smaller crystal point attached to the main point, like a baby dolphin swimming alongside its mother). The smokey hue of this Quartz is also darker towards the tips of both points, giving the crystal quite an unusual look. The necklace is minimally knotted and braided with dark brown micro-macrame cord and highlighted with rough Spessartine Garnets, clear Quartz and further small Smokey Quartz crystals. The ends of the necklace braids are also decorated with matching crystals.
The necklace length is adjustable from as short as you wish down to solar plexus level. The Smokey Quartz dolphin point is quite long at approx. 7.5 cm (2.95") tall and 1.5 cm (0.6") at its widest.
There are no metals in this necklace so would be particularly suitable for those with metal sensitivities, energy workers and those who simply prefer not to wear metal.
You'll receive this crystal healing necklace in one of my handmade fabric draw-string pouches - great for the safe-keeping of the necklace. Gift-wrapped at no extra charge.
Read here about how to take care of your natural crystal jewellery.
CRYSTAL PROPERTIES
SMOKEY QUARTZ
A grounding and calming stone that elevates moods and dissipates negative emotions. "A Stone of Serenity", it is comforting and protective for one's aura. Smokey Quartz is thought to assist in creative endeavours and also in setting personal boundaries. Offers protection against electromagnetic rays. A good healing stone for improving general feeling of well-being. Relieves anxiety and worry, wards off confusion. Shielding crystal to create a calm, safe environment.
SPESSARTINE GARNET
Elevates mood and allows experiences of 'emotional sunshine' into one's life, thus making life more fulfilling. Helps in overcoming the fear of new experiences, encouraging you to live more spontaneously. Balances and vitalises the sacral chakra, supporting creative pursuits and intuition.
CLEAR QUARTZ
The universal master crystal that has a harmonising effect on all levels of being. Programmable by intention, so can be used for versatile purposes. Quartz can clear, enhance, amplify, transmute, balance, focus and transmit energy. Raises one's energetic vibration. Brings clarity and filters out distractions. A deep soul cleanser, attuning its keeper to their higher self. Each Quartz crystal is unique with its own character and teachings it offers, all are known as "Stones of Power" and "Master Healers".
Recently Viewed