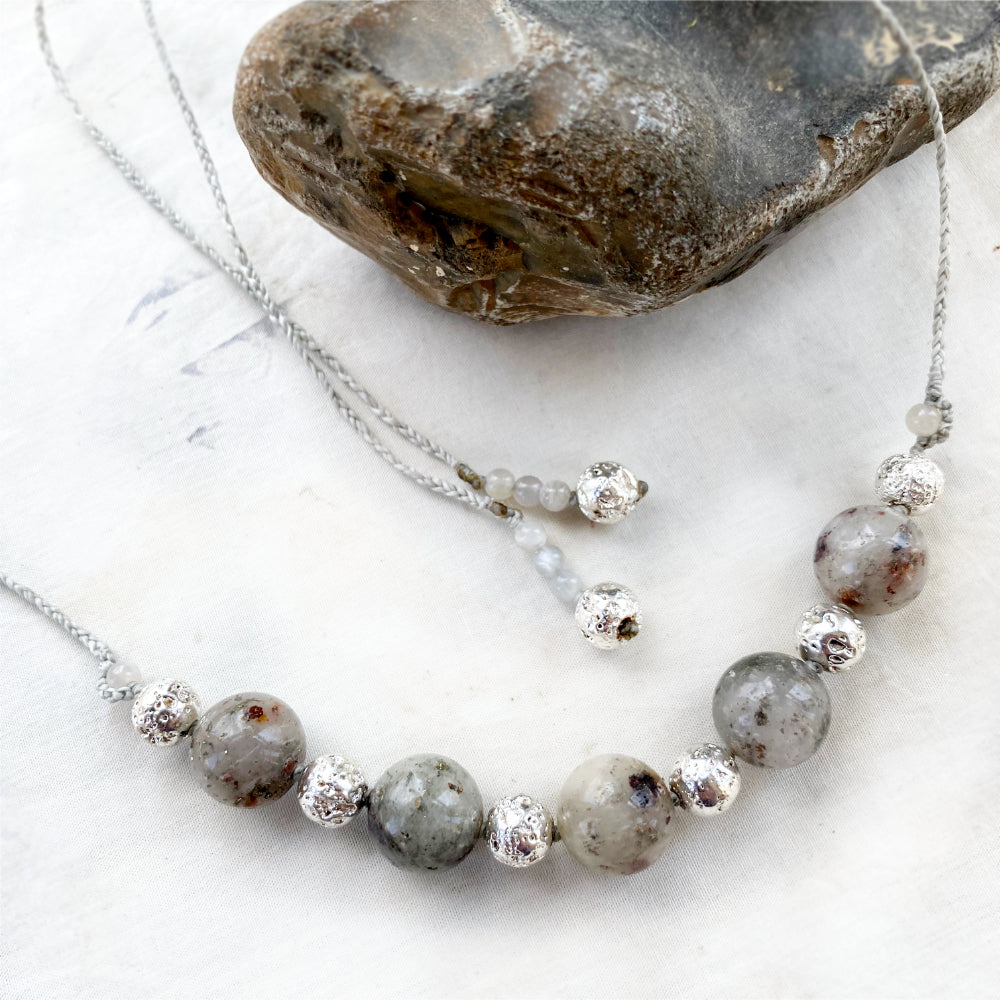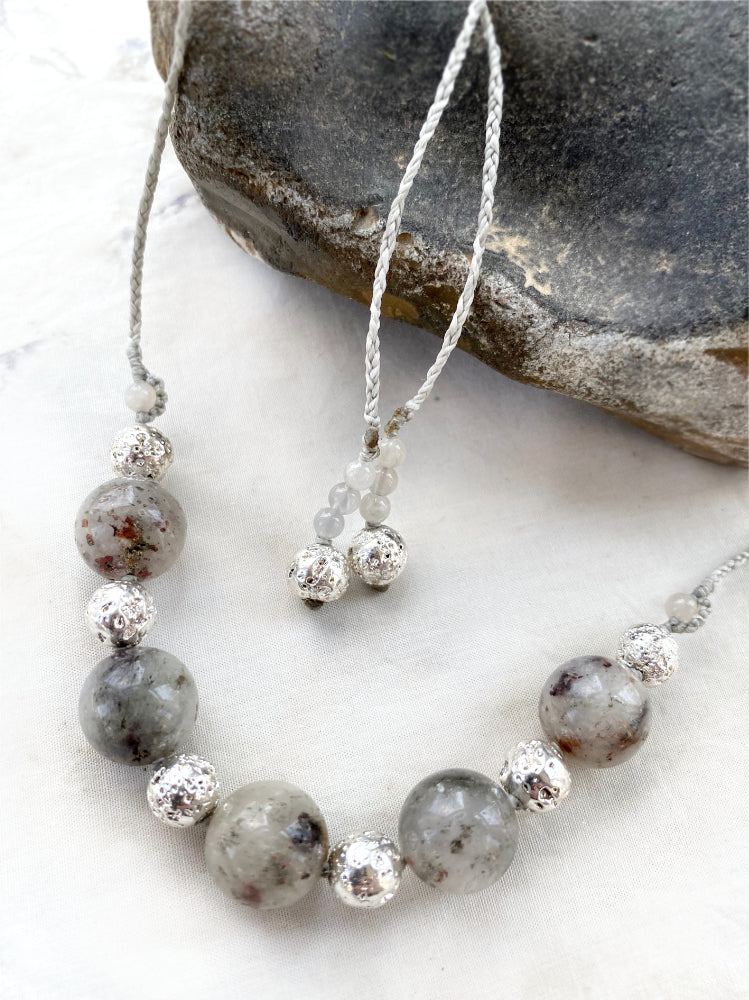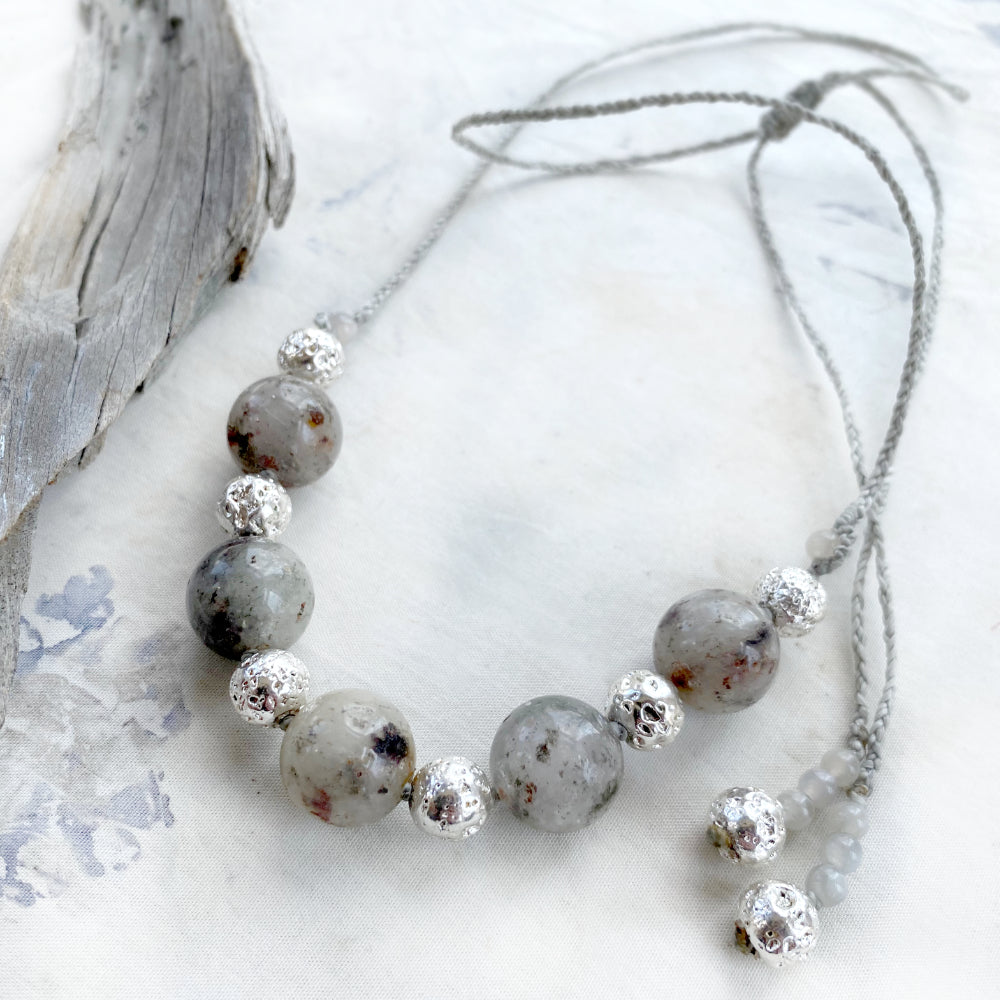 Crystal healing necklace with Shaman Dream Stone, silver-coated Lava Stone & Labradorite
DESCRIPTION
Crystal healing necklace with a row of smooth crystal beads, energy-activated and ready to benefit from, in a more classical style that's subtle and combines well with many outfits - crystal energy in disguise! The row of beads alternates the energies of Shaman Dream Stone and silver-coated Lava Stone, with small highlights of Labradorite. The ends of the light grey necklace braids are decorated with matching crystals. This is easy daily wear with gentle, timeless feel.
The row of crystals is approx. 12.5 cm (4.9") wide, and the Shaman Dream Stones are 1.4 cm (0.6") in diameter, the Lava Stones are 0.8 cm (0.3") in diameter. As this necklace will look best worn at a shorter length, it is adjustable from as short as you wish to just above the heart level.
You'll receive this crystal healing necklace in one of my fabric draw-string pouches, great for the safe-keeping of the necklace. Gift-wrapped at no extra charge.

Read here how to take care of your crystal jewellery.
CRYSTAL PROPERTIES
SHAMAN DREAM STONE (aka Lodolite, Garden Quartz)
Associated with the crown chakra, enhances one's sensitivity to invisible energies, helps in manifesting one's desires, brings harmony to one's aura, emanates strong yet gentle healing energies. Harmonises the higher vibrational energies of the aura and the light body. Gazing into this stone is said to bring about a cosmic shift of consciousness.
LAVA STONE
Stone of vitality, assertiveness and passion. Provides stability in times of change. Grounding and protective. Supports courage and decisiveness. Helps in finding one's 'life path'. Encourages personal development and growth.
LABRADORITE
One of the most powerful, versatile crystal tools for healing. Creates an auric shield and strengthens your innate energy and life force, preventing energy leakages. Enhances intuitive abilities and assists in spiritual transformation. Helps the wearer align with their highest destiny and discover their inner worth. Strengthens willpower and brings in new ideas. Often referred to as the 'Stone of Destiny', believed to help you to find your true path in life, and as 'Temple of the Stars', anchoring higher dimensional light into your being.
Recently Viewed