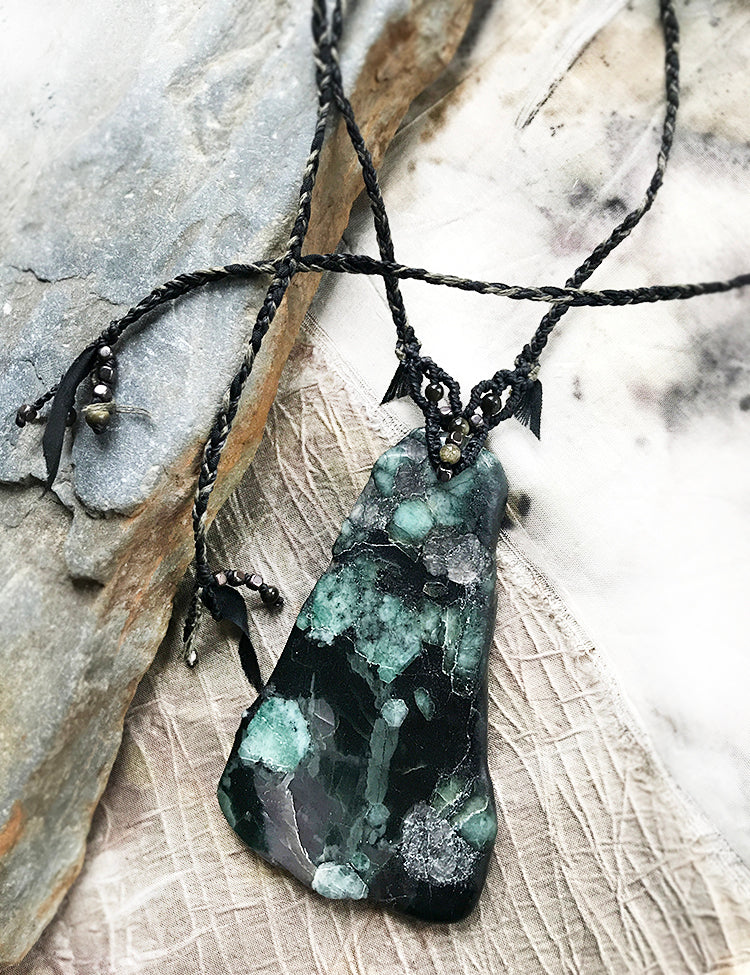 Crystal healing talisman with Black Tourmaline included Emerald
DESCRIPTION
Stone talisman with a rare, stunning slab of black Tourmaline included Emerald, polished on the surface but with natural contour and edge. The stone attaches to a minimal necklace braid of black embroidery silk ribbon, moss green cotton yarn and black micro-macrame cord. The small highlighting crystals adorning the base of the braid are Golden Sheen Obsidian and Hematite. The long braid ends are decorated with the same, and are left open so you can tie the amulet to hang at any desired level.
This black Tourmaline included Emerald is quite large and commanding in both size and its looks - and energetically even more so. The size of the stone is approx. 9 cm (3.5") tall and 4 cm (1.6") wide at its middle (just over 5 cm/2" at its widest width). Each braid is 40 cm (15.7") long.
You'll receive this crystal healing necklace in a black velvet drawstring pouch - great for the safe-keeping of the necklace. Gift-wrapped at no extra charge.

Read here how to take care of your crystal jewellery.
CRYSTAL PROPERTIES
EMERALD
Stone of Love. Opening and nurturing to the heart chakra. Benefits heart-based intuition. Promotes joyous emotions, enhances emotional and spiritual balance. Restores confidence where needed. Brings visionary insight, especially relating to one's vocation. In crystal lore, Emerald is the sacred stone of the goddess Venus. It was the symbol of eternal life in ancient Egypt. (Emerald is one of the four 'precious' gemstones, the other three being Ruby, Sapphire & Diamond. Other gemstones are considered 'semi-precious'.)
BLACK TOURMALINE
One of the most well-known protective stones, shielding its user from negativity. A shamanic stone used for grounding during vision quests. Empowering for those who work in challenging environments. Purifies and transforms denser energies into lighter vibrations and is also detoxifying for the body. If you're sensitive to electromagnetic smog, you may get relief by wearing black Tourmaline.
GOLDEN SHEEN OBSIDIAN
Protective stone that helps one achieve harmony and solve problems relating to past, present and future. Helps in settling inner emotional conflicts and keeps one from entering into outer conflicts so one is free to follow one's spiritual path. Shielding stone that encourages one to stay positive. Transmuting stone to keep negativity at bay. Said to open a window to one's soul and brings out any hidden talents one may have.
HEMATITE
Creates a strong sense of self and enhances the creative flow. Relieves stress. Revitalises, enhancing personal magnetism and optimism. Helps in releasing self-imposed limitations to find your own unique gifts. A stone of balance and equilibrium. Grounds when feeling scattered, increases alertness and vigilance.
Recently Viewed