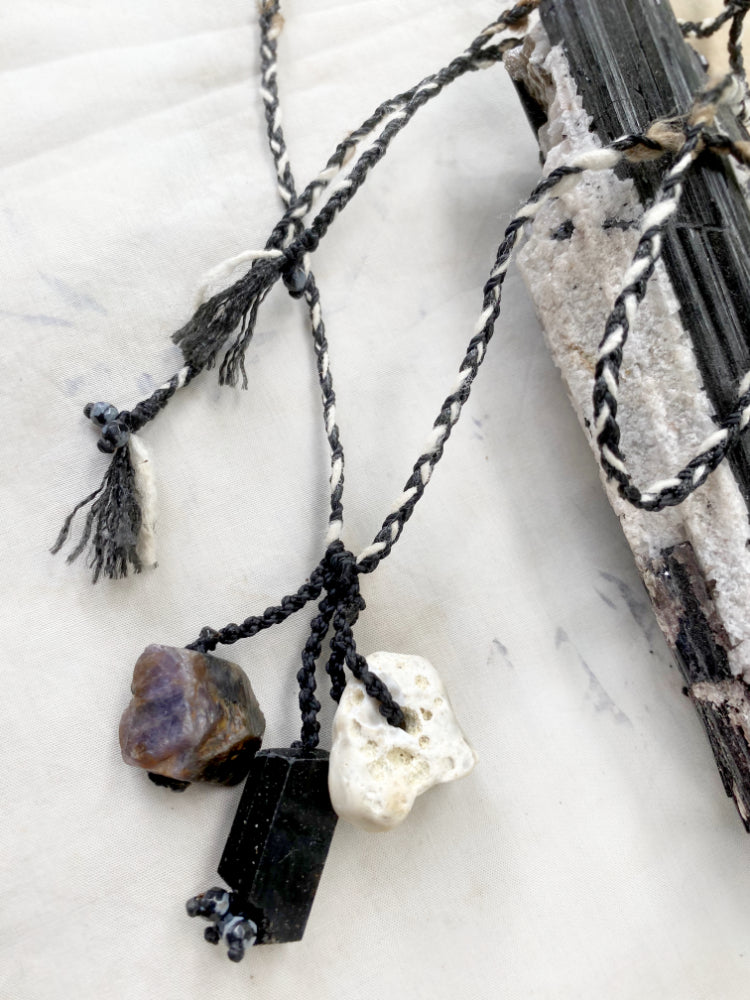 Crystal healing talisman with Flint Hagstone, Black Tourmaline, Sapphire & Snowflake Obsidian
DESCRIPTION
Crystal healing talisman with a trio of crystal energy: Flint Hagstone, Black Tourmaline and Sapphire, with additional accents of Snowflake Obsidian. This one is an easy to wear, natural talisman to promote inner balance, sense of safety, intuitive insight and courage.
The necklace braid is a combination of black satin cord, black micro-macrame cord and peace silk yarn ('peace silk' is a name of silk made by ethical process where no silk worms were harmed). The braid ends include a small soft satin tassel and Snowflake Obsidian details.
The middle strand hangs down approx. 5 cm (2") and the Black Tourmaline is approx. 2.5 cam (1") tall. 
There are no metals in this necklace so would be particularly suitable for those with metal allergy or sensitivity and for energy workers and those who simply prefer not to wear metal.
You'll receive this crystal healing necklace in one of Spirit Carrier's handmade fabric draw-string pouches - great for the safe-keeping of the necklace. Gift-wrapped at no extra charge.

Read here how to take care of your crystal jewellery.
CRYSTAL PROPERTIES
FLINT
Ancient protection amulet, calling in spiritual guides and allies. Helps cut away anything that is not in your highest good, dissolving energetic blockages and detaching negative etheric ties from the aura and chakras. Increases self-esteem and courage. Excellent electromagnetic conductor, thus useful for those who are sensitive to EMF pollution. Purifies its environment. Said to prevent nightmares. Known as a "Portal Stone", facilitating your connection with higher dimensions and with your true self. Grounding vibe, which resonating with the Earth Star chakra, yet also corresponds to the Soul Star chakra, offering spiritual expansion and allowing you to ground higher spiritual knowledge into your physical existence.
SAPPHIRE
A stone of psychic activation, enhances insight and focus. Helps the throat and third eye chakras to work in unison to strengthen and express one's inner vision. Grounds higher knowledge and helps one to stay centred. Evokes the wisdom needed to see past any situation into the underlying truth. Helpful in channeling healing energy from the highest source, facilitating access to deeper levels of consciousness.
BLACK TOURMALINE (aka Schorl)
One of the most well-known protective stones, shielding its user from negativity. A shamanic stone used for grounding during vision quests. Empowering for those who work in challenging environments. Purifies and transforms denser energies into lighter vibrations and is also detoxifying for the body. If you're sensitive to electromagnetic smog, you may get relief by wearing black Tourmaline.
SNOWFLAKE OBSIDIAN
Promotes a sense of calm and inner equilibrium, bringing balance to body, mind and spirit. A grounding, protective stone. Eases worries and when carried/worn helps one to stay balanced and centred throughout the day. Native American shamans often carried Snowflake Obsidian as a powerful talisman to avert evil and bring good fortune, also considering it to be the guardian of the Great Spirit.
Recently Viewed