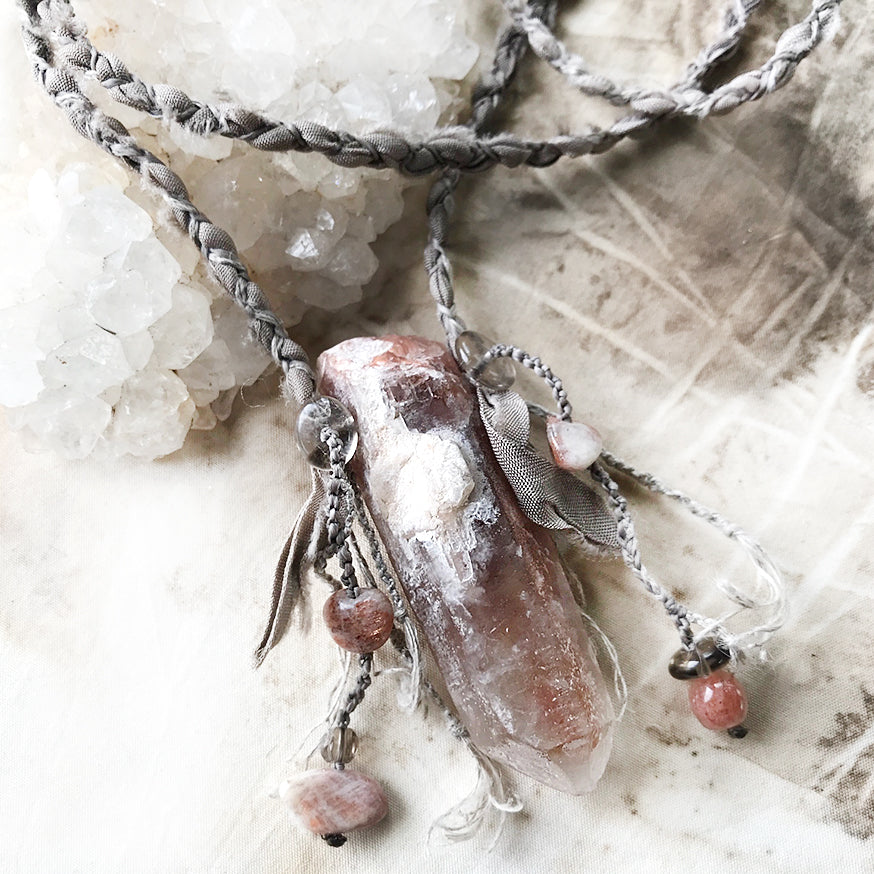 Crystal healing talisman with Hematoid Quartz point in silk braid
DESCRIPTION
Serenely stunning, raw Hematoid Quartz point, highlighted with Lepidochrosite Quartz and Smokey Quartz strands on both sides. The necklace braid is botanically eco-dyed silk (colour drawn from my local plants) and organic unbleached linen combined with grey micro-macrame cord. This thick, soft necklace braid has a very wabisabi feel to it and it's easy to wear by just slipping over the head without a need for any closing clasp.
The necklace braid is set length, with an all around measurement of approx. 76 cm (30"). The Hematoid Quartz point is approx. 6.5 cm (2.6") tall and approx. 2 cm (0.8") wide and thick at its middle.
You'll receive this crystal healing necklace in one of my handmade fabric draw-string pouches - great for the safe-keeping of the necklace. Gift-wrapped at no extra charge.

Read here how to take care of your crystal jewellery.
CRYSTAL PROPERTIES
HEMATOID QUARTZ (Hematite included Quartz)
Supports self-esteem, self-confidence, courage and will power. Grounding and balancing energy, easing fears and worries. Highly protective, helps in maintaining your auric shield. Grounds higher spiritual energy into the body, enabling you better manifest your dreams into reality.
LEPIDOCHROSITE IN QUARTZ
Stimulates intuitive spiritual awareness, at the same time gently grounding to Earth energy. Raises consciousness, and can be used for focusing intent during energy healing sessions. Calming and soothing, aids in releasing fears and aligning one with Divine will. A stone of 'allowing' and trusting the flow of life.
SMOKEY QUARTZ
A grounding and calming stone that elevates moods and dissipates negative emotions. "A Stone of Serenity", it is comforting and protective for one's aura. Smokey Quartz is thought to assist in creative endeavours and also in setting personal boundaries. Offers protection against electromagnetic rays. A good healing stone for improving general feeling of well-being. Relieves anxiety and worry, wards off confusion. Shielding crystal to create a calm, safe environment.
Recently Viewed