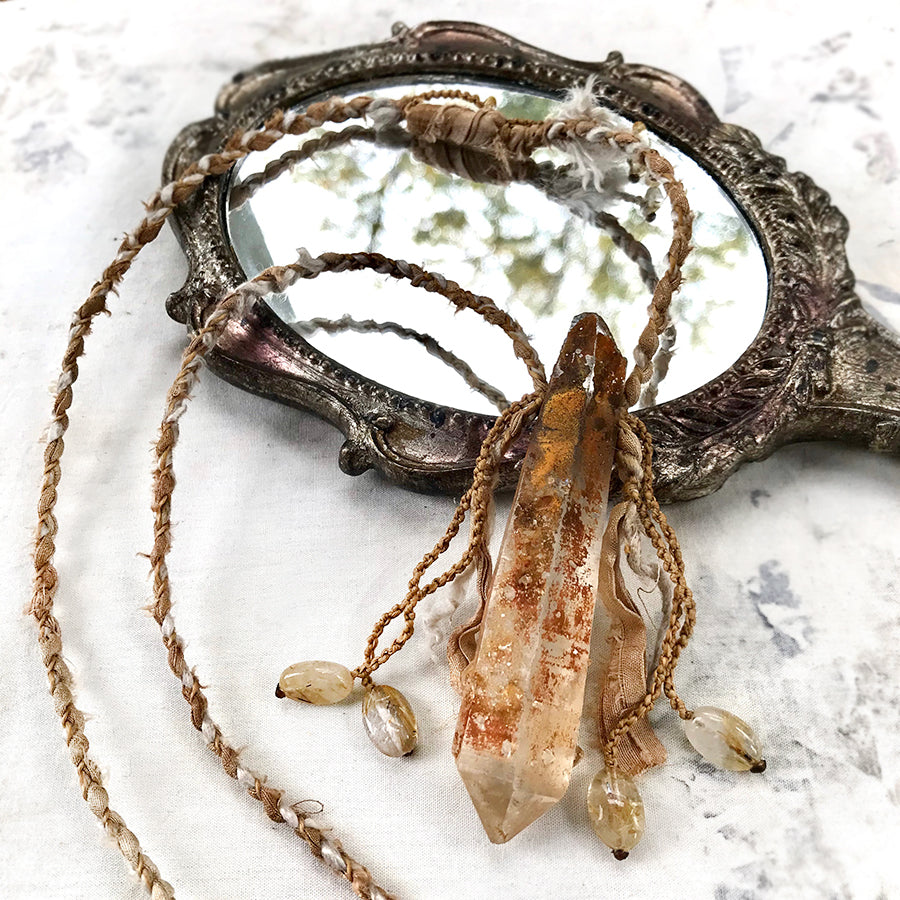 Crystal healing talisman with iron oxide Quartz
DESCRIPTION
Raw, natural Quartz point with iron oxide coating, highlighted with knotted Gold Rutile Quartz strands on both sides. Earthy yet luxurious crystal spirit with powerful presence! The necklace braid is a combination of botanically eco-dyed sari silk and cotton yarn (colour drawn from my local plants) with golden brown micro-macrame cord. This thick, soft necklace braid has a very wabisabi feel to it and it's easy to wear by just slipping over the head without a need for any closing clasp. There's a wrapped adornment on one side of the necklace braid that also includes a few small Gold Rutile Quartz crystals.
The necklace braid is set length, with an all around measurement of approx. 67 cm (26"). The Hematoid Quartz point is just over 8 cm (3") tall and just under 2 cm (0.8") at its widest/thickest.
You'll receive this crystal healing necklace in one of my handmade fabric draw-string pouches - great for the safe-keeping of the necklace. Gift-wrapped at no extra charge.

Read here how to take care of your crystal jewellery.
CRYSTAL PROPERTIES
QUARTZ
The universal master crystal that has a harmonising effect on all levels of being. Programmable by intention, so can be used for versatile purposes. Quartz can clear, enhance, amplify, transmute, balance, focus and transmit energy. Raises one's energetic vibration. Brings clarity and filters out distractions. A deep soul cleanser, attuning its keeper to their higher self. Each Quartz crystal is unique with its own character and teachings it offers, all are known as "Stones of Power" and "Master Healers".
IRON OXIDE IN QUARTZ: Expands universal awareness, supports physical healing process and enhances meditative practice. Helps staying grounded, increasing self-confidence.
GOLD RUTILE QUARTZ
A master assistant in self-discovery, a companion in finding one's inner truth, purpose and destiny. Joyful and energising. Thought to offer protection against psychic attacks and helps in opening up to one's Divine strength. Assists in activating one's creativity and manifesting dreams into reality.
Recently Viewed