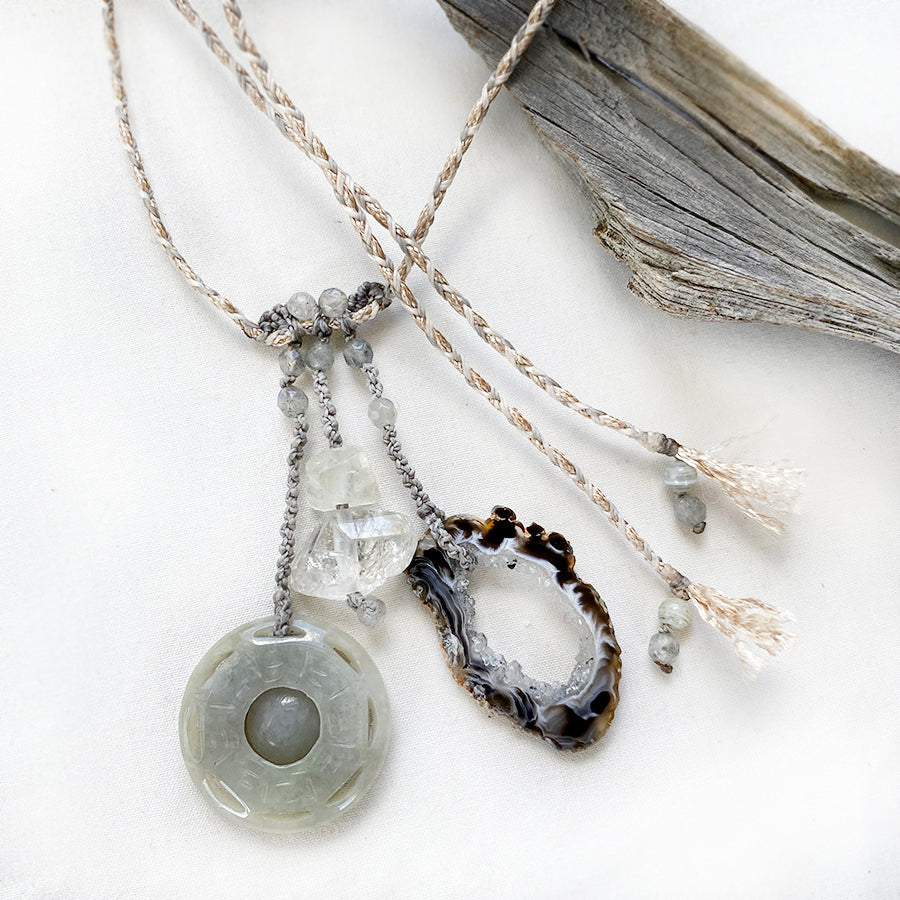 Crystal healing talisman with Jade, Topaz & Agate
DESCRIPTION
Crystal healing necklace combining the energies of Jade, Topaz and Agate. The circular Jade disk features a freely moving centre, which is a nice detail you can use as a focus aid when needed. The necklace is minimally braided with a combination of a beige shimmery satin and light grey micro-macrame cord, very strong and durable, yet soft and comfortable to wear. The small highlighting crystals are Labradorite. This is an unusual talisman piece in neutral, easy to wear tones.
The length of the necklace is adjustable through a knotted channel, from very short down to solar plexus level. The longest of the crystal strands hangs down approx. 6 cm (2.4") tall. The diameter of the light green Jade disk is 2.5 cm (1") and the Agate slice is just over 3 cm (1.2") tall.
There are no metals in this necklace so would be particularly suitable for those with metal sensitivities, energy workers and those who simply prefer not to wear metal.
You'll receive this crystal healing necklace in one of my fabric draw-string pouches, great for the safe-keeping of the necklace. Gift-wrapped at no extra charge.

Read here how to take care of your crystal jewellery.
CRYSTAL PROPERTIES
JADE
Known throughout history as the stone of balance, peace and prosperity. Helps in advancing the human consciousness to higher levels. Strongly protective stone, strengthening the auric field. Has a restorative energy, stimulates ideas and relinquishes self-imposed limitations. Promotes healthy self-confidence and strength of character.
TOPAZ
Stone of success and good fortune. Aligns and recharges body's meridians.  Clear Topaz aids in spiritual development and in clarifying one's life purpose. With the strong magnification energy of Topaz, you may reach your heart's goals and desired manifestations faster. Increases energy and vitality. Increases cosmic awareness by activating the crown and the soul star chakras. In ancient legends, Topaz was said to make its wearer invisible if needed at times of emergency.
AGATE
The oldest good luck amulet. In ancient times Persian magicians were, according to legend, diverting storms with the powers of Agate. Considered a protective stone (especially for travel), said to shield its keeper against dangers. Increases inner stability, enhances personal courage and fosters self-confidence. Grounding and soothing. Balancing stone for one's energy system to experience oneness instead of duality.
LABRADORITE
One of the most powerful, versatile crystal tools for healing. Creates an auric shield and strengthens your innate energy and life force, preventing energy leakages. Enhances intuitive abilities and assists in spiritual transformation. Helps the wearer align with their highest destiny and discover their inner worth. Strengthens willpower and brings in new ideas. Often referred to as the 'Stone of Destiny', believed to help you to find your true path in life, and as 'Temple of the Stars', anchoring higher dimensional light into your being.
Recently Viewed