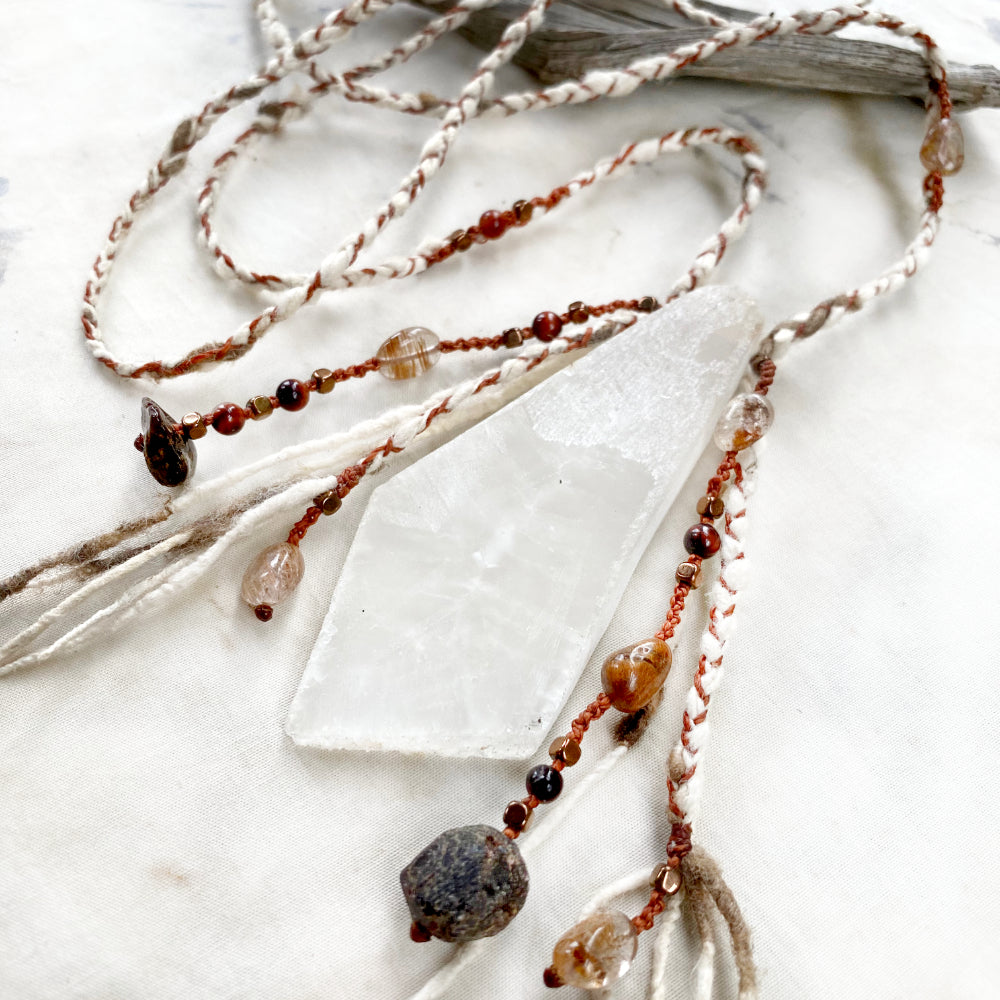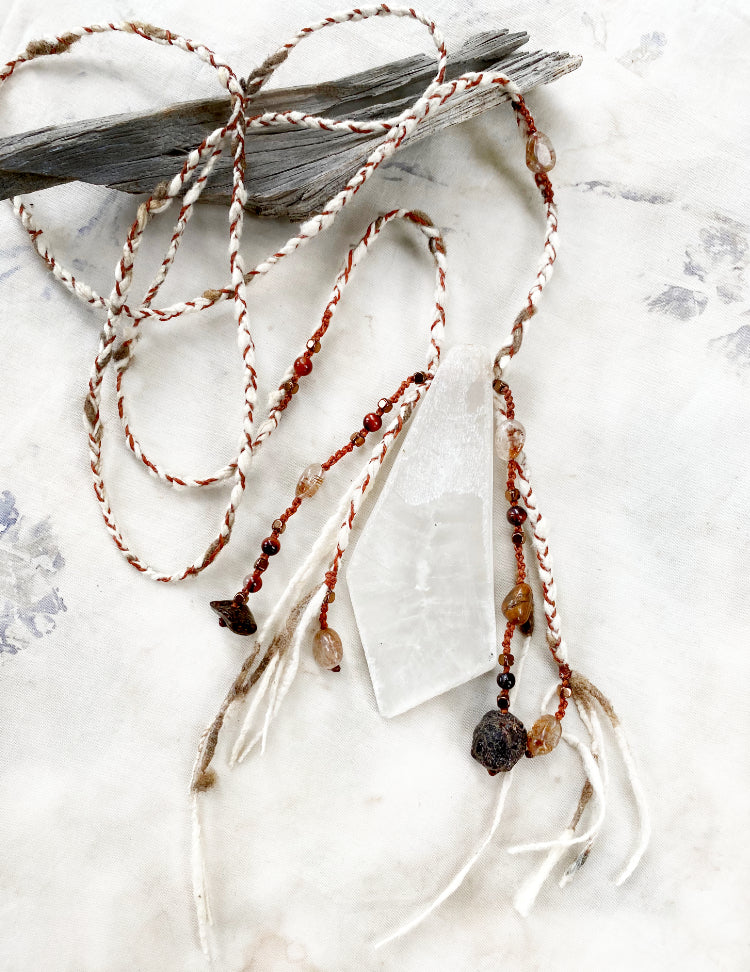 Crystal healing talisman with Polyhedral Agate
DESCRIPTION
This is a unique slice of a rare type of Agate that has naturally grown in such an unusual shape. Polyhedroid Agate (sometimes also called Polyhedral Agate) came from one location in the world in the 70s, Paraiba in Brazil and is no longer mined. In addition to the usual Agate energy, this ancient rarity is called a 'natural wonder' for the way it has grown in its geometric pattern, unlike any of the usual Agates around - reminding you that you also can grow into manifesting the pure wonder of your own soul in this world and reach such heights that may have been judged 'impossible' by those who lack vision. 

The necklace braid is combines natural peace silk in cream and brown tones ('peace silk' is a name of silk made by ethical process where no silk worms were harmed) with reddish brown micro-macrame cord for strength. There are long strands of peace silk hanging on both sides of the Agate, together with knotted crystal strands. Earthy and eye-catching talisman with much character, this unusual crystal will no doubt have a lot of ancient wisdom to share with you. 
The silk braid necklace is set length and particularly long, with an all around measurement of approx. 90 cm (35.4"). The Agate is approx. 9 cm (3.5") tall and 3.5 cm (1.4") at its widest. So the Agate hangs low o the body - although if wanting to hang it higher up, you can always tie a little knot to shorten the braid which would lift the stone higher.
You'll receive this crystal healing necklace in one of Spirit Carrier's handmade fabric draw-string pouches - great for the safe-keeping of the necklace. Gift-wrapped at no extra charge.
Read here how to take care of your crystal jewellery.
CRYSTAL PROPERTIES
AGATE
The oldest good luck amulet. In ancient times Persian magicians were, according to legend, diverting storms with the powers of Agate. Considered a protective stone (especially for travel), said to shield its keeper against dangers. Increases inner stability, enhances personal courage and fosters self-confidence. Grounding and soothing. Balancing stone for one's energy system to experience oneness instead of duality.
HEMATITE
Creates a strong sense of self and enhances the creative flow. Relieves stress. Revitalises, enhancing personal magnetism and optimism. Helps in releasing self-imposed limitations to find your own unique gifts. A stone of balance and equilibrium. Grounds when feeling scattered, increases alertness and vigilance.
COPPER RUTILE QUARTZ
Ignites inspiration and activates creativity. Amplifies intentions and abilities, thus perfect for manifesting desired outcomes. Fosters self-reliance, opens up new directions and supports aspirations dear to your heart. Energising, vitalising and highly purifying. Reminds you of the power of the Sun. Attracts the help you need on your life path.
AMBER
Amber is like sunshine solidified, offering a wonderful sense of health and wellbeing. Transmutes negative energies into positive, excellent for psychic protection. Cheers you up and helps you take action to make your ideas reality - ideal manifestation aid. Cleansing effect on the body, mind and spirit, promoting self-confidence and creative self-expression. Encourages spontaneity, patience and inner wisdom.
ALMANDINE GARNET
Stimulates one's life force. Supports the root chakra while drawing earth energy into the body, helping you to feel secure and centred. Awakens the "inner fire" of creativity. Highly protective stone and a great companion to keep you energised. Excellent good fortune and 'success' stone in both social and career ventures, adding positive vibes both in your personal or business life. Stone of purification and cleansing. Symbolises passionate, devoted love.
RED TIGER EYE
Helps to find motivation and to feel inspired in all aspects of life. Instils harmony into situations and brings confidence to deal with any task or person graciously from a place of your inner wisdom. Encourages you to tap into all the skills that allow you to prosper and flourish. Promotes self-care. Stone of integrity, helping you to be your own champion.
Recently Viewed