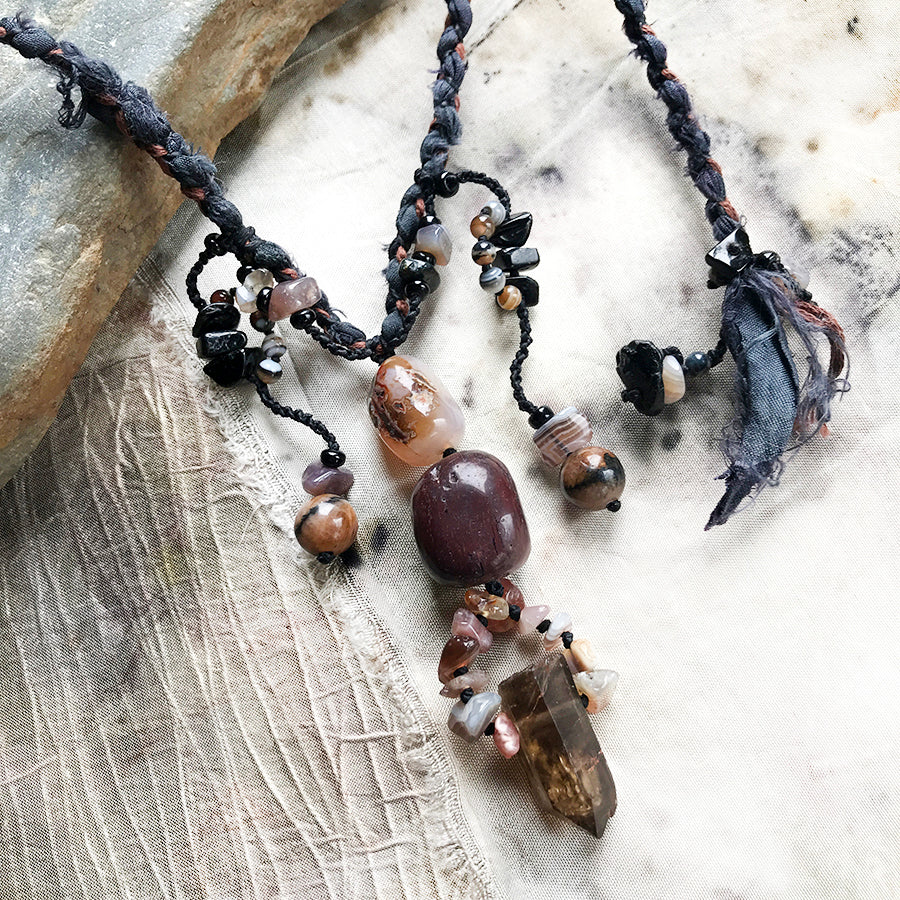 Crystal healing talisman with Smokey Citrine point, Mookaite, Agate, Black Tourmaline & Chiastolite
DESCRIPTION
Unusual, dark tone talismanic necklace with a combination of five different crystals: raw Smokey Citrine point, Mookaite, Agate, Chiastolite and Black Tourmaline. The necklace is braided with a combination of black recycled sari silk, reddish brown embroidery cotton and black micro-macrame cord. The main cairn of crystals in this talisman consists of Agate, Mookaite and Citrine. On both sides there are dangling strands of combined Black Tourmaline, Agate and Chiastolite. The ends of the long necklace braids include a double toggle which can be used to close the necklace at its longest length, but you can also choose not to use the closure and simply tie the braids themselves to any desired length.
At its longest, the necklace braid's all-around length is 72 cm (28"). The combined length of the main crystal cairn is just over 8 cm (3") and the knotted crystal strands adorning both sides are approx. 6.5 cm (2.6") long.
There are no metals in this necklace so would be particularly suitable for those with metal sensitivities / metal allergy, energy workers and those who simply prefer not to wear metal.
You'll receive this crystal healing necklace in one of my handmade fabric draw-string pouches - great for the safe-keeping of the necklace. Gift-wrapped at no extra charge.

Read here how to take care of your crystal jewellery.
CRYSTAL PROPERTIES
CITRINE
Affects a powerful alignment with the higher self. Balances the emotions and helps in uplifting one's mood to be more sunny and cheerful. Brings clarity of thought, and attracts abundance and prosperity through joy. Powerful transformer in healing work. Increases self-confidence and optimism, cleanses the surrounding energies and promotes creative thinking. Releases, dissipates and transforms denser energies on all levels, mental, emotional and physical. Works to release limitations and blockages particularly around the sacral / solar plexus area.
MOOKAITE
Brings balance and clarity, flexibility and openness. It provides strength in negative situations and assists in being kind to self. Heightens one's intuition in order to know which direction to take in any given situation. Helps you to stay in the Now moment. Highly supportive for one's energy field, offering subtle yet constant harmony. Mookaite is said to slow the ageing process and to give relief in areas of geopathic stress. It's also a great manifestation crystal.
AGATE
The oldest good luck amulet. In ancient times Persian magicians were, according to legend, diverting storms with the powers of Agate. Considered a protective stone (especially for travel), said to shield its keeper against dangers. Increases inner stability, enhances personal courage and fosters self-confidence. Grounding and soothing. Balancing stone for one's energy system to experience oneness instead of duality.
BLACK TOURMALINE
One of the most well-known protective stones, shielding its user from negativity. A shamanic stone used for grounding during vision quests. Empowering for those who work in challenging environments. Purifies and transforms denser energies into lighter vibrations and is also detoxifying for the body. If you're sensitive to electromagnetic smog, you may get relief by wearing black Tourmaline.
CHIASTOLITE
Stone of balance and harmony. Its visible cross-pattern is thought to symbolise one's commitment to approach life with Awareness. Assists in adapting to change at transitional times. It is also thought to enhance practical creativity. Very protective, allows its wearer to hold their personal space more easily. For someone who has "many irons in the fire" all the time, this is a great crystal to have close for coping with it all!
Recently Viewed