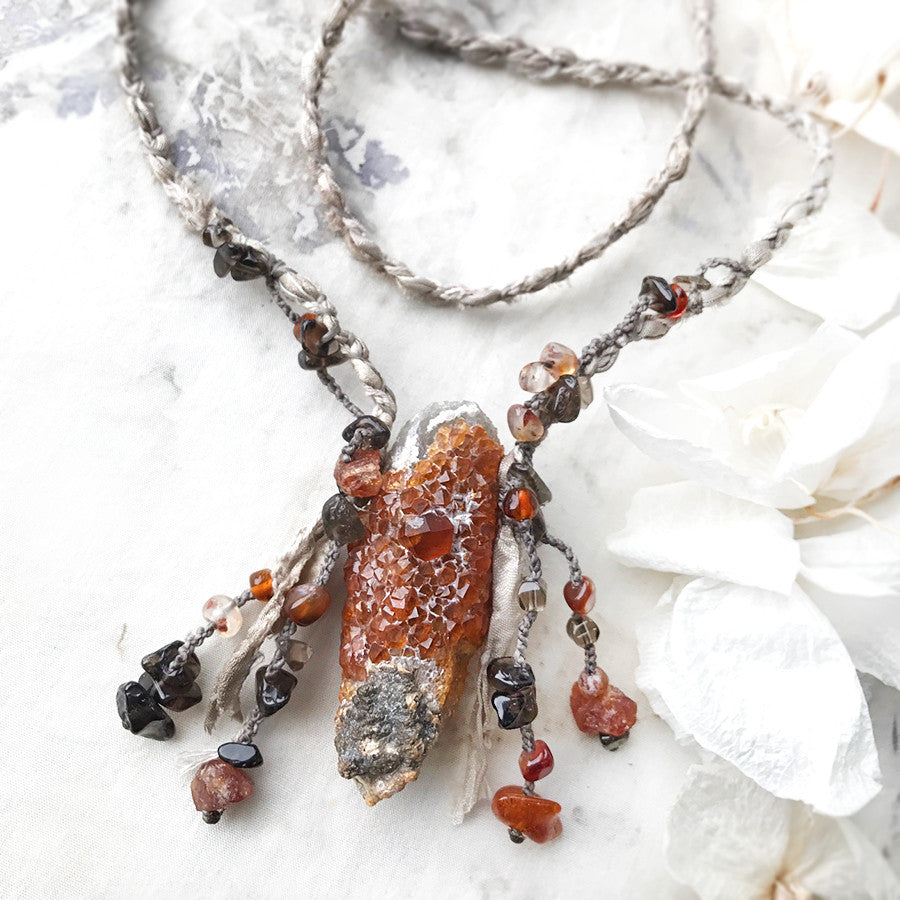 Crystal healing talisman with Spessartine Garnet encrusted Smokey Quartz point
DESCRIPTION
Simply stunning, raw Smokey Quartz point, naturally encrusted with luscious orange Spessartine Garnets. The necklace braid is botanically eco-dyed silk (colour drawn from my local plants) and organic cotton combined with grey micro-macrame cord. This thick, soft necklace braid has a very wabi sabi feel to it, and under certain light shows its warm silky sheen. The amazing crystal point displays slightly lighter orange tones on some areas of its surface, growing into larger Spessartine points of deeper, darker orange. The main crystal is accompanied with knotted crystal strands of Carnelian, Amber and Smokey Quartz, dangling on both sides. These strands also rise up about an inch to adorn both sides of the necklace braid.
The necklace braid is set length, with an all around measurement of approx. 75 cm (29.5"). The Smokey Quartz point is approx. 6 cm (2.4") tall and approx. 2 cm (0.8") wide and thick at its middle.
You'll receive this crystal healing necklace in one of my handmade fabric draw-string pouches - great for the safe-keeping of the necklace. Gift-wrapped at no extra charge.

Read here how to take care of your crystal jewellery.
CRYSTAL PROPERTIES
SPESSARTINE GARNET
Elevates mood and allows experiences of 'emotional sunshine' into one's life, thus making life more fulfilling. Helps in overcoming the fear of new experiences, encouraging you to live more spontaneously. Balances and vitalises the sacral chakra, supporting creative pursuits and intuition.
SMOKEY QUARTZ
A grounding and calming stone that elevates moods and dissipates negative emotions. "A Stone of Serenity", it is comforting and protective for one's aura. Smokey Quartz is thought to assist in creative endeavours and also in setting personal boundaries. Offers protection against electromagnetic rays. A good healing stone for improving general feeling of well-being. Relieves anxiety and worry, wards off confusion. Shielding crystal to create a calm, safe environment.
CARNELIAN
Known as a stone of motivation and courage. Stimulates creativity and increases one's sense of self-worth. Balancing for body's energy levels, restoring vitality and motivation. Said to attract prosperity, new resources and good luck. A success stone that helps you follow through with plans. Stone of action that aids in overcoming procrastination. Helps in gaining more understanding of one's inner self. Stimulating to the Sacral Chakra, which, when in balance, allows one to enjoy life, feel its joys and pleasures, be flexible and 'go with the flow'.
AMBER
Amber is like sunshine solidified, offering a wonderful sense of health and wellbeing. Transmutes negative energies into positive, excellent for psychic protection. Cheers you up and helps you take action to make your ideas reality - ideal manifestation aid. Cleansing effect on the body, mind and spirit, promoting self-confidence and creative self-expression. Encourages spontaneity, patience and inner wisdom.
Recently Viewed