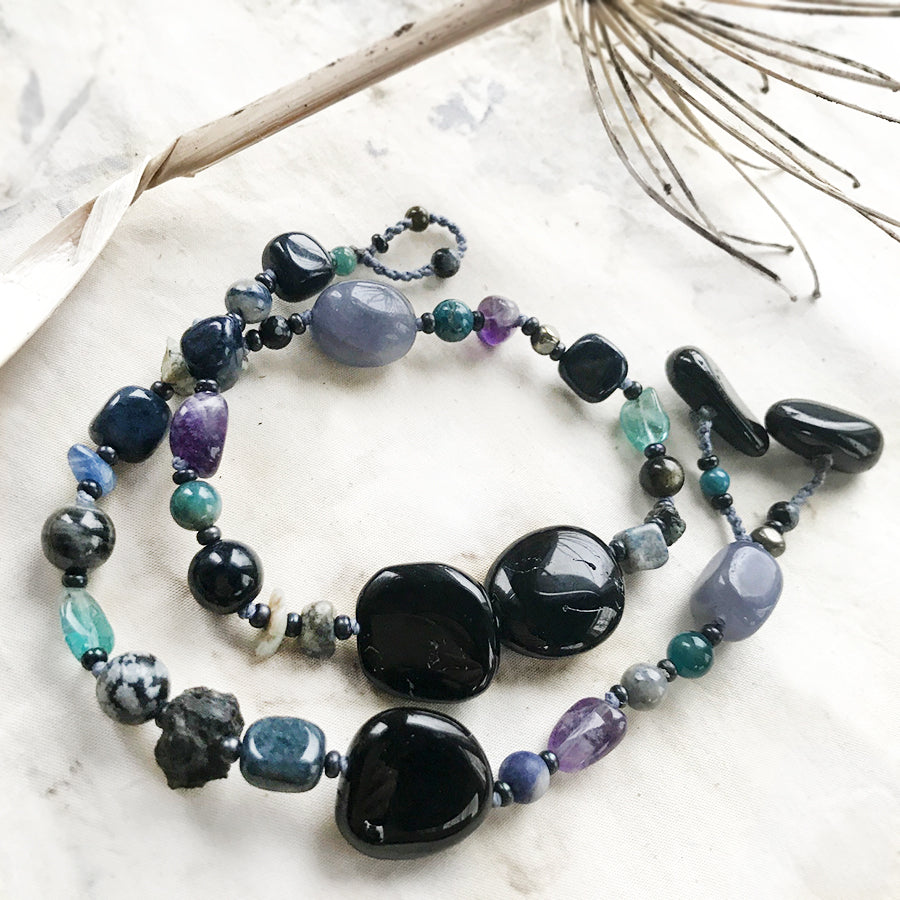 Crystal healing double wrap bracelet in dark tones ~ for up to 7" wrist size
DESCRIPTION
Easy to wear daily favourite that matches many outfits too ~ a 16" (41 cm) long line of energy activated crystals that wraps snuggly around a 7" wrist twice. The closing toggle clasp consists of two strands, both Black Tourmaline - both can be slipped through the knotted loop to close the bracelet securely.
The combination of gems in this bracelet create a smooth energy flow - the bracelet strand includes Black Tourmaline, Dumortierite, Iolite, Apatite, Pyrite, Amethyst, Sodalite, Tektite, Kyanite and Snowflake Obsidian. The bracelet is strung on grey micro-macrame cord, alternating the crystals with matt blue glass seed beads, and knotted at regular intervals for strength.
This one-of-a-kind bracelet comes in a fabric drawstring pouch, and gift-wrapped at no extra charge.

Read here how to take care of your crystal jewellery.
CRYSTAL PROPERTIES
The four main crystals in the bracelet:
BLACK TOURMALINE
One of the most well-known protective stones, shielding its user from negativity. A shamanic stone used for grounding during vision quests. Empowering for those who work in challenging environments. Purifies and transforms denser energies into lighter vibrations and is also detoxifying for the body. If you're sensitive to electromagnetic smog, you may get relief by wearing black Tourmaline.
DUMORTIERITE
Stone of support and inner harmony. Offers soothing vibrations that encourage patience with the natural order of the Universe. Aids one's mental capabilities in overcoming tough situations. Regulates the third eye chakra. Acts as a protective shield against fear. Stabilising for relationships, also said to attract a soulmate.
IOLITE
Aids in making inner visions more vivid, dissolving fear of the unknown. Helps in blending everyday conscious thinking with intuitive inner knowing. Awakens psychic gifts, activating and clearing the third eye. Helps accessing communication from higher vibratory realms. Helps one to act and respond to situations from one's higher guidance.
APATITE
Enhances one's insight and imagination, and gives increased self-confidence. Connects to high level of spiritual guidance and is helpful in letting go of anything that no longer serves your highest good. Helpful in bringing one's vision into reality and overcoming difficulties. Useful for energy workers, helping to maintain a clear energy field and balanced focus. Apatite crystal is also said to be a good aid in curbing one's appetite!
Recently Viewed