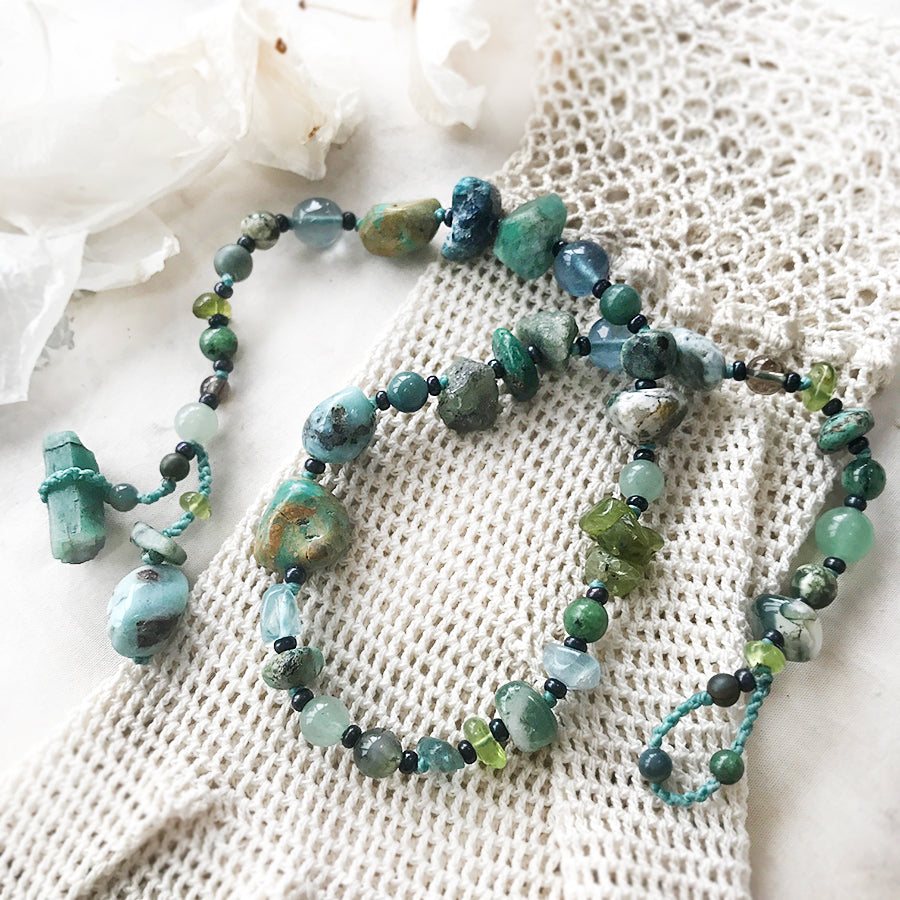 Crystal healing wrap bracelet in green tones ~ for up to 6.75" wrist
DESCRIPTION
Easy to wear daily favourite that matches many outfits too ~ a 16" (41 cm including the toggle loop) long line of energy activated crystals that wraps snuggly around a 6.75" wrist twice. The closing toggle clasp consists of two strands, one with raw Emerald and the other with Larimar - both can be slipped through the knotted loop to close the bracelet securely.
The collection of gems in this bracelet include Tree Agate, Turquoise, Apatite, Kornerupine, Peridot, Picasso Jasper, African Jasper, Peace Jade, Larimar, Green Aventurine, Zoisite, Aquamarine and Fluorite. The bracelet is strung on aqua tone micro-macrame cord, alternating the crystals with matte brown glass seed beads and knotted at regular intervals for strength.
This one-of-a-kind bracelet comes in Spirit Carrier's own handmade fabric drawstring pouch, and gift-wrapped at no extra charge.

Read here how to take care of your crystal jewellery.
CRYSTAL PROPERTIES
The four main crystals with the most prominent energy in the bracelet:
TURQUOISE
Turquoise is a strengthening and purifying stone. It fosters honest and clear communication from the heart. Aligns all of the chakras; and can be used to cleanse your energy centres. Balancing stone for the mood and emotions. Promotes self-realisation and aids creative problem-solving.
APATITE
Enhances one's insight and imagination, and gives increased self-confidence. Connects to high level of spiritual guidance and is helpful in letting go of anything that no longer serves your highest good. Helpful in bringing one's vision into reality and overcoming difficulties. Useful for energy workers, helping to maintain a clear energy field and balanced focus. Apatite crystal is also said to be a good aid in curbing one's appetite!
EMERALD
Stone of Love. Opening and nurturing to the heart chakra. Benefits heart-based intuition. Promotes joyous emotions, enhances emotional and spiritual balance. Restores confidence where needed. Brings visionary insight, especially relating to one's vocation. In crystal lore, Emerald is the sacred stone of the goddess Venus. It was the symbol of eternal life in ancient Egypt. Also known as a great aid for manifesting prosperity. (Emerald is one of the four 'precious' gemstones, the other three being Ruby, Sapphire & Diamond. Other gemstones are considered 'semi-precious'.)
LARIMAR
A relatively rare stone, only found in the Dominican Republic. In crystal lore it is associated with the ancient civilization on Lemuria, and also sometimes called a "Dolphin Stone". Larimar is soothing and uplifting, bringing tranquility into heart and mind. It is said to support self-expression, creativity and patience.
Recently Viewed