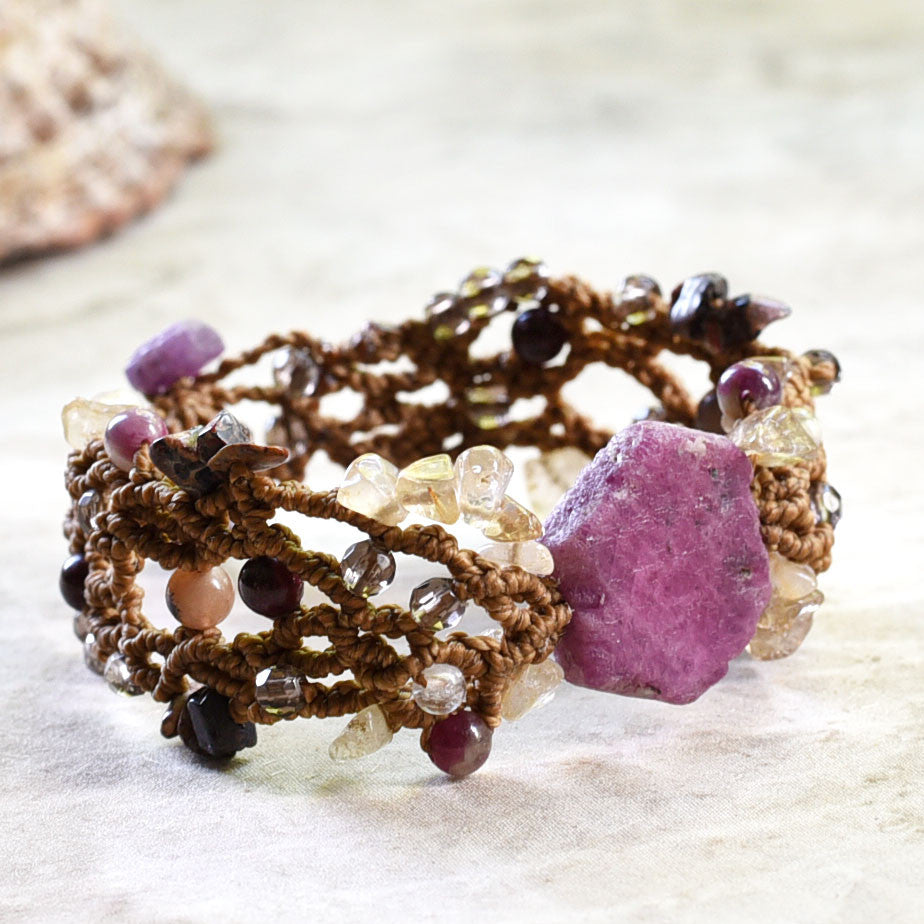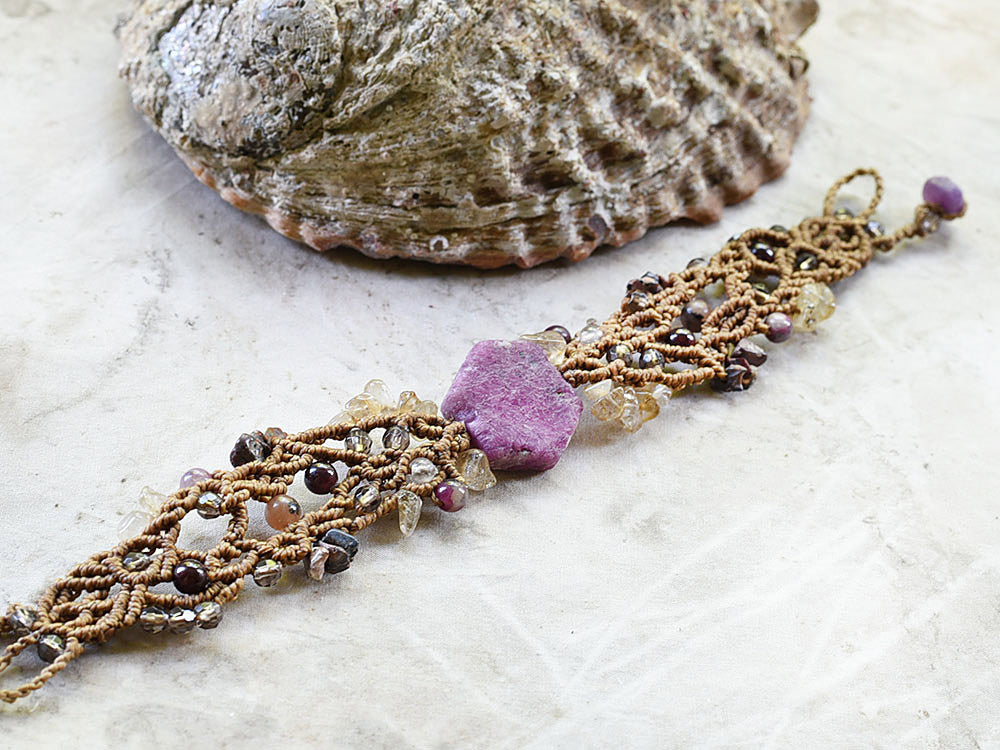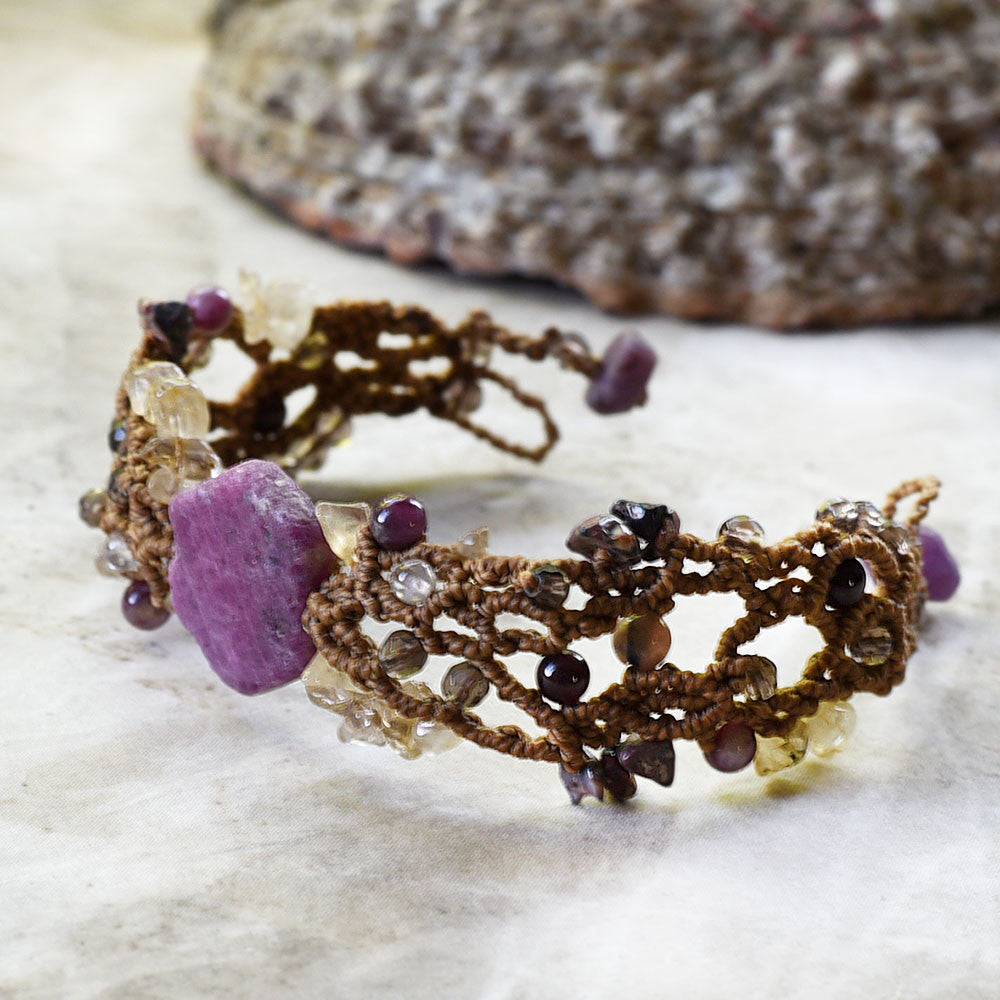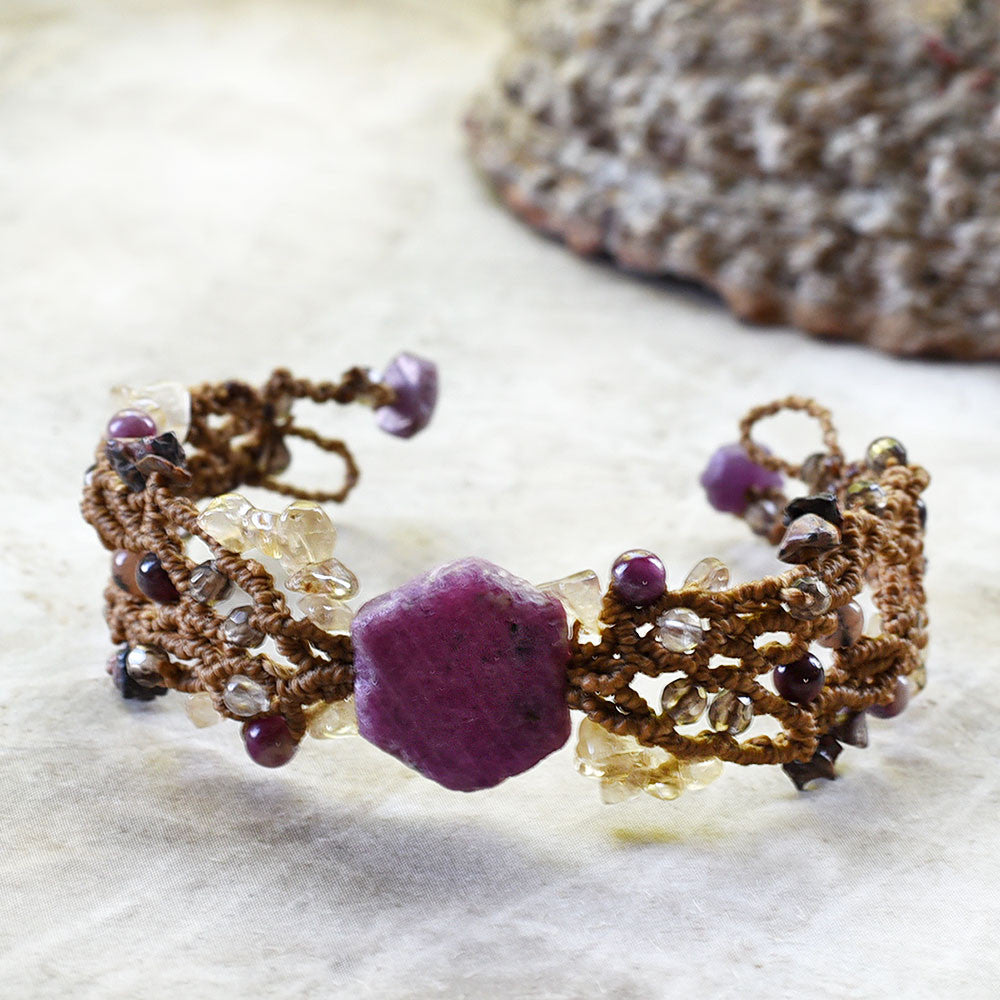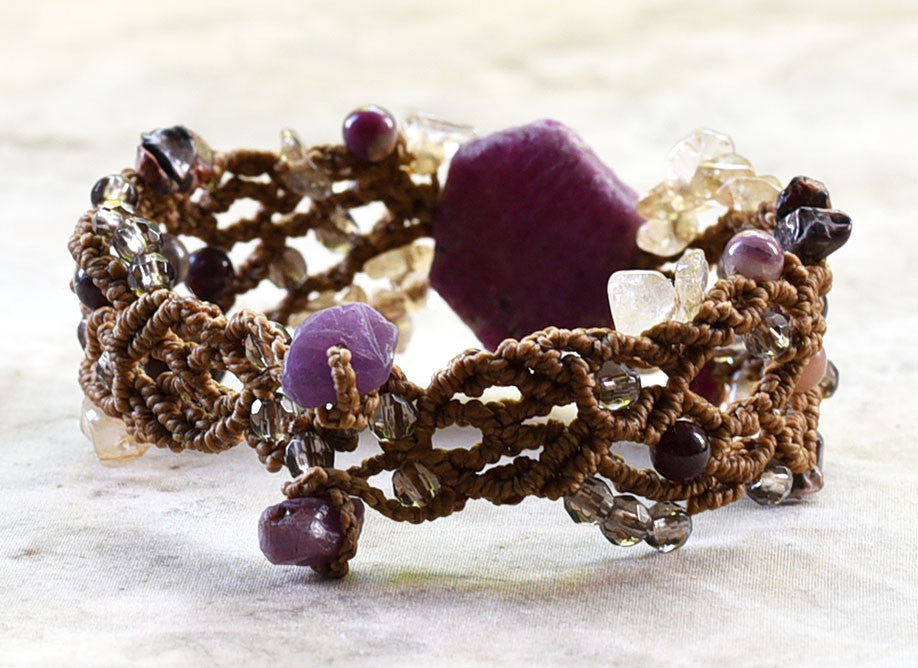 Crystal macrame cuff bracelet with raw Ruby ~ for wrist size 7"
DESCRIPTION
Oh, how I'm in love with raw Ruby at the moment! This completely one-of-a-kind crystal healing cuff bracelet is intricately knotted with golden brown micro-macrame cord, including many highlighting crystals, such as Gold Rutile Quartz and Smokey Quartz. The knotwork is very lace-like, and the nature of the cording is such that the whole cuff moulds around the wrist snuggly - ideally your wrist would be approx. 7 inches in circumference for best fit. 

The closing toggle is a secure double lock (but depending on your dexterity, you may need to practise the closing action a few times!) - there is a raw Ruby pebble and a knotted loop in both ends of the cuff: you cross the pebble strands and slot each into the loop next to it in the same end of the cuff. This closes the cuff neatly.
The size of the central Ruby is approx. 2 cm x 2.5 cm (0.8" x 1") and the overall width of the cuff is slightly over 2.5 cm (1"). The total length of the bracelet is approx. 19 cm (7.5").
You'll receive this crystal energy bracelet cuff in a bespoke fabric pouch for safe-keeping, and gift-wrapped for no extra charge.
CRYSTAL PROPERTIES
RUBY
Increases vitality and one's life-force energy. Promotes clear mind, motivation and concentration. Associated with love, passionate commitment and heart-based closeness, offering help in shedding past hurts. Encourages you to 'follow your bliss' and have courageous attitude. Supports closeness and commitment. Being a shielding crystal, guards against energetic attacks.
GOLD RUTILE QUARTZ
A master assistant in self-discovery, a companion in finding one's inner truth, purpose and destiny. Joyful and energising. Thought to offer protection against psychic attacks and help in healing karmic issues. Gold Rutile Quartz is thought to be helpful in manifesting one's dreams into reality.
TOURMALINE
Stone of abundance, protection and healing. Aids understanding oneself and others. Reduces fears and promotes self-confidence. Removes energetic blockages, balancing the male/female energy within the body.
LEOPARDSKIN JASPER
Powerful protection stone, associated with strength and vitality. Facilitates self-healing and is very supportive and nurturing. Attracts harmonious vibrations to one's life. Brings tranquility and a feeling of wholeness.
SMOKEY QUARTZ
A grounding and calming stone that elevates moods and dissipates negative emotions. "A Stone of Serenity", it is comforting and protective for one's aura. Smokey Quartz is thought to assist in creative endeavours and also in setting personal boundaries. Offers EMF protection. A good healing stone for improving general feeling of well-being.
CHIASTOLITE
Stone of balance and harmony. Its visible cross-pattern is thought to symbolise one's commitment to approach life with Awareness. Assists in adapting to change at transitional times. It is also thought to enhance practical creativity. Very protective, allows its wearer to hold their personal space more easily. For someone who has "many irons in the fire" all the time, this is a great crystal to have close for coping with it all!
Recently Viewed