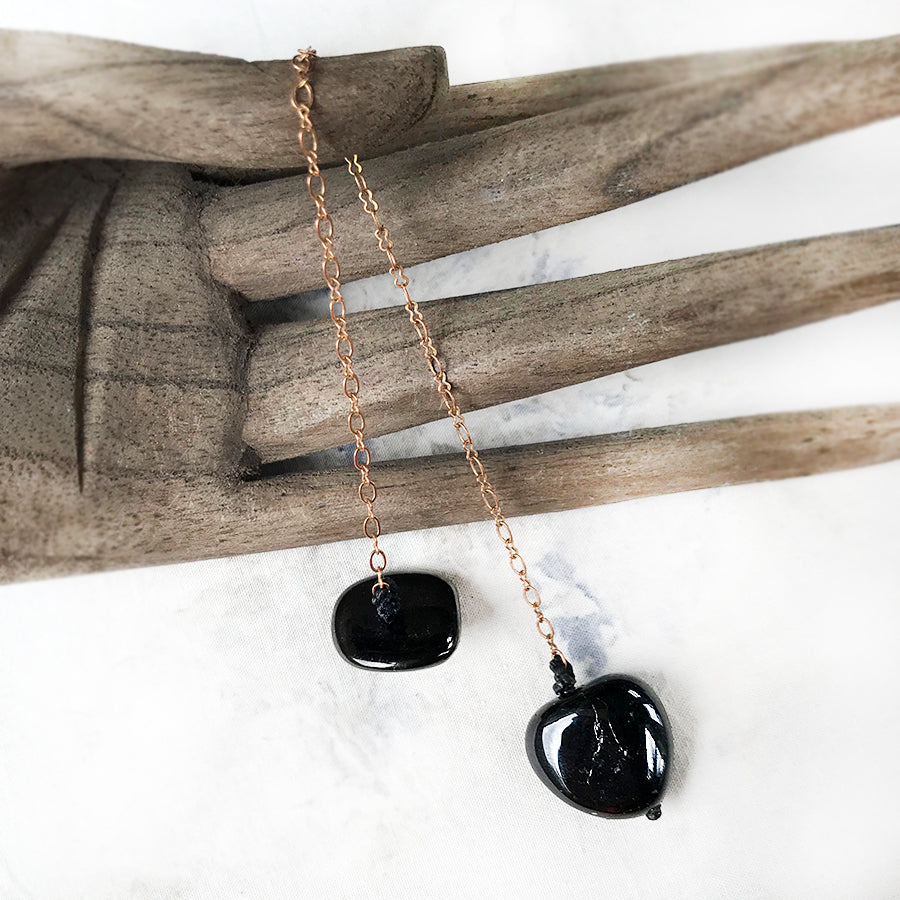 Crystal pendulum for dowsing ~ with Black Tourmaline & Jet
Description
One-of-a-kind crystal pendulum dowser combining Black Tourmaline with Jet handle. Although both ends are black, out of the two the Jet is very light in weight and you'll clearly feel the distinct difference in vibe between these two black beauties. This unusual pendulum would be fitting for many dowsing purposes, way beyond the crystals' own energies.
The chain is solid, pure copper which is a great energy conductor. The chain is 15 cm (6") long. The Jet handle is just under 2 cm (0.8") in its longest dimension and the Black Tourmaline is just under 2 cm (0.8") at its tallest.
This charming dowser comes in a soft, double-layer fabric drawstring pouch which has bead detailing that matches the dowser's crystals in colour. When not in use, the dowser can be stored in this pouch for safekeeping. This is a handy small size so that you can easily take it with you wherever you go. The pouch has a diameter of 7 cm (2.8") - measured when empty and closed.
You'll receive this crystal treasure gift-wrapped at no extra charge.
Crystal properties
BLACK TOURMALINE (aka Schorl)
One of the most well-known protective stones, shielding its user from negativity. A shamanic stone used for grounding during vision quests. Empowering for those who work in challenging environments. Purifies and transforms denser energies into lighter vibrations and is also detoxifying for the body. If you're sensitive to electromagnetic smog, you may get relief by wearing black Tourmaline.
JET
Stone of protection and purification, helping to keep negativity at bay. Often used to stabilise finances and protect businesses, but also as a shield against psychic attacks and removing energetic attachments. Assists in spiritual advancement and the rise of kundalini energy. Enlists the help of Earth energy in manifesting one's desires. Calming for those battling with difficulties. Comforting stone, mood-balancing, easing anxiety and fears. Increases self-reliance and helps in the process of life changes.
Recently Viewed