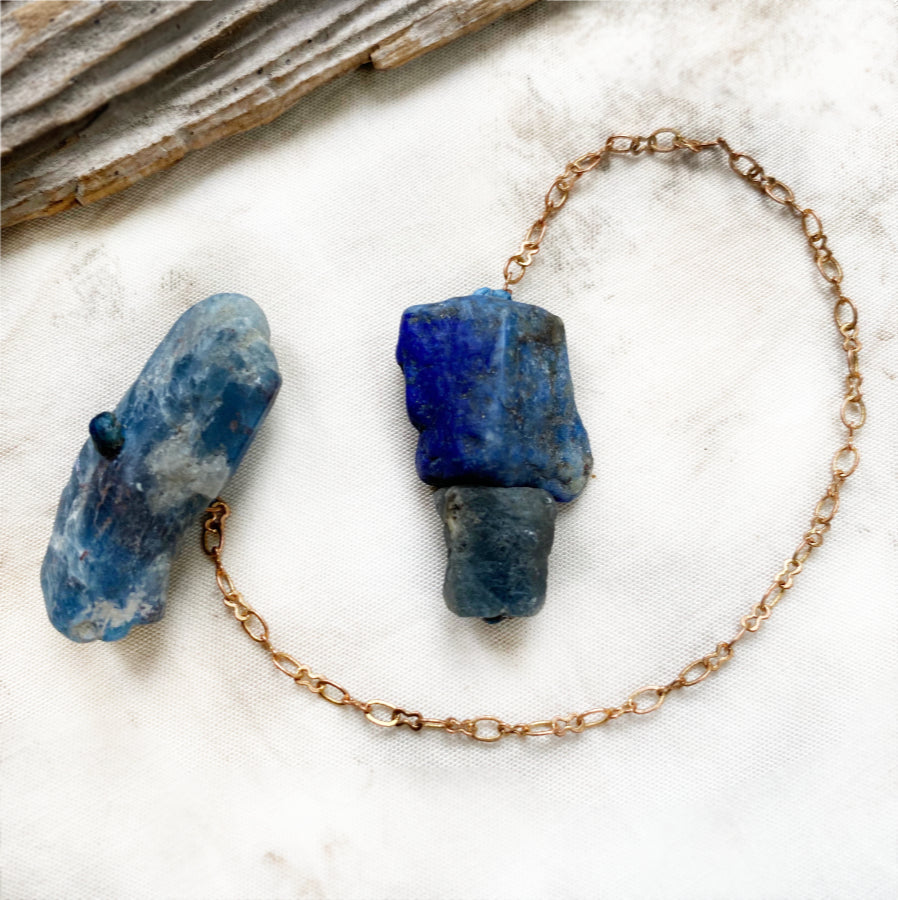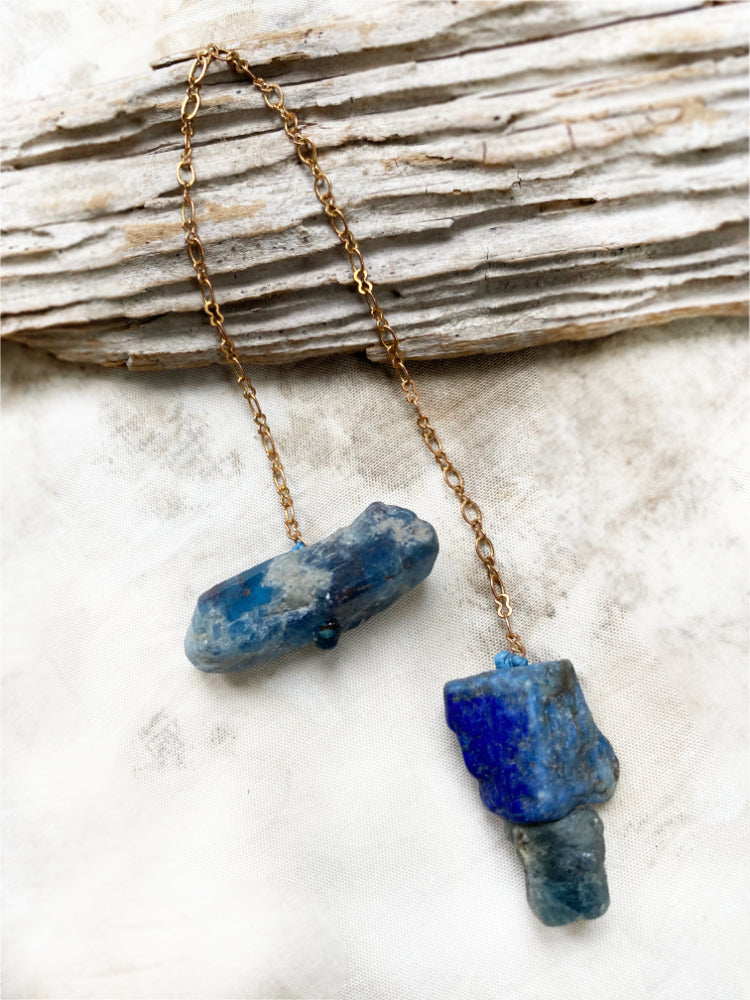 Crystal pendulum for dowsing ~ with Blue Kyanite, Lapis Lazuli & Sapphire
DESCRIPTION

One-of-a-kind crystal pendulum dowser combining a pair of Lapis Lazuli and Sapphire with a Blue Kyanite handle. This unusual pendulum has a unique calm feel to it. Perfect if you're looking for an original, personal pendulum to connect with your own energy for maximum results.
The chain is solid, pure copper which is a great energy conductor. The chain is 15 cm (6") long. The Kyanite handle is approx. 3 cm (1.2") wide, and the Lapis Lazuli with Sapphire pendulum is approx. 2.5 cm (1") tall.
This charming dowser comes in a 'vegan leather' (cork) drawstring pouch with simple bead detailing. When not in use, the dowser can be stored in this pouch for safekeeping. This is a handy small size so that you can easily take it with you wherever you go. The pouch has a diameter of just under 7 cm (2.8") - measured when empty and closed, and can also fit another crystal or two to carry along if you wish.
You'll receive this crystal treasure gift-wrapped at no extra charge.
CRYSTAL PROPERTIES
BLUE KYANITE
'Stone of connection' that opens up energetic pathways where none existed. Enhances telepathic and psychic abilities, aligning chakras and subtle bodies. Calming and soothing, aids meditative work. Beneficial in negotiations, creating harmony between people through enhanced communication. Empowers you to stay true to your path. Helps in hearing one's intuitive guidance.
LAPIS LAZULI
Creativity super charger stone. Ignites new ideas and encourages different creative ways of thinking. Stone of truthfulness, openness, inner power, intuition and manifestation. Thought to increase self-confidence as well as to promote spiritual healing, mental calmness and strength of will. Powerful tool for dream work. Historically a stone of royalty.
SAPPHIRE
A stone of psychic activation, enhances insight and focus. Helps the throat and third eye chakras to work in unison to strengthen and express one's inner vision. Grounds higher knowledge and helps one to stay centred. Evokes the wisdom needed to see past any situation into the underlying truth. Helpful in channeling healing energy from the highest source, facilitating access to deeper levels of consciousness.
Recently Viewed