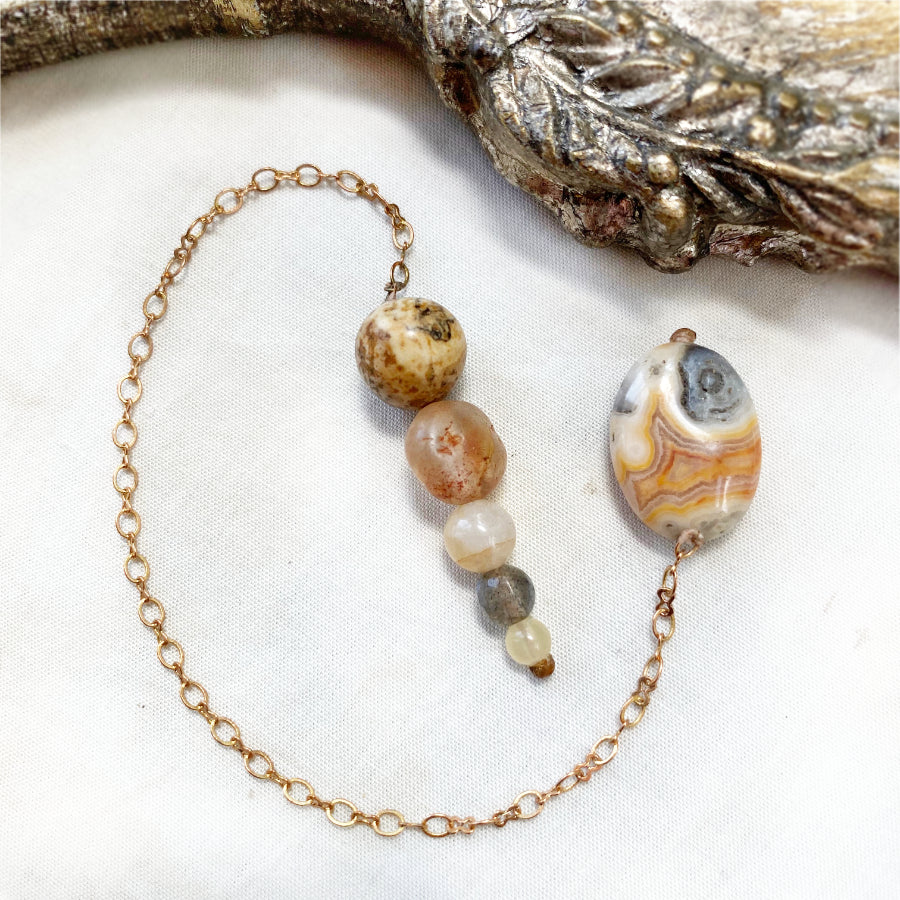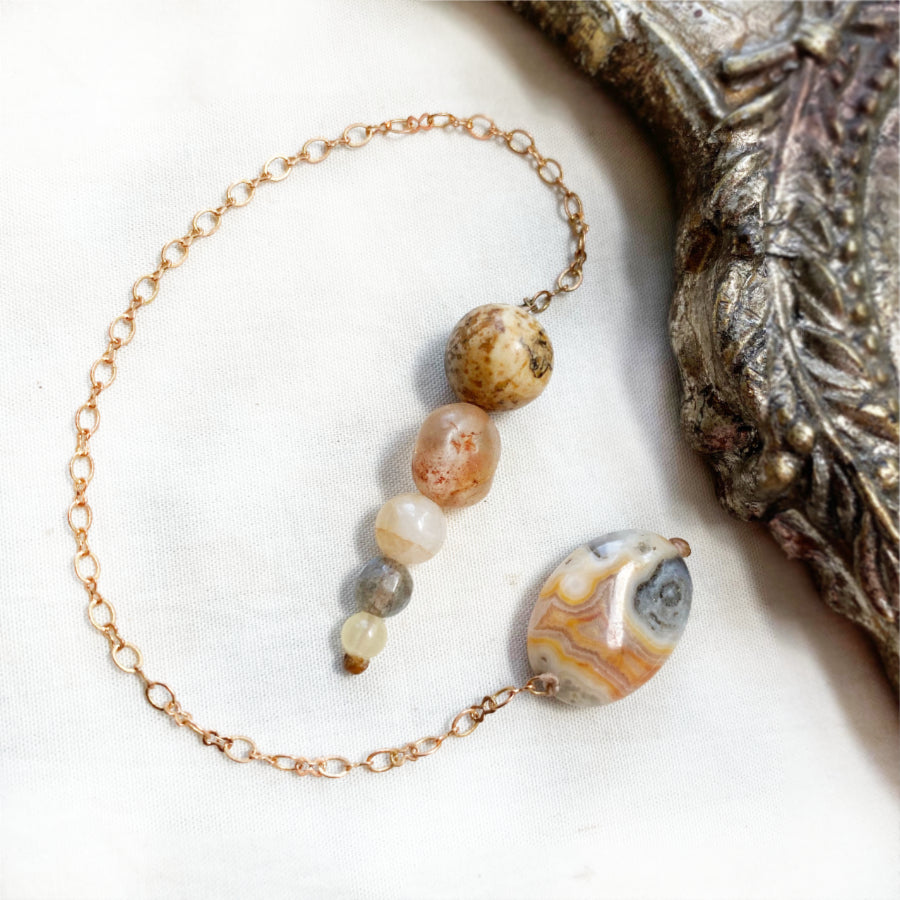 Crystal pendulum for dowsing ~ with Crazy Lace Agate, Picture Jasper & Topaz
Description
One-of-a-kind crystal pendulum dowser combining five different crystal types (Picture Jasper, Topaz, Yellow Jade & Labradorite) as a cairn with a Crazy Lace Agate handle. This unusual pendulum has a sunny, joyful feel to it. Perfect if you're looking for an original, personal pendulum to connect with your own energy for maximum results.
The chain is solid, pure copper which is a great energy conductor. The chain is 15 cm (6") long. The Crazy Lace Agate handle is just under 2 cm (0.8") in its longest dimension.
This charming dowser comes in a 'vegan leather' (cork) drawstring pouch with simple bead detailing. When not in use, the dowser can be stored in this pouch for safekeeping. This is a handy small size so that you can easily take it with you wherever you go. The pouch has a diameter of just under 7 cm (2.8") - measured when empty and closed, and can also fit another crystal or two to carry along if you wish.
You'll receive this crystal treasure gift-wrapped at no extra charge.
Crystal properties
CRAZY LACE AGATE
A stone of laughter and happiness, offering support and encouragement, elevating one's mood and promoting optimism. Uplifting stone that alleviates emotional pain and promotes self-acceptance. Useful for overcoming any kind of trauma, encouraging one to start over. Promotes inner stability.
PICTURE JASPER
Nurturing, comforting stone, associated with expanded creativity, invention and initiative. Helps in grounding one's ideas into reality. Believed to contain hidden messages from the past, connecting and grounding into the earth energies. Harmonious stone offering psychic protection during shamanic journeying as well as activating the third eye chakra. Inspires creative visualisation and is excellent for overcoming any creative blocks and clear away past hurts. Good for confidence, particularly helpful in business pursuits. Revered in many native cultures as a sacred stone of courage and wisdom.
TOPAZ
Stone of success and good fortune. Aligns and recharges body's meridians. With the strong magnification energy of Topaz, you may reach your heart's goals and desired manifestations faster. Increases energy and vitality. Increases cosmic awareness by activating the crown and the soul star chakras. In ancient legends, Topaz was said to make its wearer invisible if needed at times of emergency.
LABRADORITE
One of the most powerful, versatile crystal tools for healing. Creates an auric shield and strengthens your innate energy and life force, preventing energy leakages. Enhances intuitive abilities and assists in spiritual transformation. Helps the wearer align with their highest destiny and discover their inner worth. Strengthens willpower and brings in new ideas. Often referred to as the 'Stone of Destiny', believed to help you to find your true path in life, and as 'Temple of the Stars', anchoring higher dimensional light into your being.
YELLOW JADE
promotes self-sufficiency, keeps its keeper out of harms way, a stone of joy and good luck, bringing vitality and quiet strength.
Recently Viewed