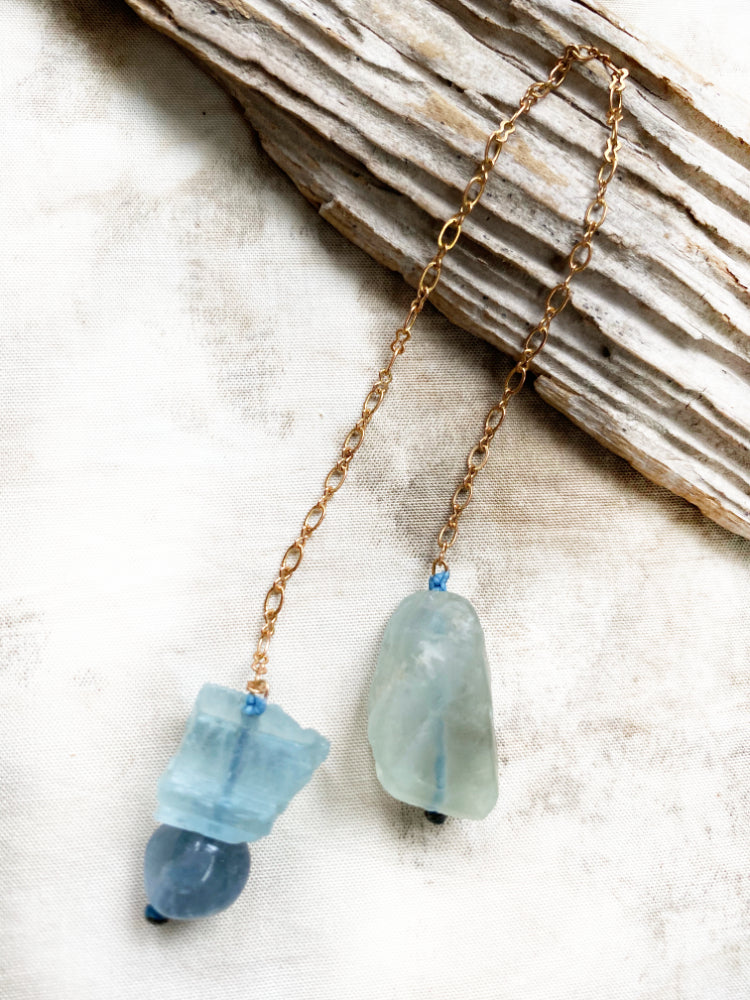 Crystal pendulum for dowsing ~ with Fluorite & Aquamarine
DESCRIPTION

One-of-a-kind crystal pendulum dowser combining a pair of Aquamarine and blue Fluorite with a green Fluorite handle. This unusual pendulum has a unique calm feel to it. Perfect if you're looking for an original, personal pendulum to connect with your own energy for maximum results.
The chain is solid, pure copper which is a great energy conductor. The chain is 15 cm (6") long. The Fluorite handle is just over 2 cm (0.8") in its longest dimension.
This charming dowser comes in a 'vegan leather' (cork) drawstring pouch with simple bead detailing. When not in use, the dowser can be stored in this pouch for safekeeping. This is a handy small size so that you can easily take it with you wherever you go. The pouch has a diameter of just under 7 cm (2.8") - measured when empty and closed, and can also fit another crystal or two to carry along if you wish.
You'll receive this crystal treasure gift-wrapped at no extra charge.
CRYSTAL PROPERTIES
FLUORITE
Excellent for cleansing one's aura, also detaching unwanted energy cords. Grounds excessive energy, beneficial for all levels of healing. Helpful in achieving spiritual wholeness. Protective, stabilising and harmonising stone. Facilitates personal growth. Awareness expanding. Anchors intuitive insights into the physical plane. Offers strong psychic protection, helping to discern energies one comes in contact with. Helps in being objective and focusing on what is essential. Also known as absorbing environmental EMF. Blue Fluorite is attuned to the Third Eye chakra, enhancing intuitive visions and their accuracy. Promotes calm, rational thinking, directing one's activities toward an intended purpose. Fosters clear communication skills, inspiring honesty and sense of justice. Heals soul fragmentation through life times and aids cellular memory healing.
AQUAMARINE
Connected with the throat chakra, easing verbal self-expression. Helps you communicate your own truth and find your voice. Helps in looking at emotional situations from other perspectives, assists in opening up intuition and to calmly be in the flow of life. Aquamarine also aids in reaching deep meditative states. Resonates with the energy of the ocean. Stone of courage and protection.
Recently Viewed