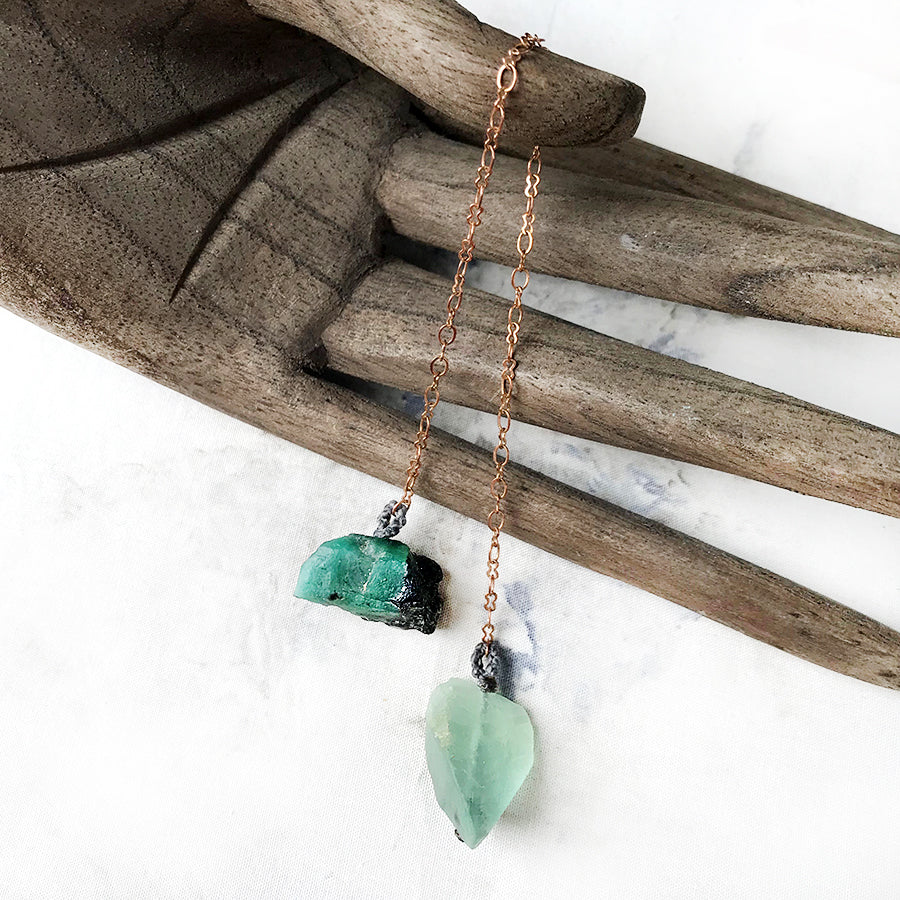 Crystal pendulum for dowsing ~ with Fluorite & Emerald
Description
One-of-a-kind crystal pendulum dowser combining a green Fluorite with raw Emerald handle. This unusual pendulum has a pleasant, slightly weighty feel to it, and although the handle is a rough crystal, it's gratifying to hold.
The chain is solid, pure copper which is a great energy conductor. The chain is 15 cm (6") long. The Emerald handle is just under 2 cm (0.8") in its longest dimension.
This charming dowser comes in a soft, double-layer fabric drawstring pouch which has bead detailing that matches the dowser's crystals in colour. When not in use, the dowser can be stored in this pouch for safekeeping. This is a handy small size so that you can easily take it with you wherever you go. The pouch has a diameter of 7 cm (2.8") - measured when empty and closed.
You'll receive this crystal treasure gift-wrapped at no extra charge.
Crystal properties
FLUORITE
Excellent for cleansing one's aura, also detaching unwanted energy cords. Grounds excessive energy, beneficial for all levels of healing. Helpful in achieving spiritual wholeness. Protective, stabilising and harmonising stone. Facilitates personal growth. Awareness expanding. Anchors intuitive insights into the physical plane. Offers strong psychic protection, helping to discern energies one comes in contact with. Helps in being objective and focusing on what is essential. Also known as absorbing environmental EMF.
EMERALD
Stone of Love. Opening and nurturing to the heart chakra. Benefits heart-based intuition. Promotes joyous emotions, enhances emotional and spiritual balance. Restores confidence where needed. Brings visionary insight, especially relating to one's vocation. In crystal lore, Emerald is the sacred stone of the goddess Venus. It was the symbol of eternal life in ancient Egypt. Also known as a great aid for manifesting prosperity.
Recently Viewed