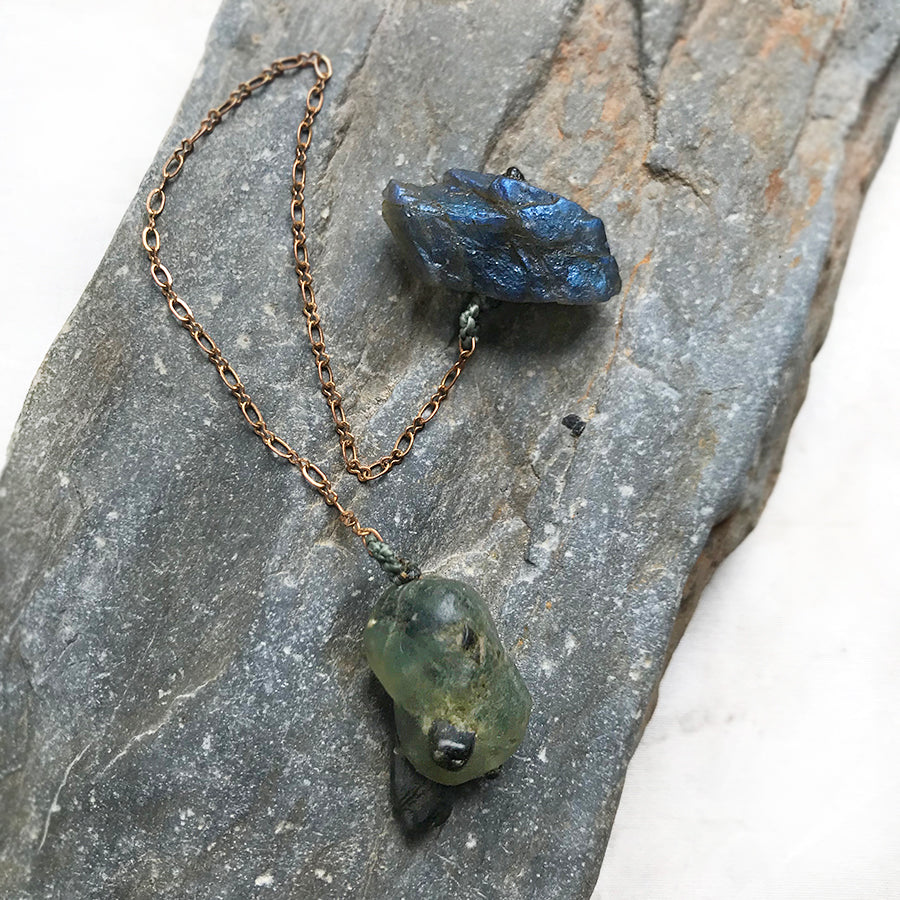 Crystal pendulum for dowsing ~ with Prehnite Epidote & Labradorite
DESCRIPTION
One-of-a-kind crystal pendulum combining a rough Prehnite Epidote with Labradorite handle. The Labradorite shows a stunning blue light flash across it. This unusual pendulum has a pleasant, slightly weighty feel to it, and although the handle is a rough crystal, it's gratifying to hold.
The chain is solid, pure copper which is a great energy conductor. The chain is 15 cm (6") long. The Labradorite handle is just over 2.5 cm (1") wide.
When not in use, the pendulum can be stored in its fabric drawstring pouch. This is a handy small size so that you can easily take the pendulum with you wherever you go. The pouch has a diameter of 7 cm (2.8") - measured when empty and closed.
You'll receive this crystal treasure gift-wrapped at no extra charge.
CRYSTAL PROPERTIES
EPIDOTE IN PREHNITE
Prehnite is a strongly protective stone, said to be "the healer's healer". It fosters a sense of trust in the Universe and helps you protect your boundaries so it's easier to say "no" when needed. Prehnite is also revitalising and said to bring inner peace. Epidote within the Prehnite is an energy enhancer, so it gives an extra boost to the crystal's energy. It encourages you to approach life with a positive outlook, clearing emotional residue and confusion from the heart chakra. Epidote is also considered a magnet for prosperity and great for physical recovery.
LABRADORITE
One of the most powerful, versatile crystal tools for healing. Creates an auric shield and strengthens your innate energy and life force, preventing energy leakages. Enhances intuitive abilities and assists in spiritual transformation. Helps the wearer align with their highest destiny and discover their inner worth. Strengthens willpower and brings in new ideas. Often referred to as the 'Stone of Destiny', believed to help you to find your true path in life, and as 'Temple of the Stars', anchoring higher dimensional light into your being.
Recently Viewed