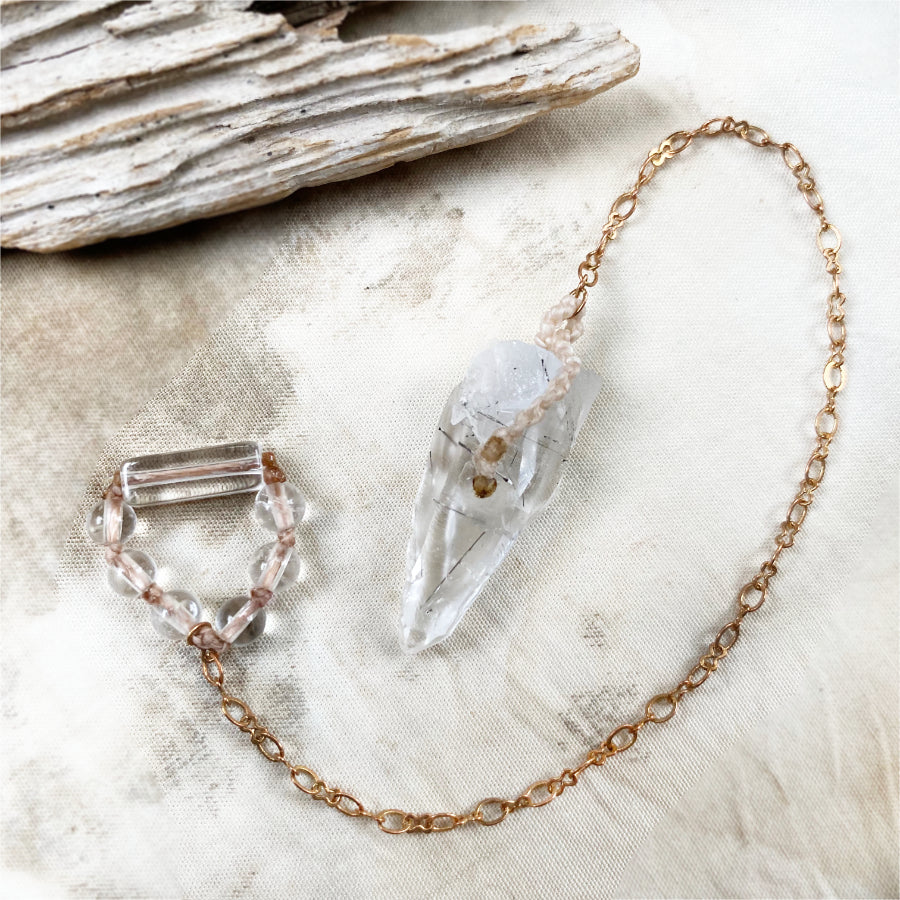 Crystal pendulum for dowsing ~ with Tourmalinated Quartz point
DESCRIPTION

One-of-a-kind crystal pendulum dowser with Tourmalinated Quartz and clear Quartz handle. This pendulum would be fitting for many dowsing purposes, and can be dedicated to something specific if wished. Being one-of-a-kind, this pendulum is ideal for creating a very personal connection with.
The chain is solid, pure copper which is a great energy conductor. The chain is 15 cm (6") long. The Tourmalinated Quartz point is just over 3 cm (1.2") tall and has been knotted with cream tone micro-macrame cord.
This charming dowser comes in a cork ('vegan leather') pouch. When not in use, the dowser can be stored in this pouch for safekeeping. This is a handy small size so that you can easily take it with you wherever you go. The pouch has a diameter of 7 cm (2.8") - measured when empty and closed.
You'll receive this crystal treasure gift-wrapped at no extra charge.
CRYSTAL PROPERTIES
TOURMALINATED QUARTZ
Combines the energies of master healer Quartz with Black Tourmaline inclusions. Highly protective for the aura, clearing one's energy field from blockages. Spiritually grounding while infusing the energy body with more light. Harmonising crystal for all aspects of life.
CLEAR QUARTZ
The universal master crystal that has a harmonising effect on all levels of being. Programmable by intention, so can be used for versatile purposes. Quartz can clear, enhance, amplify, transmute, balance, focus and transmit energy. Raises one's energetic vibration. Brings clarity and filters out distractions. A deep soul cleanser, attuning its keeper to their higher self. Each Quartz crystal is unique with its own character and teachings it offers, all are known as "Stones of Power" and "Master Healers".
Recently Viewed