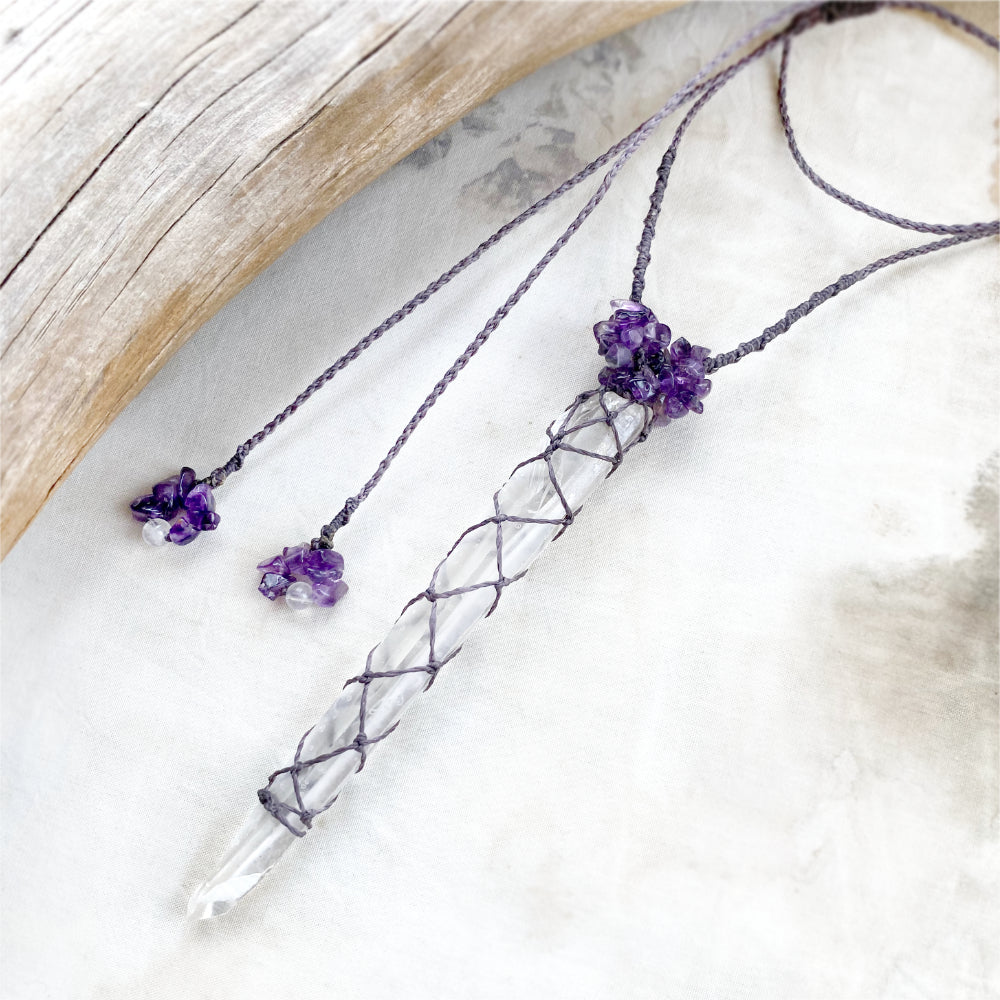 Crystal talisman with long Quartz point
DESCRIPTION
Crystal healing talisman with a long Quartz point with an unusual tip formation - it's like another tip has grown slightly over the initial one. The necklace is knotted with muted purple micro-macrame cord and highlighted with small Amethyst crystals. The rest of the woven necklace cord is left plain to allow the long crystal point take centre stage. The long Quartz point is un-drilled, securely netted with the cord that extends into the woven necklace braid.
The necklace length is adjustable from as short as you wish down to solar plexus level. Please note that this Quartz point is impressively long, yet still delicately thin at approx. 10.5 cm (4") tall and just under 1.5 cm (0.6") at its widest.
There are no metals in this necklace so would be particularly suitable for those with metal sensitivities, energy workers and those who simply prefer not to wear metal.
As this Quartz point is too long to fit in the usual Spirit Carrier jewellery pouches, I'll wrap this in velvet drawstring pouch instead, to protect it on its journey to you. Also gift-wrapped at no extra charge.
CRYSTAL PROPERTIES
CLEAR QUARTZ
The universal master crystal that has a harmonising effect on all levels of being. Programmable by intention, so can be used for versatile purposes. Quartz can clear, enhance, amplify, transmute, balance, focus and transmit energy. Raises one's energetic vibration. Brings clarity and filters out distractions. A deep soul cleanser, attuning its keeper to their higher self. Each Quartz crystal is unique with its own character and teachings it offers, all are known as "Stones of Power" and "Master Healers".

AMETHYST
Instils inner peace, promotes self-discovery and aids in relaxation. Associated with the crown chakra, known as a "stone of balance" and positive transformation. Thought to increase spiritual awareness and psychic abilities, initiating higher knowing and greater understanding. Helps in assimilating new ideas and manifesting thoughts into action. Symbolises a connection to the Divine. A well-known support stone for those wanting to break old patterns to create a new, harmonious life.
Recently Viewed