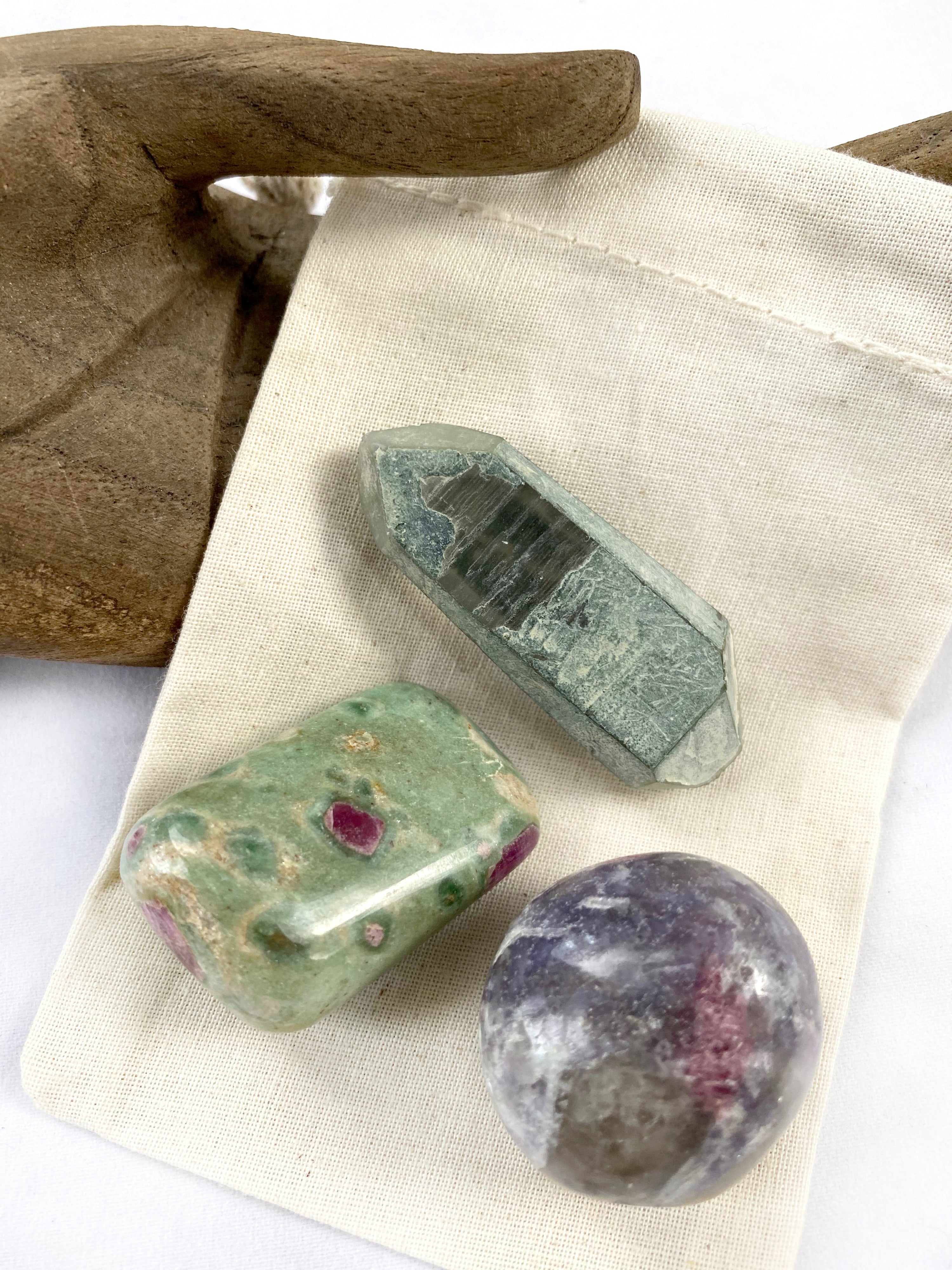 Crystal trio with Ruby in Fuchsite, Pegmatite & Chlorite Quartz
Lovely trio to work with these crystals' individual and combined energies, whether in crystal grids or crystal healing body layouts. Heart-centered healing energies, also a perfect addition to the collection of those who meditate with crystals.

This crystal trio comes with Spirit Carrier's travel size 'Flower of Life' crystal grid base.
The largest dimension in each crystal:
Pegmatite 3 cm (1.2")
Ruby in Fuchsite 4 cm (1.6")
Chlorite Quartz 5 cm (2")
You'll receive this crystal treasure securely padded and wrapped to protect it on the postal journey. Gift-wrapped at no extra charge.
~

RUBY IN FUCHSITE
Helps strengthen and amplify the body's energy field. Helps clearing any heart chakra blockages. Brings mental clarity, physical vitality and awareness of solutions to problems. Stimulates intuition and encourages you to follow what has heart and meaning to you.

PEGMATITE (aka Unicorn Stone)
Balancing and calming support for emotional upheavals. Promoting empathy and compassion, creating a sense of being safely present amidst surrounding overwhelm. Connects you with your inner space of stillness, to access joy and positivity. Helps in moving forward with clear vision and knowing heart, releasing tensions, worries and anxieties.
CHLORITE IN QUARTZ
Known as 'Quartz of Compassion', this is a purifier crystal. Chlorite is cleansing to the aura, chakras, and energy meridians. Elevates one's vibration higher than that of illness. Can help one visualise and create a more positive future, financially, emotionally, physically. Helps to resolve issues of the heart and remove blockages and resistance so one may acknowledge, forgive, release, and move forward. Great in space clearing, to ward off chaotic, negative energy.
Recently Viewed