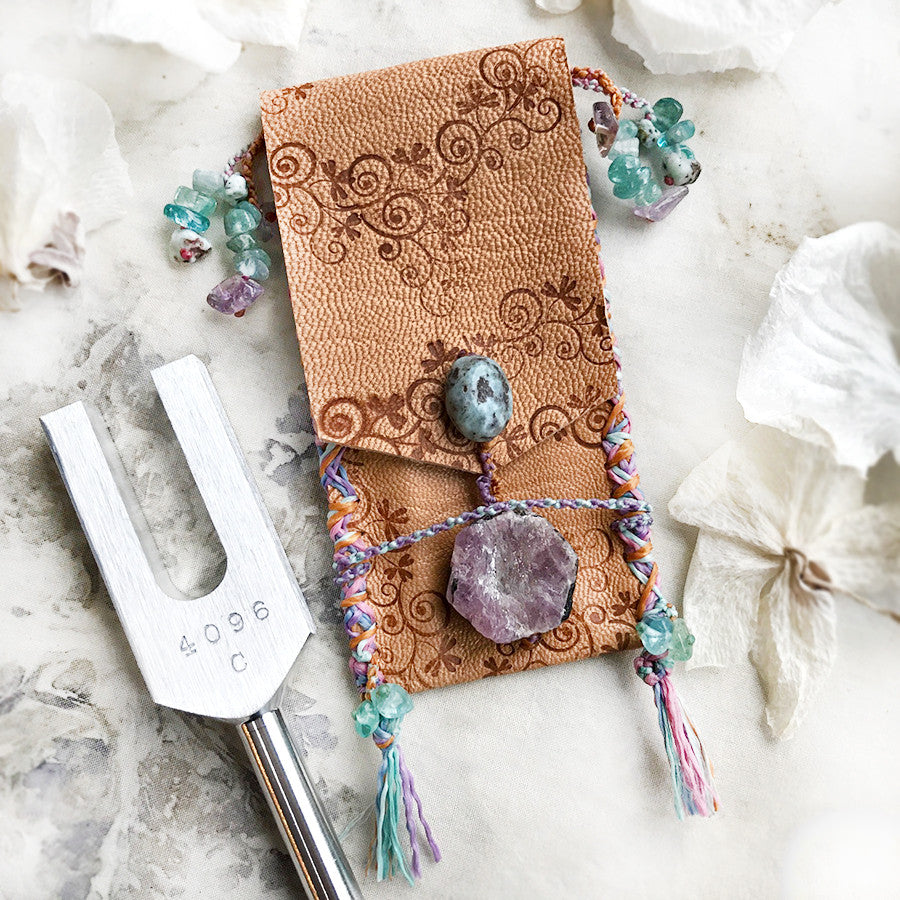 Crystal tuning fork in leather pouch with 'sounding crystal'
Unique little leather pouch, hand-stitched with several pastel colours and adding joyfully decorative details such as little cord tassels and dangling crystal clusters. The crystal details in this pouch are Larimar, Ruby and Fluorite. The leather is vegetable-tanned goat hide, the type of high quality leather that usually covers classic antique books. I have embossed the leather with a floral brass tool, traditionally used in fine bookbinding work. The closing flap slots under a knotted string, the Ruby crystal securing it close. 
Inside the pouch you find one of the most useful tools for those who love crystals. It took me a long time to source this particular crystal tuning fork that's made in a way that offers the purest of chime, ringing for a beautifully long while. I use these 4096C crystal tuning forks every day for cleansing crystals and find it so efficient, fast and simple - also perfect for crystals that cannot be cleansed in water, such as Selenite.
The Ruby crystal that closes the leather pouch, is also a handy tool for you to 'sound' the tuning fork. Simply dangle the pouch on one hand, hold the stem of the tuning fork in the other, and gently tap the Ruby crystal with the pronged end of the tuning fork. Superb chime!
The outer measurements of the leather pouch: 10 cm (4") tall, 5 cm (2") wide.
The crystal tuning fork is just over 9 cm (3.5") tall and 2.5 cm (1!) wide at the prongs.
You'll receive this useful crystal tool and its luxurious safe-keeper pouch gift wrapped for no extra charge.

Recently Viewed