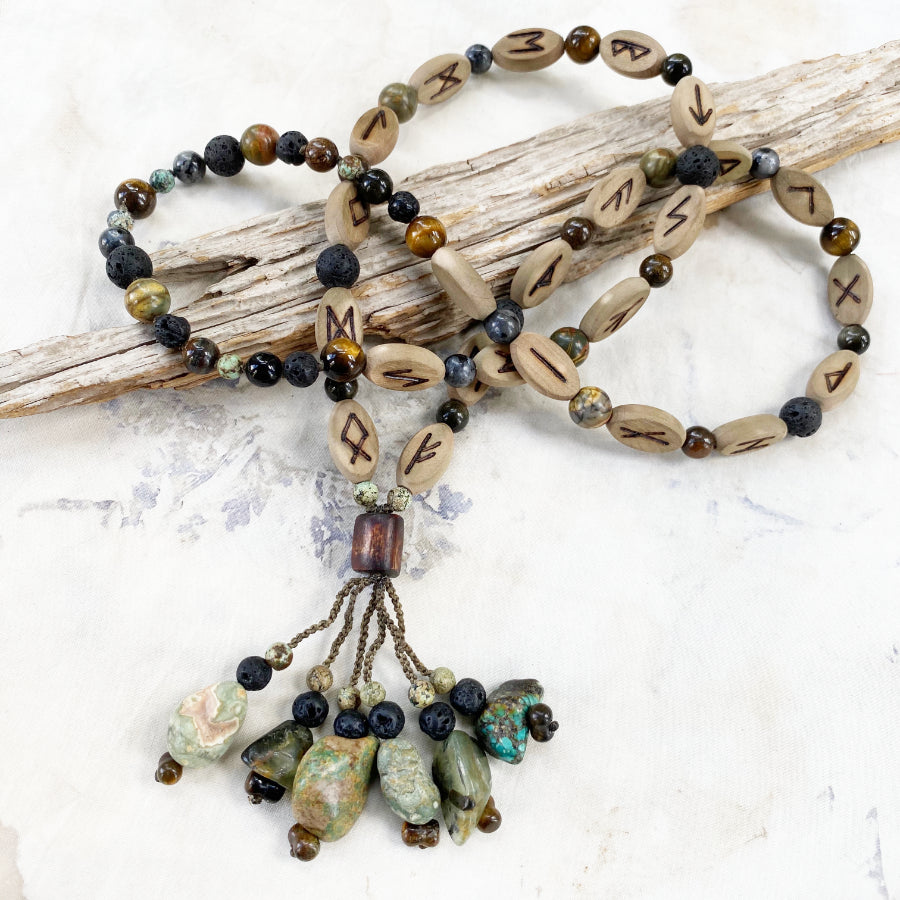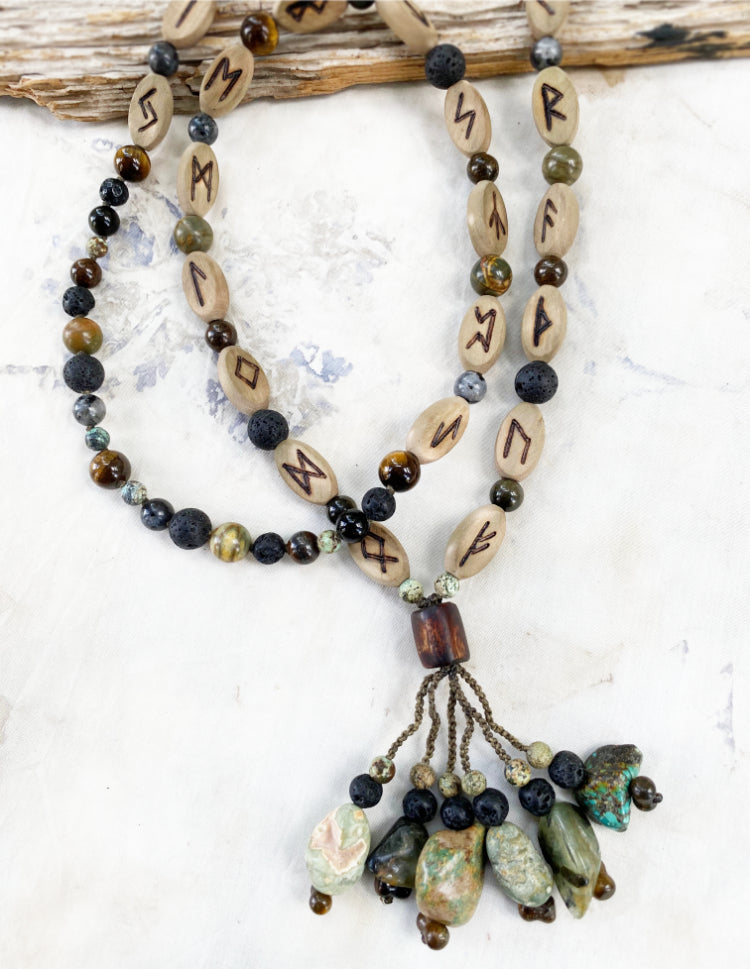 Crystals & Runes talisman necklace
DESCRIPTION
Runic talisman necklace, with a selection of dark tone crystals, alternating with wooden Elder Futhark runes. All 24 are represented in order, the middle Aett divided in half so that one side of the necklace includes the runes from Fehu to Jera and the other side has the runes from Ihwaz to Othala. Between the two sides, there is a section of crystal beads that settle behind the neck when worn. This allows the runes to show in front and upright on both sides. The main pendant 'tassel' has six knotted strands ending in green tone crystals of Turquoise, Prehnite and Rhyolite. These strands flow down from a horn bead that joins both sides of the necklace together.

The necklace is knotted with dark brown micro-macrame cord, and the wooden runes are burnt on oval disks of botanically aged beechwood. The crystals included along the necklace are: Turquoise, Prehnite, Lava Stone, Rhyolite, Norwegian Moonstone and Tiger Eye.
This is a long necklace has an all-around length of 87 cm (34"). Each wooden rune oval is approx. 2 cm (0.8") tall. The tassel hangs down from the horn bead approx. 6 cm (2.4").

You'll receive this runic talisman in a cork drawstring pouch for safekeeping, and gift-wrapped at no extra cost.

Read here how to take care of your crystal jewellery.
CRYSTAL PROPERTIES
TURQUOISE
Turquoise is a strengthening and purifying stone. It fosters honest and clear communication from the heart. Aligns all of the chakras; and can be used to cleanse your energy centres. Balancing stone for the mood and emotions. Promotes self-realisation and aids creative problem-solving.
PREHNITE
Protective on all levels, strengthening one's life force. Fosters a sense of trust in the Universe and helps you protect your boundaries so it's easier to say "no" when needed. Stimulates inner knowing of oneself and guides in fulfilling one's potential. Helps to let go of unpleasant memories. Enhances spiritual "knowing". Revitalising and said to bring inner peace. Also said to be "a healer's healer".
RHYOLITE
Balancing stone on all levels, alleviating anxiety and worries. Builds emotional strength in view of fulfilling ones dreams and goals. Shifts energy towards moving forward, assists in visualising desired change. Ignites creativity, helping to make things happen in one's life and to tap into one's innate abilities. Also thought to help its keeper to look and feel younger!
LAVA STONE
Stone of vitality, assertiveness and passion. Provides stability in times of change. Grounding and protective. Supports courage and decisiveness. Helps in finding one's 'life path'. Encourages personal development and growth.
TIGER EYE
Helpful stone for learning to feel connected to one's personal strength. Excellent stone for attracting prosperity. But it has also a highly spiritual energy and is useful in understanding any life cycle that one is living through. Helps in seeing through illusions and discerning the truth in any situation. A highly protective stone. Good for strengthening the solar plexus (3rd) chakra and developing one's will power and courage.
NORWEGIAN MOONSTONE (aka Black Labradorite, Larvikite)
Repels negative energy and can make you more adaptable to life's situations. It also stimulates inner visions so it's very suited to meditation. Black Labradorite is also said to connect with nature spirits. On physical level, it is said to be good for renewing and maintaining vitality and youthfulness.
Recently Viewed