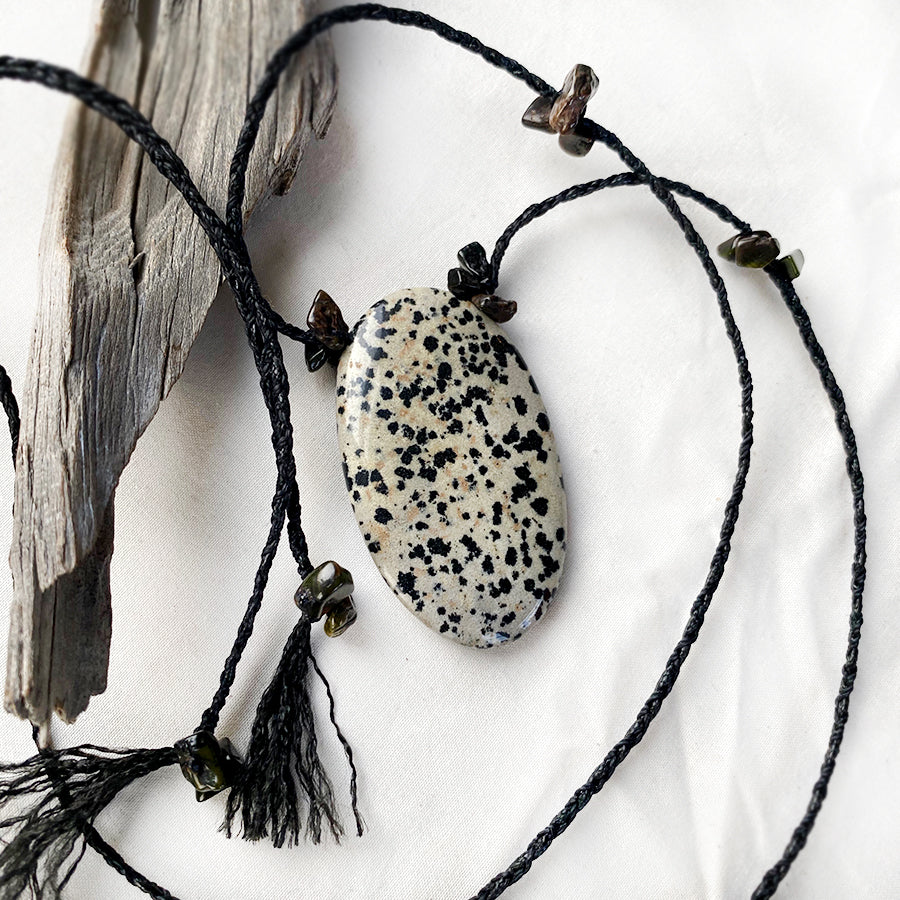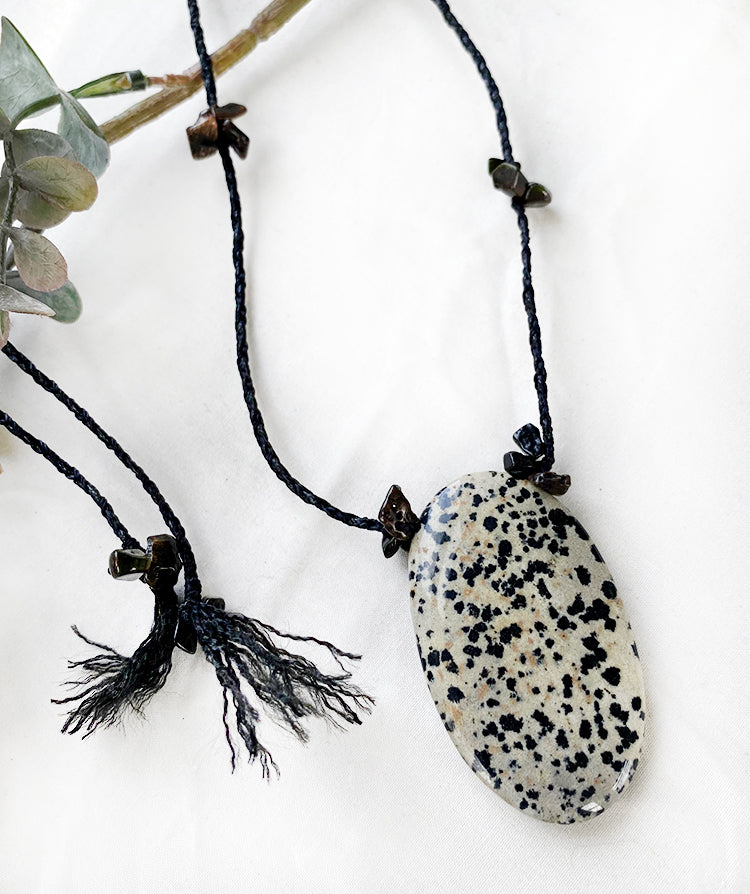 Dalmatian Jasper crystal healing amulet
DESCRIPTION
Crystal healing talisman with a smooth polished oval of Dalmatian Jasper. The minimal necklace braid combines black satin cord with black micro-macrame cord, allowing the pendant crystal to take centre stage.  The tiny highlighting crystals along the necklace braid and at the ends of the braids are Black Coral. This necklace would also be perfect in combination with others for a bohemian individual look.
The necklace has a knotted channel through which you can pull the braided cords so you can have the pendant hang at your desired level. The size of the Dalmatian Jasper is approx. 5 cm (2") tall and 3 cm (1.2") at its widest. 
There are no metals in this necklace so would be particularly suitable for those with metal sensitivities, energy workers and those who simply prefer not to wear metal.
You'll receive this crystal healing necklace in one of my fabric draw-string pouches, great for the safe-keeping of the necklace. Gift-wrapped at no extra charge.

Read here how to take care of your crystal jewellery.
CRYSTAL PROPERTIES
DALMATIAN JASPER
Helps in removing barriers that prevent you from moving forward in life, and to discover your true purpose of being in the world. Brings joy and playfulness into one's life. The black spots in this stone are Black Tourmaline, which adds to this stone's protective qualities.
BLACK CORAL
Generates serenity and peace while absorbing negative energy. Excellent for psychic protection and for guarding one's personal space. Inspires creativity and enhances the flow of creative ideas. Associated with the third chakra, the 'seat of the soul', guarding one's personal power and strength from outside influences. Digs deep to heal hidden emotions that might hold you back in life. Energetically cleansing, and said to help in detoxing the body.
Recently Viewed