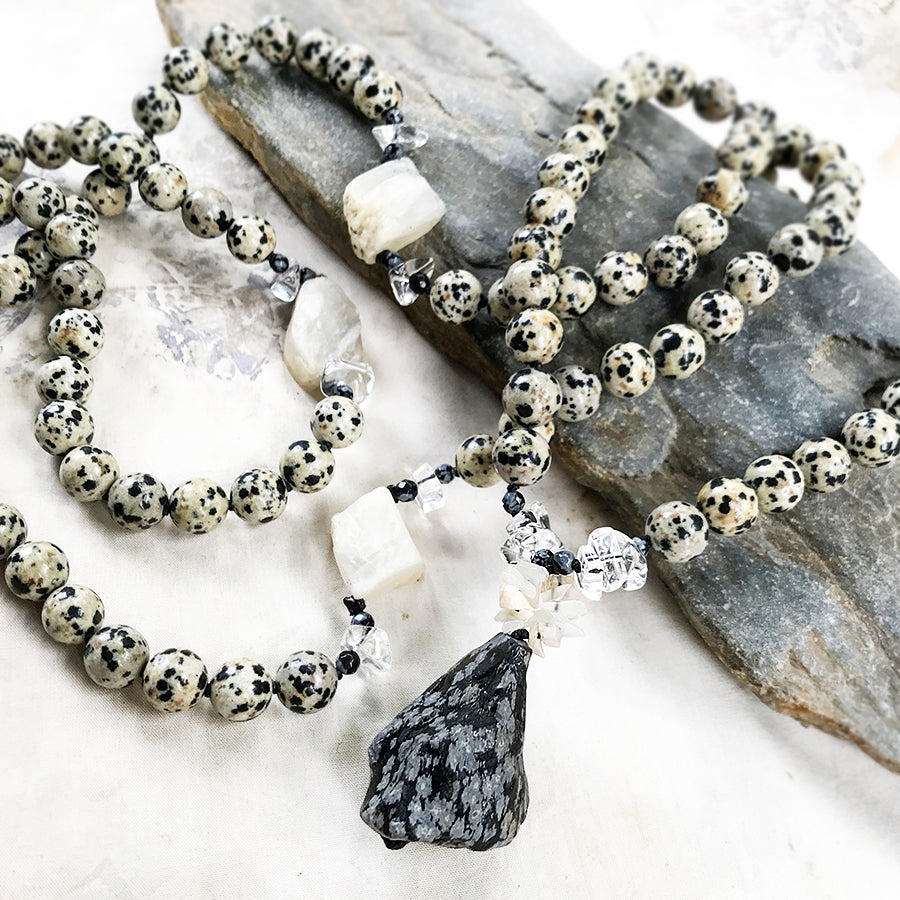 Dalmatian Jasper mala with Moonstone, Quartz & Snowflake Obsidian
DESCRIPTION
One of a kind, contemporary 108 bead meditation mala with Dalmatian Jasper counter beads. The three dividers are a combination of Moonstone, Snowflake Obsidian and clear Quartz crystals. The guru bead is a large rough-cut Snowflake Obsidian. Although neutral in its colour tones, the subtle, natural patterns and textures in this mala give it a unique character as a companion for your meditative moments.
All around length of mala: 136 cm (53.5")
Counter bead diameter: 1 cm (0.4") 
The width of the divider combination: approx. 4.5 cm (1.8") 
Length of guru bead combination: 5 cm (2")
Each counter bead is meticulously knotted by hand - one by one, for durability and ease of handling - using black micro-macrame cord.
This mala comes in one of my handmade soft leather pouches for safe-keeping (and gift-wrapped for no extra charge). If you would rather have a fabric pouch, please let me know at the time of purchase.
Read more about Spirit Carrier mala beads
CRYSTAL PROPERTIES
DALMATIAN JASPER
Helps in removing barriers that prevent you from moving forward in life, and to discover your true purpose of being in the world. Brings joy and playfulness into one's life. The black spots in this stone are Black Tourmaline, which adds to this stone's protective qualities.
MOONSTONE
Useful for feeling balanced or when changing aspects in one's life. Symbolises 'new beginnings'. Brings calmness through awareness. Provides the energy to sustain you through stages of growth. A highly intuitive stone allowing self expression and creativity to flow. Provides protection while travelling. A bringer of good fortune. Stone of feminine wisdom, inner growth and strength. Calming and soothing stone, enhancing intuition and inspiration. White moonstone is stimulating for psychic perception, vision and dream work.
SNOWFLAKE OBSIDIAN
Promotes a sense of calm and inner equilibrium, bringing balance to body, mind and spirit. A grounding, protective stone. Eases worries and when carried/worn helps one to stay balanced and centred throughout the day. Native American shamans often carried Snowflake Obsidian as a powerful talisman to avert evil and bring good fortune, also considering it to be the guardian of the Great Spirit.
CLEAR QUARTZ
The universal master crystal that has a harmonising effect on all levels of being. Programmable by intention, so can be used for versatile purposes. Quartz can clear, enhance, amplify, transmute, balance, focus and transmit energy. Raises one's energetic vibration. Brings clarity and filters out distractions. A deep soul cleanser, attuning its keeper to their higher self. Each Quartz crystal is unique with its own character and teachings it offers, all are known as "Stones of Power" and "Master Healers".
Recently Viewed