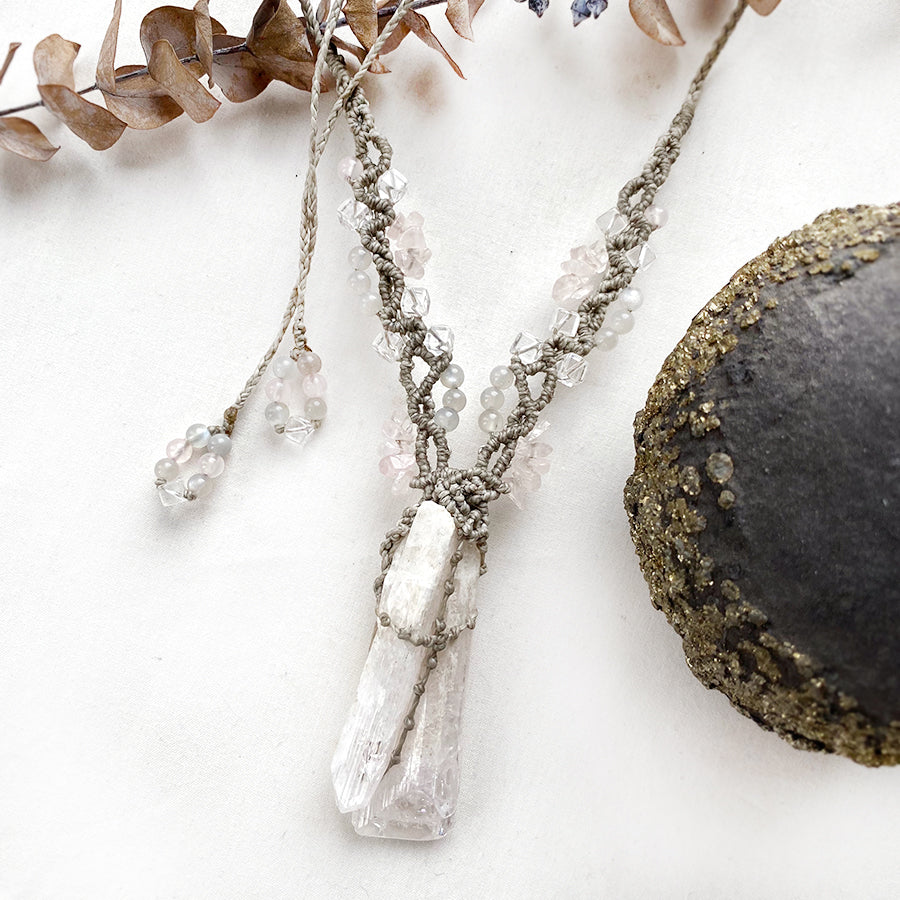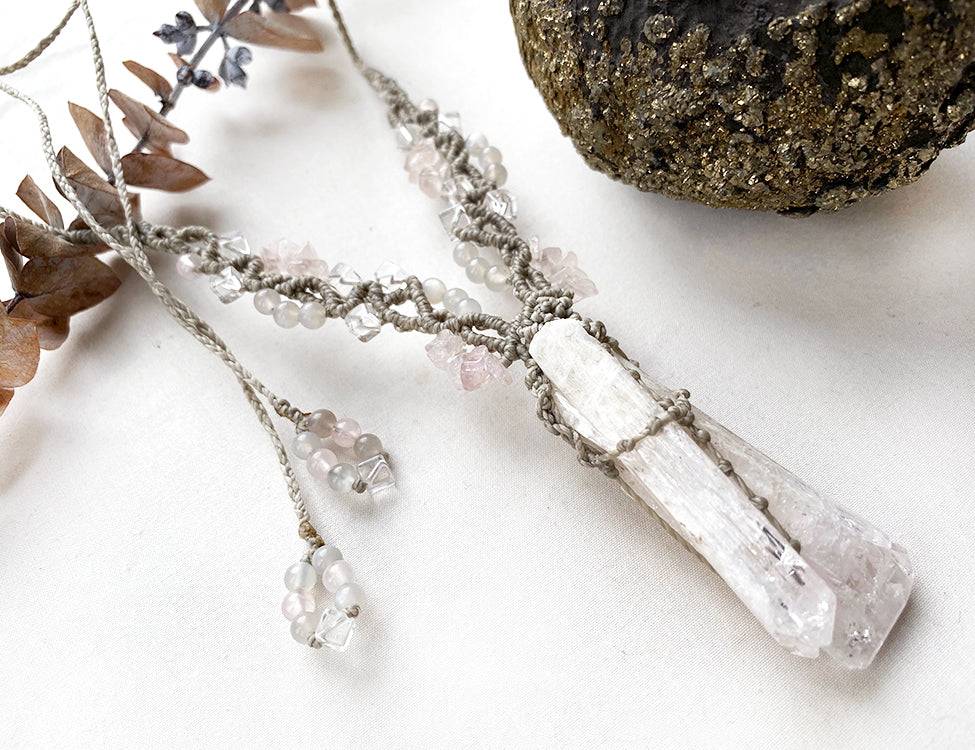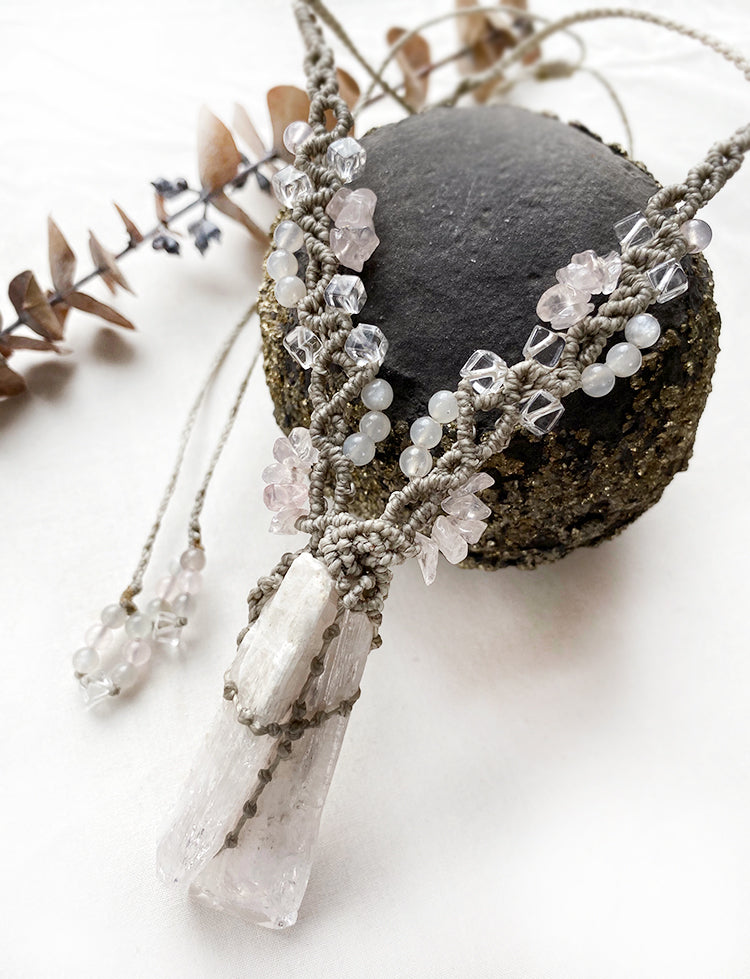 Danburite crystal healing amulet
DESCRIPTION
Raw, un-drilled Danburite crystal with a very subtle pale pink hue. Securely wrapped and knotted with light grey micro-macrame cord that extends into an intricately knotted lace-like pattern that's highlighted with clear Quartz, Rose Quartz and Moonstone crystals. The ends of the adjustable necklace cords are also decorated with matching crystals.
The length of the necklace is adjustable from very short down to solar plexus level. The Danburite is approx. 6 cm (2.4") tall and approx. 2 cm (0.8") at its widest.
There are no metals in this necklace so would be particularly suitable for those with metal sensitivities, energy workers and those who simply prefer not to wear metal.
You'll receive this crystal healing necklace in one of my fabric draw-string pouches, great for the safe-keeping of the necklace. Gift-wrapped at no extra charge.

Read here how to take care of your crystal jewellery.
CRYSTAL PROPERTIES
DANBURITE
Connects your pure heart energy with intellect, encouraging you to let your light shine. Helps releasing anxiety and fears, so that deep emotional healing can take place. Danburite's soothing and peaceful energy is dynamic and particularly comforting in times of dramatic change. Excellent for cultivating self-acceptance as well as higher perceptional awareness.

ROSE QUARTZ
Powerful love stone, love that is all-encompassing and unconditional. Awakens one's heart to its own innate love, compassion and acceptance. Vibrates its loving energy to all chakras, offering gentle healing. Soothing and calming. Dissolves anger and resentment. Good for raising one's self-esteem and feelings of self-worth. Balances emotions and is said to support all types of healing. Guides one's life path towards a sense of personal fulfilment and contentment.
MOONSTONE
Useful for feeling balanced or when changing aspects in one's life. Symbolises 'new beginnings'. Brings calmness through awareness. Provides the energy to sustain you through stages of growth. A highly intuitive stone allowing self expression and creativity to flow. Provides protection while travelling. A bringer of good fortune. Stone of feminine wisdom, inner growth and strength. Calming and soothing stone, enhancing intuition and inspiration. White moonstone is stimulating for psychic perception, vision and dream work.
CLEAR QUARTZ
The universal master crystal that has a harmonising effect on all levels of being. Programmable by intention, so can be used for versatile purposes. Quartz can clear, enhance, amplify, transmute, balance, focus and transmit energy. Raises one's energetic vibration. Brings clarity and filters out distractions. A deep soul cleanser, attuning its keeper to their higher self. Each Quartz crystal is unique with its own character and teachings it offers, all are known as "Stones of Power" and "Master Healers".
Recently Viewed