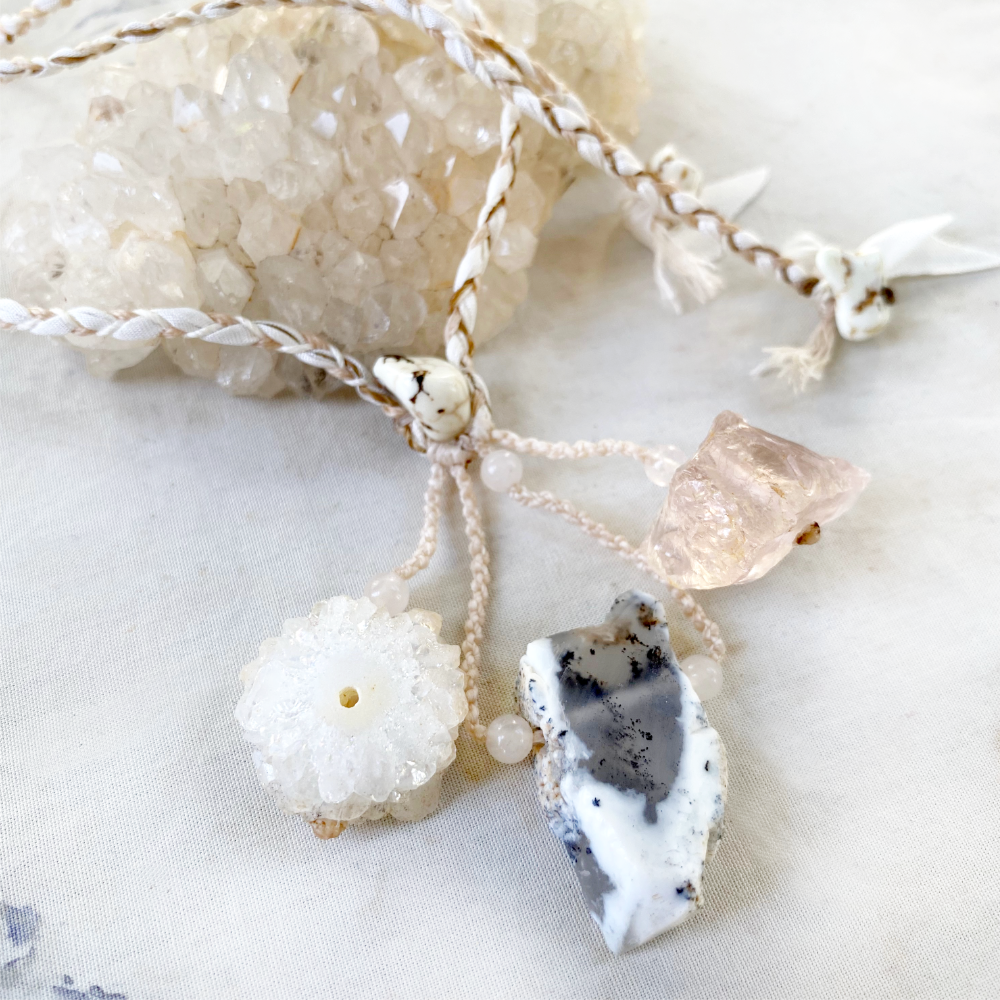 'Dawn of Wisdom' ~ crystal healing amulet
DESCRIPTION
Crystal healing talisman with a trio of crystal energy: Solar Quartz, Merlinite and Ice Rose Quartz, with additional accents of Magnesite and Rose Quartz. The necklace braid is a combination of white embroidery silk ribbon, unbleached linen thread and brown micro-macrame cord. The braid ends include Magnesite details.
The middle strand hangs down approx. 5 cm (2"), the Merlinite is approx. 3 cm (1.2") tall, the Solar Quartz has a diameter of 2 cm (0.8") and the Ice Rose Quartz is 2.5 cm (1") at its longest dimension. 
There are no metals in this necklace so would be particularly suitable for those with metal allergy or sensitivity and for energy workers and those who simply prefer not to wear metal.
You'll receive this crystal healing necklace in one of Spirit Carrier's handmade fabric draw-string pouches - great for the safe-keeping of the necklace. Gift-wrapped at no extra charge.

Read here how to take care of your crystal jewellery.
CRYSTAL PROPERTIES
SOLAR QUARTZ (aka Stalactite Quartz)
Associated with crown chakra, stalactitic Quartz is uplifting, bringing emotional strength and harmonious alignment with one's inner core. Creates a feeling of patience with life's flow, a sense that All Is Well in this Now moment. Great energy enhancer. Helpful in accessing and healing issues in those past lives that are relevant to your life at the moment. Powerful healing stone igniting one's sense of higher knowing.
MERLINITE
Stone of spiritual development, assisting in accessing multiple realms including akashic records. Softens one's emotional guards in aid of making deeper connections with out fellow humans, remaining open regardless of past experiences. Supports the journey to achieving one's personal goals. Helps with integrating one's shadow self as well as attracting spiritual guides.
ROSE QUARTZ
Powerful love stone, love that is all-encompassing and unconditional. Awakens one's heart to its own innate love, compassion and acceptance. Vibrates its loving energy to all chakras, offering gentle healing. Soothing and calming. Dissolves anger and resentment. Good for raising one's self-esteem and feelings of self-worth. Balances emotions and is said to support all types of healing. Guides one's life path towards a sense of personal fulfilment and contentment.
Recently Viewed