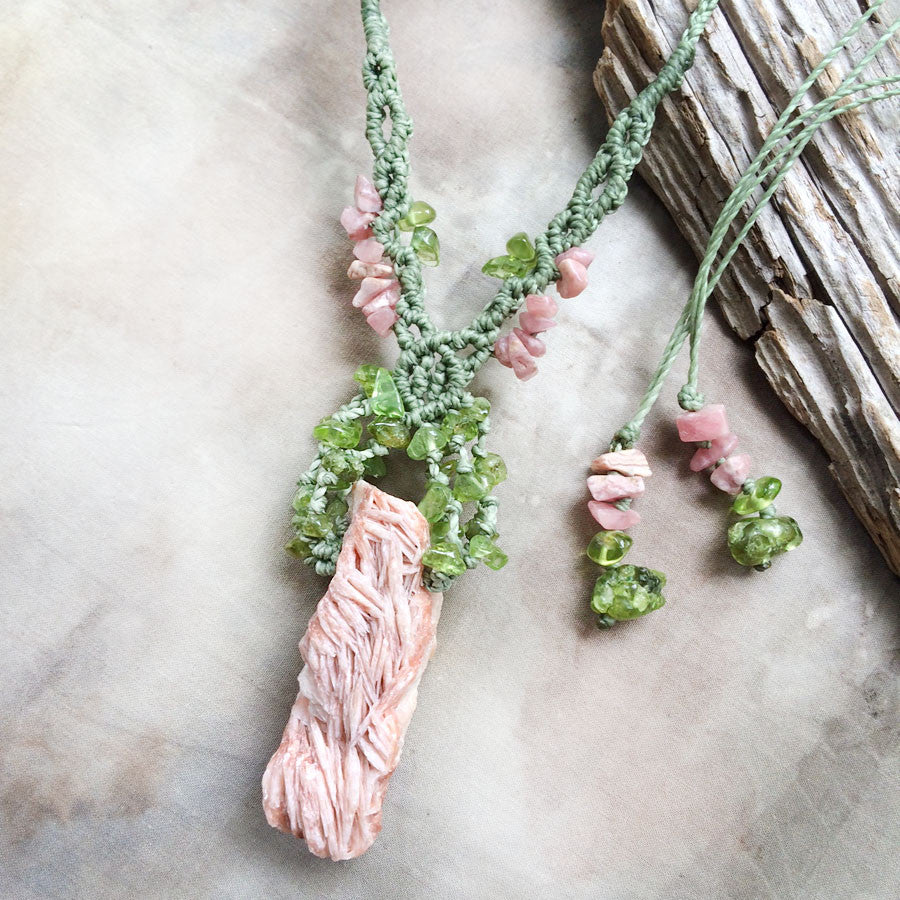 Desert Rose crystal amulet with Peridot & Rhodochrosite
DESCRIPTION
Crystal healing amulet with a pink hued slice of Desert Rose, highlighted with Peridot and Rhodochrosite crystals. The necklace is intricately knotted in light green micro-macrame cord, very strong and durable, yet soft and comfortable to wear.
The length of the necklace is adjustable from very short down to solar plexus level. The Desert Rose is just over 4 cm (1.6") tall and just over 1 cm (0.4") wide.

There are no metals in this necklace so would be particularly suitable for those with metal sensitivities, energy workers and those who simply prefer not to wear metal.

You'll receive this crystal healing necklace in one of my fabric draw-string pouches, great for the safe-keeping of the necklace. Gift-wrapped at no extra charge.
CRYSTAL PROPERTIES
DESERT ROSE
Stills the mind and quietens the worries. Assists in connecting with the divine light. Helps in exploring past and future lives in meditation, releasing connections to people and places that aren't aligned with one's highest soul purpose. A stone of heart-centerer awareness.
PERIDOT
Upbeat and comforting, Peridot reduces stress and amplifies intuitive awareness. Soothes hurt feelings, supporting renewal and personal growth. Brings in-depth heart based awareness, extending from healing to understanding and offering protection against negative emotions. Known also as the stone of prosperity and happiness.
RHODOCHROSITE
A stone of deep emotional healing. Comforting and positive, strengthening feelings of self-love, self-worth and self-forgiveness. Supportive heart-healer stone for those who are grieving or might feel stuck in the process. Repairs damages to one's subtle energy bodies. Helps in recovering lost talents you might have given up on due to past hurts, in order to discover your true purpose in this life.
Recently Viewed