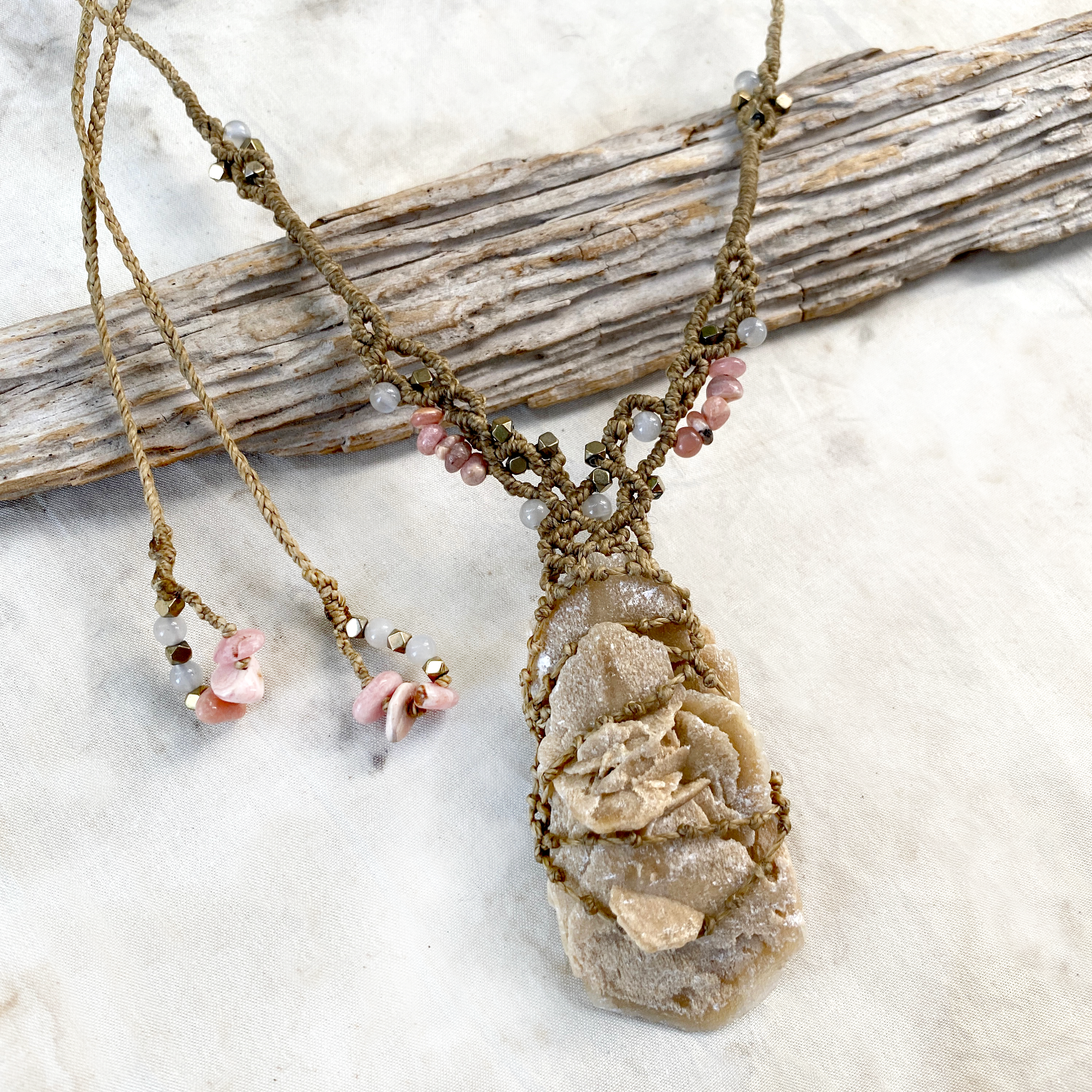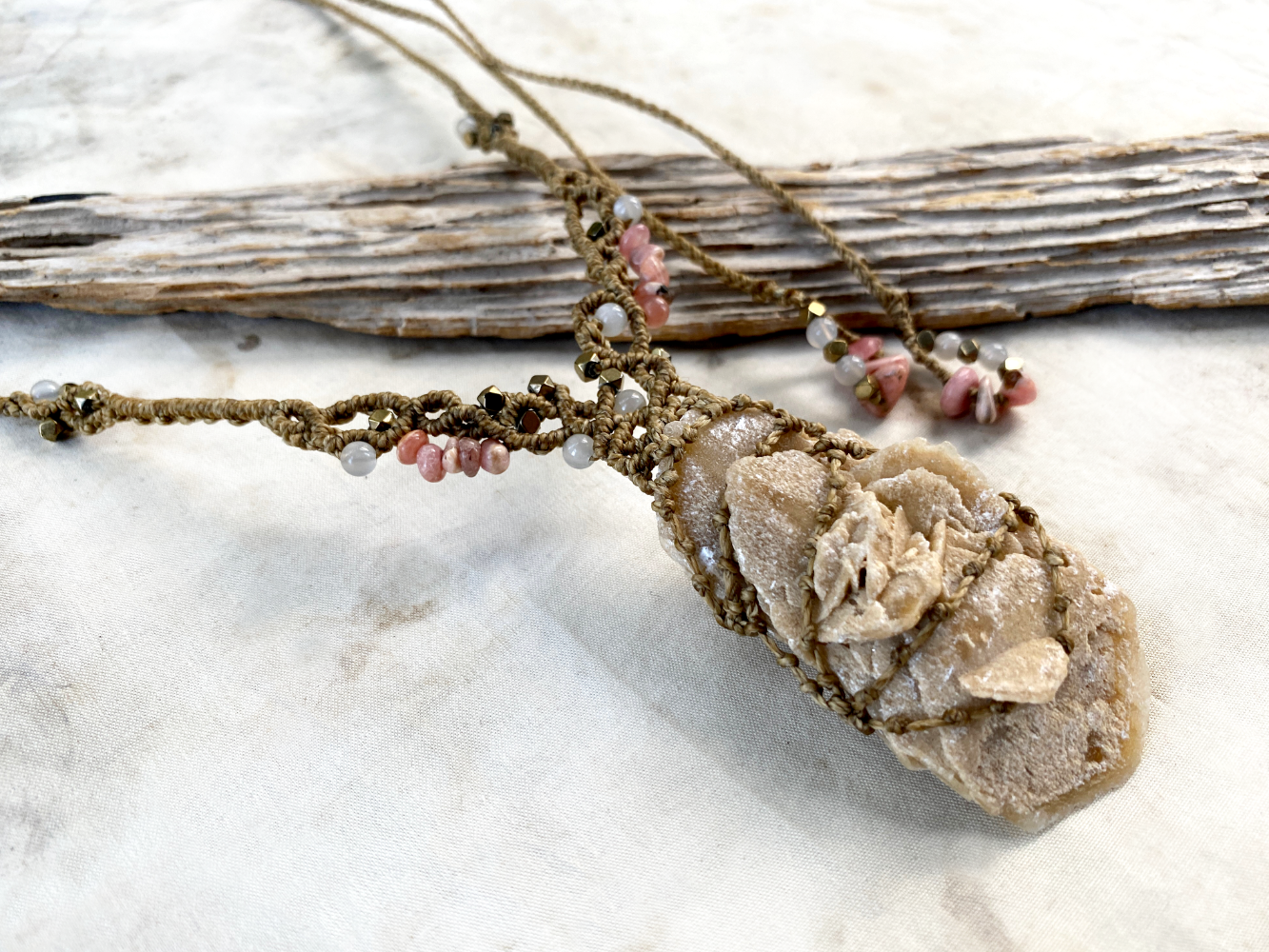 Desert Rose crystal healing amulet
DESCRIPTION
Crystal healing amulet with a cluster of un-drilled Desert Rose, beautifully sculptural in its shape and naturally resembling a rose flower. The necklace is intricately knotted in sandy brown tone micro-macrame cord, very strong and durable, yet soft and comfortable to wear. The intricate knotting is highlighted with small Rhodochrosite, Moonstone and Hematite crystals.
The length of the necklace is adjustable from very short down to solar plexus level. The Desert Rose is approx. 6.5 cm (2.6") tall and 3.5 cm (1.4") wide at its middle.

There are no metals in this necklace so would be particularly suitable for those with metal sensitivities, energy workers and those who simply prefer not to wear metal.

Care advice: Desert Rose is a type of selenite which will eventually crumble/dissolve if soaked in water for any prolonged period of time. For this reason it is advisable to keep the stone dry. 
You'll receive this crystal healing necklace in one of Spirit Carrier's fabric draw-string pouches, great for the safe-keeping of the necklace. Gift-wrapped at no extra charge.

Read here how to take care of your crystal jewellery.
CRYSTAL PROPERTIES
DESERT ROSE
Stills the mind and quietens the worries. Assists in connecting with the divine light. Helps in exploring past and future lives in meditation, releasing connections to people and places that aren't aligned with one's highest soul purpose. Rejuvenating stone, supporting daily energy levels. Assists turning dreams into reality through action. A stone of heart-centered awareness. Also helps cleansing, activating and enhancing other crystals in its vicinity.
RHODOCHROSITE
A stone of deep emotional healing. Comforting and positive, strengthening feelings of self-love, self-worth and self-forgiveness. Supportive heart-healer stone for those who are grieving or might feel stuck in the process. Repairs damages to one's subtle energy bodies. Helps in recovering lost talents you might have given up on due to past hurts, in order to discover your true purpose in this life.
MOONSTONE
Useful for feeling balanced or when changing aspects in one's life. Symbolises 'new beginnings'. Brings calmness through awareness. Provides the energy to sustain you through stages of growth. A highly intuitive stone allowing self expression and creativity to flow. Provides protection while travelling. A bringer of good fortune. Stone of feminine wisdom, inner growth and strength. Calming and soothing stone, enhancing intuition and inspiration. White moonstone is stimulating for psychic perception, vision and dream work.
HEMATITE
Creates a strong sense of self and enhances the creative flow. Relieves stress. Revitalises, enhancing personal magnetism and optimism. Helps in releasing self-imposed limitations to find your own unique gifts. A stone of balance and equilibrium. Grounds when feeling scattered, allows one to maintain a natural alertness while remaining calm.
Recently Viewed