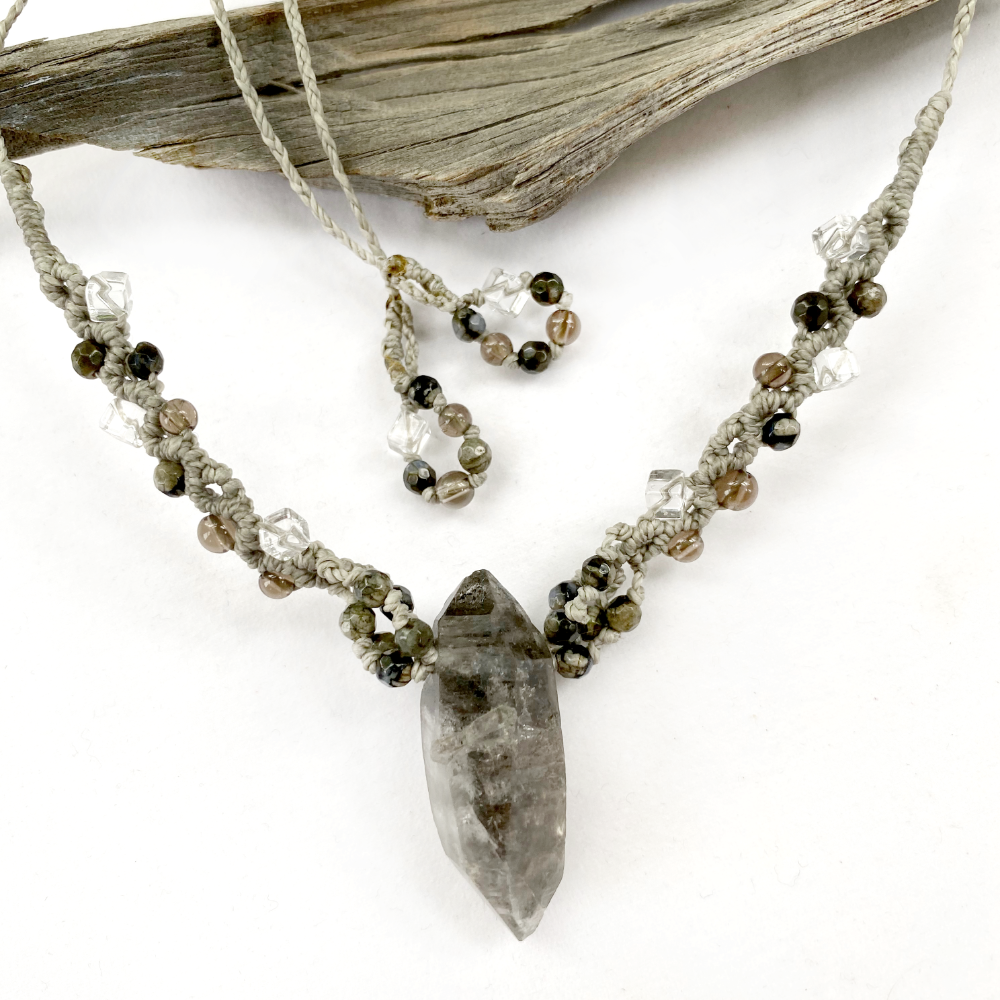 Double-terminated Tibetan Black Quartz crystal healing amulet
DESCRIPTION
Crystal healing amulet with a rough, double-terminated Tibetan Quartz point, highlighted with small Rhyolite, Smokey Quartz and clear Quartz crystals. There is a bridge formation on the side of this crystal, a smaller crystal (also double-terminated!) partly sunken into the surface of the main crystal. The necklace is intricately knotted with grey micro-macrame cord, and the ends of the adjustable necklace cords are decorated with matching crystals.
The length of the necklace is adjustable from very short down to solar plexus level. The Quartz point is just under 4 cm (1.6") and 1.5 cm (0.6") at its widest.
There are no metals in this necklace so would be particularly suitable for those with metal sensitivities, energy workers and those who simply prefer not to wear metal.
You'll receive this crystal healing necklace in one of Spirit Carrier's fabric draw-string pouches, great for the safe-keeping of the necklace. Gift-wrapped at no extra charge.

Read here how to take care of your crystal jewellery.
CRYSTAL PROPERTIES
TIBETAN BLACK QUARTZ
Tibetan Quartz resonates as a "peaceful warrior", emanating a silent, powerful "OM" vibration. Aligns, purifies, balances and activates all chakras and meridians, clearing energy blockages. Efficient psychic protection tool, sealing the aura with a 'bubble of light'. Aids reaching a deep meditative state. Energetically has the feel of an old, trusted friend guiding and protecting while you journey within to clear past traumas. Tibetan Quartz gives you that extra burst of courage to move forward as well as radiating a peaceful sense of happiness and joy. 
BRIDGE FORMATION on Quartz: Facilitates the connection between inner and outer worlds, creating a bridge between self and others. Assists previously inaccessible solutions come to light. Helpful in improving teaching skills and group cohesion.
RHYOLITE
Balancing stone on all levels, alleviating anxiety and worries. Builds emotional strength in view of fulfilling ones dreams and goals. Shifts energy towards moving forward, assists in visualising desired change. Ignites creativity, helping to make things happen in one's life and to tap into one's innate abilities. Also thought to help its keeper to look and feel younger!
SMOKEY QUARTZ
A grounding and calming stone that elevates moods and dissipates negative emotions. "A Stone of Serenity", it is comforting and protective for one's aura. Smokey Quartz is thought to assist in creative endeavours and also in setting personal boundaries. Offers protection against electromagnetic rays. A good healing stone for improving general feeling of well-being. Relieves anxiety and worry, wards off confusion. Shielding crystal to create a calm, safe environment.

CLEAR QUARTZ
The universal master crystal that has a harmonising effect on all levels of being. Programmable by intention, so can be used for versatile purposes. Quartz can clear, enhance, amplify, transmute, balance, focus and transmit energy. Raises one's energetic vibration. Brings clarity and filters out distractions. A deep soul cleanser, attuning its keeper to their higher self. Each Quartz crystal is unique with its own character and teachings it offers, all are known as "Stones of Power" and "Master Healers".
Recently Viewed