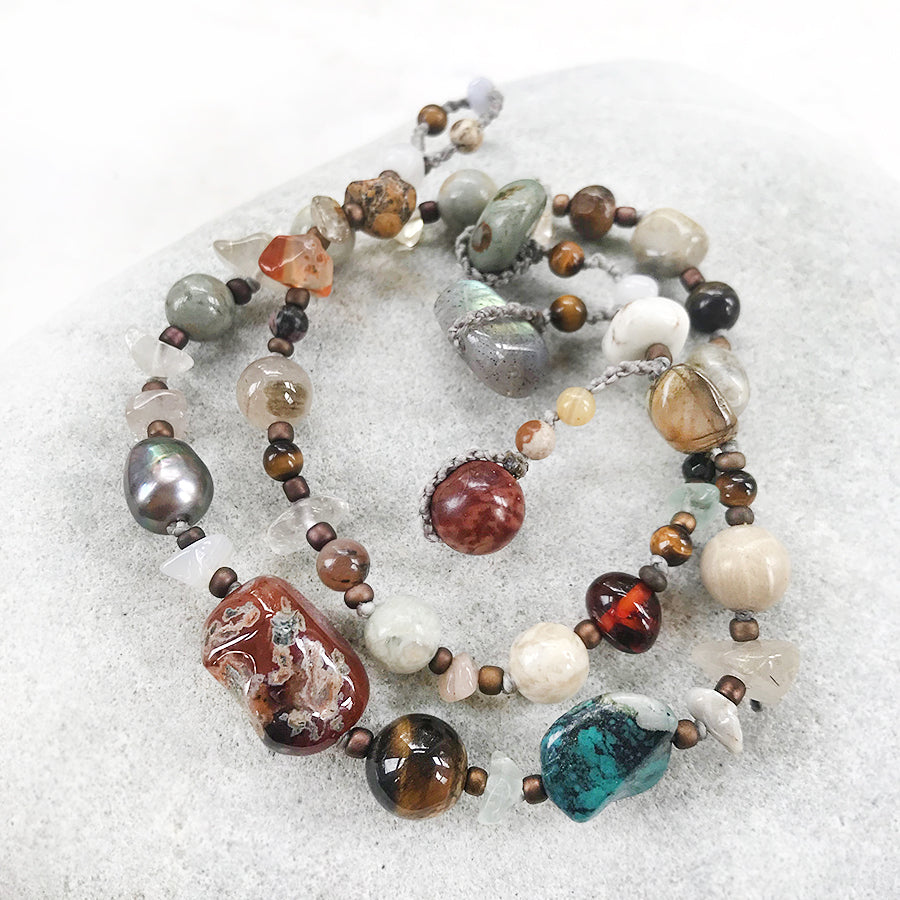 Double wrap crystal healing amulet ~ for up to 6.5" wrist
DESCRIPTION
Easy to wear daily favourite that matches many outfits too ~ a 15.5" (39.5 cm) long line of energy activated crystals that wraps snuggly around a 6.5" wrist twice. The closing toggle clasp consists of three strands, one Labradorite and two Picasso Jaspers - one or more of them can be slipped through the knotted loop to close the bracelet securely.
The combination of gems in this bracelet creates a smooth energy flow - the bracelet strand includes Carnelian, Turquoise, Tiger Eye, Labradorite, Picasso Jasper, Amber, Gold Rutile Quartz, Chrysoprase, Crazy Lace Agate, Citrine, Aquamarine, Biwa Pearl, Smokey Quartz, Chiastolite, Smokey Quartz and Fluorite. The bracelet is strung on light grey micro-macrame cord, alternating the crystals with matt brown glass seed beads, and knotted at regular intervals for strength.
This one-of-a-kind bracelet comes in a fabric drawstring pouch, and gift-wrapped at no extra charge.

Read here how to take care of your crystal jewellery.
CRYSTAL PROPERTIES
The five main crystal energies:
LABRADORITE
One of the most powerful, versatile crystal tools for healing. Creates an auric shield and strengthens your innate energy and life force, preventing energy leakages. Enhances intuitive abilities and assists in spiritual transformation. Helps the wearer align with their highest destiny and discover their inner worth. Strengthens willpower and brings in new ideas. Often referred to as the 'Stone of Destiny', believed to help you to find your true path in life, and as 'Temple of the Stars', anchoring higher dimensional light into your being.
TURQUOISE
Turquoise is a strengthening and purifying stone. It fosters honest and clear communication from the heart. Aligns all of the chakras; and can be used to cleanse your energy centres. Balancing stone for the mood and emotions. Promotes self-realisation and aids creative problem-solving.
CARNELIAN
Known as a stone of motivation and courage. Stimulates creativity and increases one's sense of self-worth. Balancing for body's energy levels, restoring vitality and motivation. Said to attract prosperity, new resources and good luck. A success stone that helps you follow through with plans. Stone of action that aids in overcoming procrastination. Helps in gaining more understanding of one's inner self. Stimulating to the Sacral Chakra, which, when in balance, allows one to enjoy life, feel its joys and pleasures, be flexible and 'go with the flow'.
PICASSO JASPER (also known as Cherry Creek Jasper)
A joyful, harmonious stone, said to effect transformations in the area of relationships, attracting like-minded people and loyal friends. Offers stability and balance in times of change. Releases blocks from the way of one's creativity. Encourages to celebrate life!
TIGER EYE
Helpful stone for learning to feel connected to one's personal strength. Excellent stone for attracting prosperity. But it has also a highly spiritual energy and is useful in understanding any life cycle that one is living through. Helps in seeing through illusions and discerning the truth in any situation. A highly protective stone. Good for strengthening the solar plexus (3rd) chakra and developing one's will power and courage.
Recently Viewed