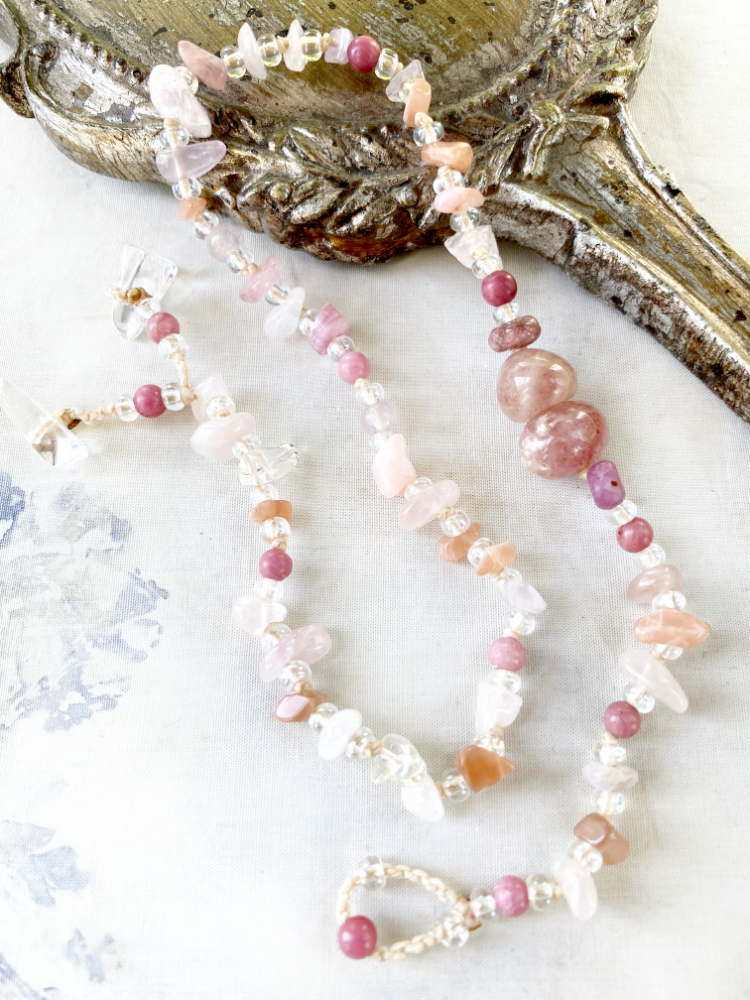 Double-wrap crystal healing bracelet ~ for wrist size up to 6.5"
DESCRIPTION
Easy to wear daily favourite that matches many outfits too ~ a 15" (38 cm) long line of energy activated crystals that wraps snuggly around a 6.5" wrist twice, but would be fine for a smaller wrist too if preferring a more relaxed fit. The closing toggle clasp consists of two strands, both Clear Quartz - that can be slipped through the knotted loop to close the bracelet securely.
The combination of gems is selected to create a smooth, considered energy flow, including Rose Quartz, Sunstone, Clear Quartz, Kunzite, Amethyst, Rhodonite and Lepidochrosite in Quartz. The bracelet is strung on cream tone micro-macrame cord, alternating the crystals with clear glass seed beads and knotted at regular intervals for strength.
This one-of-a-kind bracelet comes in one of Spirit Carrier's fabric draw-string pouches, and gift-wrapped at no extra charge.

Read here how to take care of your crystal jewellery.
CRYSTAL PROPERTIES
LEPIDOCHROSITE IN QUARTZ
Stimulates intuitive spiritual awareness, at the same time gently grounding to Earth energy. Raises consciousness, and can be used for focusing intent during energy healing sessions. Calming and soothing, aids in releasing fears and aligning one with Divine will. A stone of 'allowing' and trusting the flow of life.
ROSE QUARTZ
Powerful love stone, love that is all-encompassing and unconditional. Awakens one's heart to its own innate love, compassion and acceptance. Vibrates its loving energy to all chakras, offering gentle healing. Soothing and calming. Dissolves anger and resentment. Good for raising one's self-esteem and feelings of self-worth. Balances emotions and is said to support all types of healing. Guides one's life path towards a sense of personal fulfilment and contentment.
KUNZITE
Stone of emotion, connecting heart and mind for optimum healing. Beneficial for those who find it hard to adjust to life on the earth plane. Helps in overcoming heartache and loss. Soothing in discordant situations and protective against harm. Good for those who wish to open up to life more to receive its gifts and opportunities. Assists in connecting with others and to embrace unconditional love.
SUNSTONE
Bestower of blessings and bringer of abundance and opportunities. Joyful and nurturing, warm and uplifting, restores one's enjoyment of life. Can reveal hidden talents and attract unexpected prosperity. Encourages independence and originality. Increases vitality and enthusiasm. Energises the sacral chakra, alleviates fears and self-doubt. Helps in receiving what is desired.
RHODONITE
Known for its capacity to bring emotional healing, releasing blockages in the heart chakra. Balances emotions during chaotic times. Restores calm after emotional upheavals. Beneficial for the harmony of close relationships. A beautiful stone specifically for discovering one's inner gifts and can act as a catalyst for fulfilling one's life purpose. Stone of self-confidence that supports you in trusting your own heart.
AMETHYST
Instils inner peace, promotes self-discovery and aids in relaxation. Associated with the crown chakra, known as a "stone of balance" and positive transformation. Thought to increase spiritual awareness and psychic abilities, initiating higher knowing and greater understanding. Helps in assimilating new ideas and manifesting thoughts into action. Symbolises a connection to the Divine. A well-known support stone for those wanting to break old patterns to create a new, harmonious life.
Recently Viewed