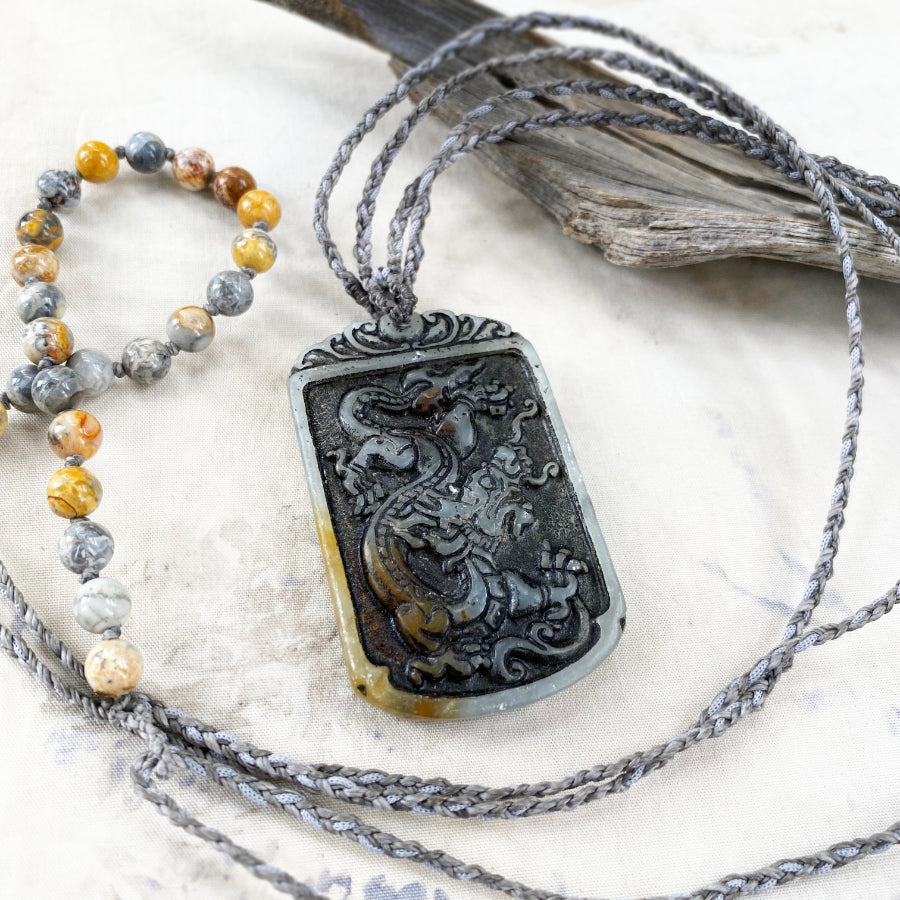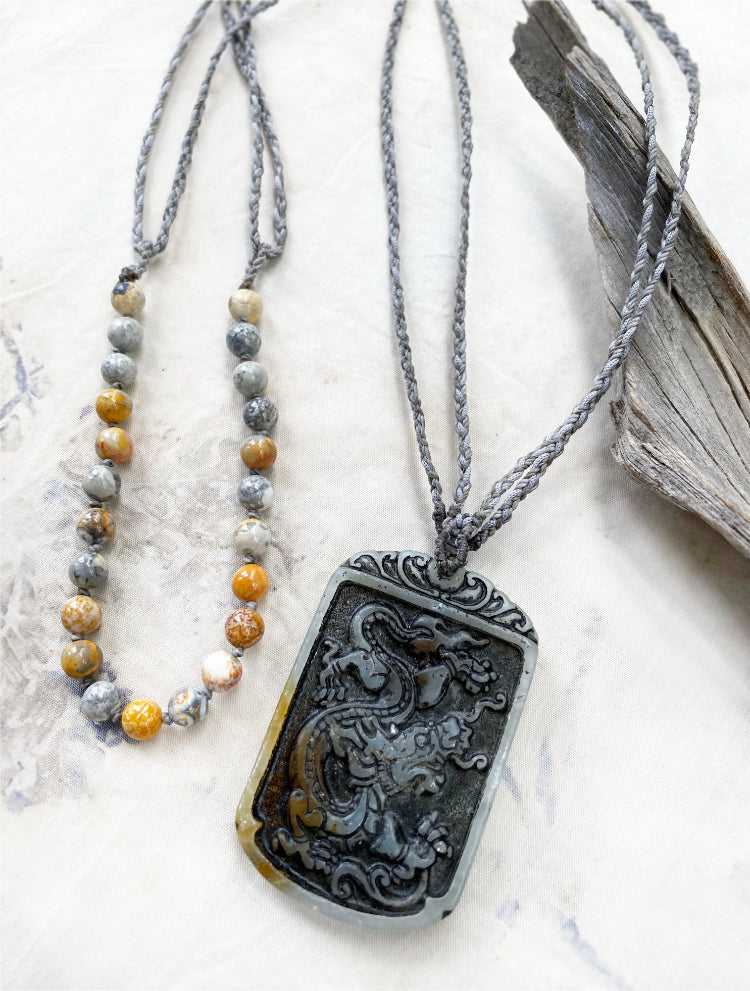 'Dragon Power' ~ carved Jade crystal healing amulet
DESCRIPTION
Crystal healing talisman with a rectangular slice of Jade in tones of light and dark grey with a splash of earthy yellow. The tactile surface shows a carved dragon motif, a symbol of supernatural power, wisdom, strength, and hidden knowledge.
Part of the necklace is braided with three tones of grey micro-macrame cord. The top part of the necklace is knotted with Sky Eye Jasper crystals - this strand connects the double braids on both sides and settles behind the neck when worn.
The necklace is set length and slips easily over the head. The all-around measurement is 79 cm (31"). The Jade is just over 5 cm (2") tall and just under 3.5 cm (1.4") wide.
You'll receive this crystal healing talisman in one of Spirit Carrier's handmade fabric draw-string pouches - great for the safe-keeping of the necklace. Gift-wrapped at no extra charge.

Read here how to take care of your crystal jewellery.
CRYSTAL PROPERTIES
JADE
Known throughout history as the stone of happiness, prosperity and good luck. Said to bless everything it touches. For the Chinese, Jade is a stone of "long life & peaceful passing". Helps in advancing the human consciousness to higher levels. Strongly protective stone, strengthening the auric field, fostering balance and peace.  Has a restorative energy, stimulates ideas and relinquishes self-imposed limitations. Promotes healthy self-confidence and strength of character.
SKY EYE JASPER
Gently supportive, nurturing stone bringing tranquility and comfort. Stabilising for one's energy field, helping one to feel balanced by releasing emotions of anger and disappointment. Promotes happiness and compassion. Eases stress, increases one's stamina and helps in adjusting to changes. All-round supportive healing stone to wear daily. Protective for astral travel. Inviting beauty and wholeness into one's life.
Recently Viewed