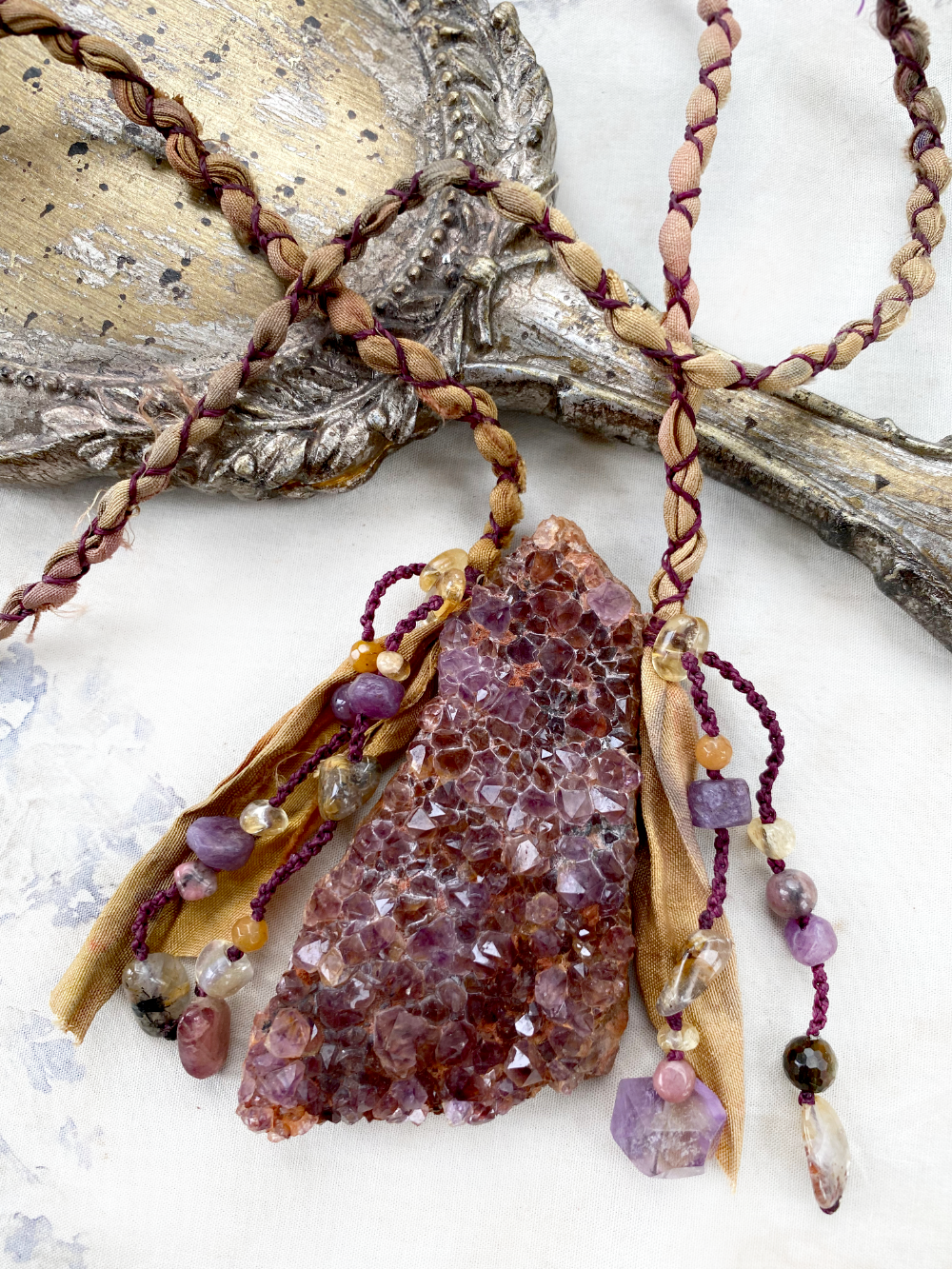 Amethyst Spirit Quartz crystal healing talisman
DESCRIPTION
Crystal healing amulet with large raw Amethyst Spirit Quartz slice. This is the now rare to find 'grape hue' original Spirit Quartz as first discovered in South Africa, before the more well-known type. This stunning crystals attaches to hand-braided necklace which is a combination of recycled sari silk in hues of earthy yellow, pink and orange, and burgundy tone micro-macrame cord. There are several highlighting crystals on both sides of the main crystal: Ametrine, Ruby, Calcite, Rhodonite, Spinel, Gold Rutile Quartz, Mica and Citrine.
The necklace braid is set length, easy to just slip over head without any need for clasps. The braid length allows the Amethyst Spirit Quartz to hang down approx. 38 cm (15") measured from the back of the neck to the top edge of the crystal - i.e. the all-around length of the necklace braid is 78 cm (30"). This Amethyst slice is approx. 7.5 cm (3") tall and approx. 4 cm (1.6") at its widest.
You'll receive this crystal healing necklace in one of Spirit Carrier's handmade fabric draw-string pouches - great for the safe-keeping of the necklace. Gift-wrapped at no extra charge.

Read here how to take care of your crystal jewellery.
CRYSTAL PROPERTIES
AMETHYST SPIRIT QUARTZ
Aids spiritual growth, activating the lightbody and assisting in the ascension process. Releases fear and brings peace of mind. The Amethyst variety of Spirit Quartz is very cleansing and purifying for one's aura, repairing holes in the etheric body and dispelling negative attachments and imbalances. Great crystal for harmonising all the levels of aura, chakras and meridians.
AMETRINE
Infusion of the healing properties of both Amethyst and Citrine, but also emanates its own unique energy. Connects your third chakra and your seventh chakra beautifully, to align your will power with your soul's purpose. Helpful for procrastination sufferers, giving you a boost to joyfully complete your tasks, to be inspired and stay focused. Connects you with the divinity of all. Also said to be an aid in weight loss and in releasing addictions.
RUBY
Increases vitality and one's life-force energy, very energising, excellent for women. Promotes clear mind, motivation and concentration. Associated with love, passionate commitment and heart-based closeness, offering help in shedding past hurts. Encourages you to 'follow your bliss' and have courageous attitude. Supports closeness and commitment. Shielding crystal to keep your energy field in your own command.
YELLOW CALCITE
Associated with self-confidence, inner strength and hope. Effective in helping to clear away old outworn energy patterns and increasing personal motivation and drive. Helps in releasing self-doubt. Assists in learning new things quickly, improving memory.
GOLD RUTILE QUARTZ
A master assistant in self-discovery, a companion in finding one's inner truth, purpose and destiny. Joyful and energising. Thought to offer protection against psychic attacks and helps in opening up to one's Divine strength. Assists in activating one's creativity and manifesting dreams into reality.
RHODONITE
Known for its capacity to bring emotional healing, releasing blockages in the heart chakra. Balances emotions during chaotic times. Restores calm after emotional upheavals. Beneficial for the harmony of close relationships. A beautiful stone specifically for discovering one's inner gifts and can act as a catalyst for fulfilling one's life purpose. Stone of self-confidence that supports you in trusting your own heart.
SPINEL
Stone of calmness and renewal. Offers encouragement and endurance in difficult situations. Lowers anxiety and stress. Stimulating and strengthening, inspires new ways of thinking. Protective in the issues of the heart and is sometimes called "the Fairy Godmother stone".

MICA
Uplifting mineral. Increases compassion towards others. A peace keeper that shields against anger and jealousy. Said to improve stamina and strength. Helps one to see situations for what they are, while staying heart-centred. Releases energetic blocks within the body and aligns chakras. Works in a light and joyous way while helping one to see what needs changing in one's outlook.
CITRINE
Affects a powerful alignment with the higher self. Balances the emotions and helps in uplifting one's mood to be more sunny and cheerful. Brings clarity of thought, and attracts abundance and prosperity through joy. Powerful transformer in healing work. Increases self-confidence and optimism, cleanses the surrounding energies and promotes creative thinking. Releases, dissipates and transforms denser energies on all levels, mental, emotional and physical. Works to release limitations and blockages particularly around the sacral / solar plexus area.
Recently Viewed